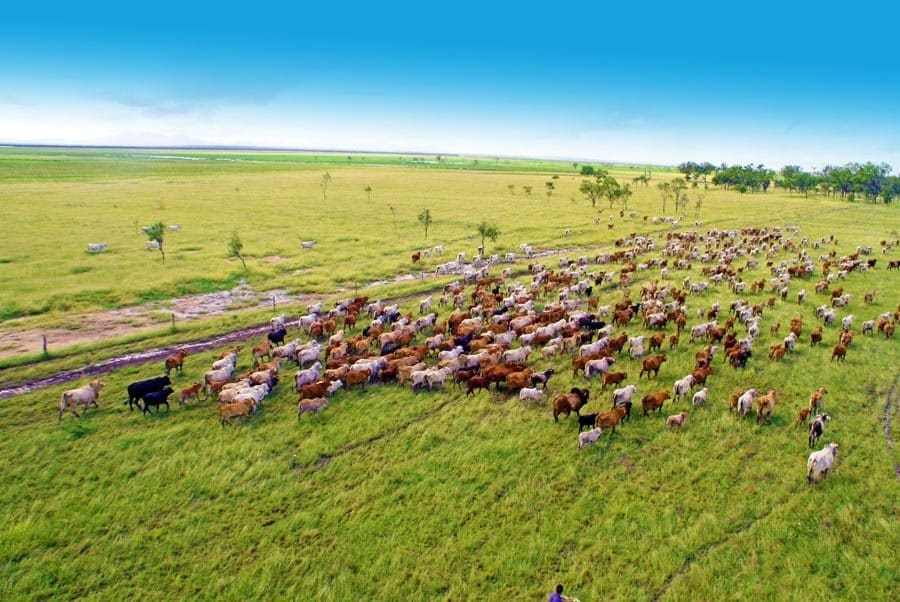 EACH rural property agency brings different strengths, strategies and views to the table when pitching to sell a cattle property – and it appears to be no different when it comes to the level of sale commission they charge.
After a strong response to an earlier Beef Central weekly review about "Increasing competition in the property marketing space", a range of property agencies, large and small, were approached about their fee structures.
As expected, most were reluctant to disclose too much detail about commission policies, or their self-perceived marketing strengths – for fearing it would show their hand to their competitors.
Backgrounding this week's discussion is the view held in some circles that rural property marketing at present is like 'shooting fish in a barrel,' with elevated buyer demand and equally elevated prices ratcheting up the commission cheque at the end of a successful campaign.
This week, we present some responses from a range of stakeholders.
One veteran rural property agent who was prepared to be interviewed, but not to be named, admitted all clients complained that commissions were too high, but said vendors who employed the right agents usually achieved the desired results.
"There are agents who charge next to nothing to sell a property. They will sell for a very low commission, but don't offer a full range of services," he said.
"Other agents who live in the city act remotely by sending interested parties to a property in the hope of selling it and grabbing the commission. Then you have corporate pastoral houses and others who offer a full service and attend all property inspections. An agent who is doing the job properly and achieves the desired price is well worth anything he charges," the contact said.
He said while there were no 'set' fees across the industry, a widely accepted standard was 2.5 percent plus GST, but rates are always tailored to suit the size of the property.
"Commission rates are highly variable and depend on what's involved," the contact said.
"People can agree to pay a very high rate of commission to get a premium result or they can market it themselves for no commission – and usually get no result. The risk for the vendor is losing a substantial amount of money through a documentation or management error, or not appreciating what their property is really worth."
He said commission was a 'success fee' only, despite the enormous effort made by most agents that often went into properties that did not sell.
"An agent's job is to identify serious people who have the capacity to buy a property, and then market its best attributes effectively," our industry contact said.
"Selling involves a fair bit of leg work – sometimes driving hundreds of kilometres or catching a plane. While some fees may be fixed, there is no money made unless there's a sale. So, what are vendors happy to pay to get a successful result? For the most part, agents earn their commission."
North Queensland based property agent Henry Slaney from Slaney and Co, Charters Towers, said there was a broad spectrum of commissions paid on cattle property deals in his region.
"The fees are usually 2.5pc, but are negotiable depending on the deal – location, the size of an enterprise and the amount of work that's required," Mr Slaney said.
"The risk is in vendors electing to employ an agent on commission price, as opposed to skill, track record, local knowledge and results."
"For instance, a property may be 1000km from home and 250sq km in size compared to another closer to town covering only several thousand hectares."
Mr Slaney said agents are regulated by legislation, so the fee structure is commission-based success-only-fees.
"Consultants such as accountants, solicitors and lawyers get paid for each job or hour devoted to the task irrespective of success or failure. Not all agents are purely salesmen and most vendors know the difference. I would gladly rewind my fee structure and charge 50pc less if I could have been paid for all the jobs and all the miles I have travelled in the last 20 years that did not produce a result."
Mr Slaney said the risk was in vendors electing to employ an agent on price, as opposed to skill, track record, local knowledge and results.
"The lower an agent cuts the rate, the less they are going to do because they can't afford to work."
Mr Slaney said it was important for vendors to ask whether they were debating the outcome for the "two percent at the end of the deal, or the 98 percent at the front of the deal."
"When you get to those big transactions, two percent sounds like an enormous amount of money, however, it is absolutely hop skip and a jump in a negotiating exercise. It's all perspective. Every day, agents are putting in hours of effort with no reward."
Decision-drivers
Rawdon Briggs from Colliers International in Brisbane has identified four major decision drivers in the current market that all vendors consider important:
Maximising total asset price or realisation price.
Time spent seeking the above total price outcome.
Upfront costs combined with success-based fees.
Depth and experience of the team to complete the sale process in the given timeline.
Mr Briggs said 'Tier One' global real estate services and corporate finance firms brought different and sometimes complementary skill-sets to Australian agribusiness vendors, with different strengths applied to the above four key decision drivers.
"Security of settlement or closure is the vendors' number one concern, together with the time taken to pass through a Foreign Investment Review Board process," Mr Briggs said.
"There are plenty of agents who talk big numbers, but clients must ensure they can close the deal. Each deal depends on the level of service required by the client, such as analysts, lease modelling and valuation market depth advice, but these team members must be remunerated for their work."
Mr Briggs said commission fees are often negotiable.
"I carry out a probability on everything I do. If you don't know your probabilities for transacting you probably shouldn't be in a transactional business. You have to balance your proposed success fees with your workload and your team's present commitment because you don't want to over-promise and under-deliver to any client, no matter what the asset value is," he said.
Alternative structures?
Business advisor Michael Vail from Tre Ponte Corporate believes any commission above three percent in rural property was 'arguably obscene', and suggested an agreed fixed fee might be more appropriate, as in other advisory spaces.
Perhaps a minimum fixed fee could be struck – whatever agents need to cover their costs plus an appropriate return – or a fixed fee plus commission, for performance or adding to the balance sheet. People need a minimum income to do the job, such as showing interested parties the property, and engaging in the negotiation process."
The final word comes from property industry veteran Lex Heinemann, who doesn't believe in commission cutting.
"Finding the right buyer can make all the difference in a vendor's final result. What's the point of saving a bit of commission and then selling for one percent, and getting an ordinary result? It's far better to pay four percent and get a bloody good result. The bottom line is you pay for what you get," he said.