THIS week's property review includes this wrap-up of recently completed sales, and a separate article on interesting recent listings across the country.
Western Grazing expands with NQ's Slogan Downs
$30m for NSW sustainable grazing platform
CQ breeding, finishing & backgrounding makes $22m+
Injune family secures highly regarded CQ cattle country
Southern QLD's Burwah purchased for carbon
Local expands with high rainfall basalt grazing in NSW's Upper Hunter
Maranoa breeding & backgrounding makes $7.5m
Sydney family buys Southern Tablelands grazing block
Western Grazing expands with NQ's Slogan Downs
Western Grazing has paid between $24 million and $36 million for the well-developed north Queensland cattle enterprise Slogan Downs prior to auction.
Built up since the 198os by the late Brian Oxenford and now operated by his daughter Pam Deamer and family, Western Grazing operates six cattle properties across Queensland – Allendale (Augathella), Magowra (Normanton), Morstone Downs (Camooweal), Eurella (Roma), Oban (Mount Isa) and Camel Creek (northwest of Ingham, which it purchased in August last year for between $17 million and $20 million). Two years ago, Western Grazing sold  two extensive NT grazing properties – Wave Hill and Cattle Creek, with 40,000 head of cattle – for $104 million.
Spanning 15,604ha, Slogan Downs is located 80km south of Charters Towers.
It was offered for sale by David Woodhouse from Nutrien Harcourts who was unable to disclose the price, however during the marketing campaign it was anticipated to make between $8000 and $12,000 a beast area.
Mr Woodhouse said for a property of its high calibre, Slogan Downs sold in line with market expectations.
"It presented in first class order and will be a valuable addition to the purchaser's existing holdings," he said.
The finishing, breeding and backgrounding country is estimated to run up to 3000 adult equivalents in an average season.
Slogan Downs is traversed by branches of Victoria and Spring Creeks and supported by three bores and 16 dams.
It was offered for sale by the Gear family who had invested millions of dollars into extensive improvements and developments including new cattle yards, 100km of new fencing, an extensive laneway system and a major upgrade of the water infrastructure.
$30m for NSW sustainable grazing platform
A southern New South Wales family farming business with existing cattle and sheep interests is believed to have paid around $30 million for the landmark property Checkers on the Central Tablelands of New South Wales.
The 3817ha property, 32km from Canowindra and 45km from Orange, was offered for the first time in 45 years by the Mathieu family.
Sam Triggs from Inglis Rural Property was unable to disclose the buyer or the price paid, but at the time of marketing Checkers was being offered with a $30m price guide.
Mr Triggs said the buyer interest had been strong.
"The sale campaign generated interest from a diverse buying bench with interest from numerous domestic investors, including family farming outfits, and corporate buyers seeking scale and reliability," he said.
Mr Triggs said there were around 15 inspections, following 65 to 70 inquires.
"At the close of the expressions of interest campaign, there were competitive bids showing good depth in the market for quality holdings."
During the Mathieu family's ownership, Checkers had transitioned from a traditional high input commercial grazing enterprise to a regenerative low input sustainable grazing platform.
It is operated as a wool and beef production platform conservatively carrying 26,000 and 28,000 dry sheep equivalents.
Under the Mathieu's management, Checkers was running 3500 Merino ewes, 2000 wethers, 3000 hoggets, 1600 first cross ewes with 350 breeding cows plus weaners.
The versatile grazing country features heavy red clay loam and black basalt soils with a perennial pasture base of native and introduced species.
Checkers fronts the Canomodine and Canongle Creeks and the Panuara Rivulet. It has a large network of dams and nearly all paddocks are serviced by at least one dam and/or creek water.
CQ breeding, finishing & backgrounding makes $22m+
Breeding, finishing and backgrounding country in Central Queensland's sought-after Arcadia Valley region has sold for more than $22 million.
The Rimrock, 37km east of Rolleston and 175km south of Emerald, was passed in at auction for $22 million but sold shortly afterwards to a local producer seeking expansion.
The sale ends more than 70 years of ownership by the Clark family.
The 10,010ha property offers productive flats, native and buffel country, forest areas and soft clay, chocolate brigalow, belah and bottle tree scrub soils running 2000 head of mixed cattle.
There is 40ha of cultivation.
The Rimrock is fenced into 16 main grazing paddocks with a laneway system connecting most to a centrally located main set of yards.
It is watered by 16 strategically located dams, four of which are fenced off and equipped with solar pumps that supply the nearby paddocks via troughs and tanks.
Grant Veivers and Ben Forrest from the Resolute Property Group handled the sale.
Injune family secures highly-regarded CQ cattle country
A highly regarded cattle property in Central Queensland's renowned Dawson Valley has sold to an Injune district grazing family for around the $17.95 million asking price.
The 5930ha Rockdale and Ten Mile Aggregation is located 24km from Cracow and 72kms from Theodore.
The sale was handled by Mike Barry from Shepherdson & Boyd, who was unable to disclose the name of the buyer or the price paid.
The well-developed country is gently undulating (with areas of creek flats) and is well pastured with buffel, Rhodes and native blue grasses with legumes scattered throughout.
The softwood scrub, bottle tree, brigalow and bauhinia and ironbark forest country, with an additional 700ha of timbered elevated ridges, typically carries 1200 head of mixed cattle, including more than 500 breeders.
The water infrastructure on Rockdale and Ten Mile is described as excellent and includes four bores (three that are solar equipped), seasonal watercourses and several dams.
The main set of cattle yards were recently upgraded with new draft, a steel race, undercover vet facilities, a calf cradle and a loading ramp.
Southern QLD's Burwah purchased for carbon
Pastoral Partners Australia has paid $14.25 million to capture carbon on the southern Queensland grazing property Burwah.
Formed in March 2022, Pastoral Partners Australia works to bring together sustainable primary industry management and carbon reduction opportunities for industries in Australia and overseas.
In addition to Burwah, the company has quietly secured a number of other local properties.
Located 20km from St George and 176km south of Roma, the 9943ha Burwah is described as magnificent breeding or backgrounding country that will be agisted by the new owners.
When Burwah was listed for sale in October it was conservatively running 800 breeders plus progeny.
Nutrien GDL's Anthony Hyland said the property was underpinned by productive land and soil types, secure water resources and good operational infrastructure.
"The Scriven family has invested significantly in expanding and improving pastures, clearing regrowth, exclusion fencing and livestock handling infrastructure," he said.
Water is a feature. A private sub-artesian bore and a GASBI capped and piped artesian bore feed 27 tanks and troughs. In addition, there are ten stock dams and semi-permanent holes along the Glear watercourse.
Ray White Rural Goondiwindi was also involved in the sale.
Local expands with high rainfall basalt grazing in NSW's Upper Hunter
Crawney Station, a high-rainfall basalt grazing property in northern New South Wales, has been purchased by a local producer with existing grazing interests.
Michael Burke from McGrath Upper Hunter was unable to disclose the buyer or the price paid, but it achieved the advertised price guide of between $10.2 million  and $11.4 million.
The 1976ha holding was purchased by Sydney-based company Fostoria Fannon in 2017 but were offered to the market earlier this year to free up collateral to further develop Ballarang Station, 15km south of Crawney Station.
The property is situated in the undulating foothills and upper land areas of the Liverpool Ranges in the Upper Hunter Valley, 70km from Scone and 90km from Tamworth.
The breeding or finishing country features valley floor to elevated shelves and steep range country, with the predominantly chocolate basalt soils growing a good body of feed.
Situated in a 925mm per annum rainfall district, Crawney Station fronts the Isis River and is supported by 42 dams and two bores.
Extensive capital has been recently outlaid by the vendor with a new stock watering system, new steel cattle yards and fencing.
Maranoa breeding & backgrounding makes $7.5m
Alison Todd (Todd Investments) from Brigalow Downs has paid $7.52 million ($1038/ha) for well-developed cattle breeding and backgrounding country in Queensland's Maranoa.
Glenmore is located 60km south of Surat and 100km north-east of St George – with good access to both the Queensland and New South Wales markets.
It was placed under contract prior to auction and has subsequently settled.
The 7246ha property is also suited to a goat enterprise, with the quality infrastructure set up for mustering or trapping.
After six years of ownership, Glenmore was sold by Greg and Kate Honor who had been spelling around half of the country, with the remainder running more than 7000 goats.
Around 80km of new fencing has been installed which means the entire property is exclusion fenced.
Glenmore is watered by 11 dams and two bores which are monitored by a remote water level device.
Anthony Hyland and Nick Dundson from Nutrien Harcourts GDL handled the sale.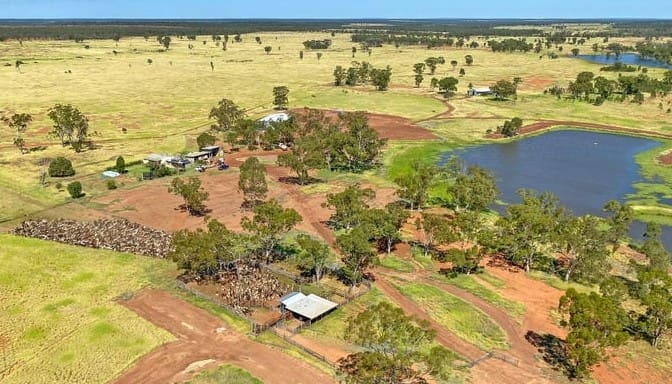 Sydney family buys Southern Tablelands grazing block
A family from Sydney has paid $3.625 million for the Masterton family's productive grazing property on the New South Wales' Southern Tablelands.
The 343ha Wallaroobie is located at Parkesbourne, 25km west of Goulburn and 98km from Canberra.
The cattle breeding and finishing enterprise, which is also suited to sheep and prime lambs, sits on top of the Great Dividing Range at the headwaters of the Lachlan River.
The gently undulating to flat arable grazing land is securely watered by seven dams, a bore and double frontage to the Wollogorang Creek.
Wallaroobie is fenced into 13 paddocks and has an estimated carrying capacity of 2500DSE.