THIS week's property review includes this wrap-up of recently completed sales, and a separate article on interesting recent listings across the country.
NT's Brunchilly makes $107m WIWO
Viv Oldfield pays $16m WIWO for NT's Middle Creek
$33m for beneficial flooding in NSW's north-west
Corporate pays $11m for northern NSW country
$9m+ for CQ's Rainbows End
Horton Valley breeding country sells post auction
CQ's Kantaka secured prior to auction
Negotiations underway for Qld Fitzroy River grazing
Well located NQ cattle block listed for $3.65m
NT's Brunchilly makes $107m WIWO
The Northern Territory Land Titles Office has revealed that prominent producer Malcolm Harris paid $75 million bare for S. Kidman's Brunchilly Station. However, on a walk-in walk-out basis, it is understood to have sold for $107 million.
Beef Central first wrote about the sale to Mr Harris back in February, but no price was disclosed at the time.
The 4572sq km cattle operation, including the Banka Banka East outstation, is situated on the Barkly Tablelands of the Northern Territory, north-east of Tennant Creek.
With an average carrying capacity of 24,000 head, Brunchilly is mostly used for breeding on a mix of black soil downs and softwood scrub country.
Mungindi-based Malcolm Harris and the family's Cleveland Agriculture operates large-scale irrigated and dryland cropping and grazing operations across four states and territories.
He owns the adjoining 5000sq km Rockhampton Downs, due east of Brunchilly. The combination of Brunchilly and Rockhampton Downs creates a colossal Barkly breeding footprint of around 10,000sq km.
Other Harris holdings in the NT include Ucharonidge and Benmara Stations.
Geoff Warriner and Chris Holgar from JLL and Wally Cooper from RPL handled the off-market sale of Brunchilly Station.
Viv Oldfield secures NT's Middle Creek for $16m WIWO
The Northern Territory's Middle Creek Station has sold on a walk-in walk-out basis to Viv Oldfield for $16 million ($12 million bare) including 4500 head of cattle.
The 60,200ha property is located 35km west of Larrimah and the Stuart Highway, and 200km south-east of Katherine.
Described as a developed, low-cost breeder operation, the country is a mix of open red woodlands and blacksoil Larrimah land systems.
Middle Creek has been listed on and off since 2016, however during that time vendor Nino Niceforo has been extensively developing the property.
Fencing and water have been spaced to allow no more than a 5km radius for stock to water which includes upgraded water lines, tanks and troughs.
It is understood Mr Oldfield will integrate Middle Creek Station with the 3443ha Phoenix Park live export depot and holding facility near Katherine which was sold by Gina Rinehart to Crown Point Pastoral (a joint venture between Viv Oldfield and Danny Costello) in January 2022.
Alison Ross from Elders Katherine handled the sale.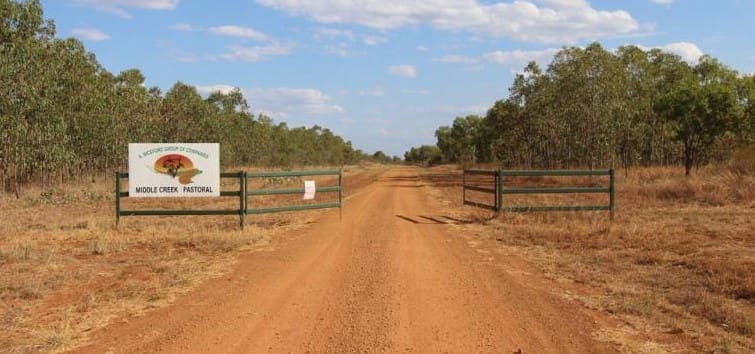 $33m for beneficial flooding country in NSW's north-west
Garah's Andrew Yates has paid $33 million or $6898/ha for the nearby mixed grazing property Welbon on the highly fertile north-west slopes and plains of New South Wales.
Ed Wisemantel from Ray White Rural Moree said the auction was hotly contested.
"Five registered bidders started at $18 million but in the end, four locals battled it out to achieve a district record price."
Mr Wisemantel said listings had been far and few between in the region, so it was a good indication of where the property market was sitting in the light of rising interest rates and lower commodity prices.
The 4784ha Welbon is situated 19km from Garah and 40km from Moree and has been carrying a large body of dry feed.
The auction ends 100 years of family ownership by the Carrigan family.
In 1923, Welbon (including 8000 sheep) was purchased by Alexander Carrigan from the Scottish Land Co. In 1985, descendant Chris Carrigan expanded the land holding with the adjoining Duravale and then part of Gilbunna three years later.
The country is predominately flat, grassed with Mitchell, bluegrass and native medics and timbered by belah, brigalow, wilga, boonery and box, with some coolibah shading areas along the waterways.
Welbon can be operated as a cattle and sheep enterprise, but is currently conservatively stocked with sheep – with the last shearing tallies reaching 8500 head. In the past, up to 50 percent has been farmed for winter cereals and fodder.
The property receives some beneficial flooding and is watered by the Wallon and Gil Gil Creeks, which provide some extensive waterholes and fishing opportunities.
The Careunga bore cap and pipe scheme also supplies water to a network of 36 cup and saucer tanks.
Corporate pays $11m for northern NSW country
After attracting widespread interest, a corporate, believed to be GunnAgri, has paid between $9 million and $12.5 million bare for immaculately presented grazing and cropping country in northern New South Wales.
The 1237ha The Glen is located 10km south of Delungra and 40km from Inverell, on the border of the Northern Tablelands and the north-west slopes and plains.
Carl Hurford from Nutrien Harcourts Inverell was unable to disclose the vendor or the price paid, but with country in the region selling for between $7400/ha and $9990/ha, The Glen is likely to have achieved around $11 million.
Mr Hurford said the volume of inquiry, which ranged from producers to corporates, was incredible and stretched from far north Queensland to Victoria.
Venders Blair Burton and Nancy McPherson who have owned The Glen since 2003, have extensively developed the property.
The property boasts 690ha of high performing farming basalt soils growing canola, wheat and field peas.
Areas of developed open grazing country are carrying a good body of native pastures and if converted to a backgrounding operation, could run around 2500 head of cattle.
The property has dual frontage to the Hobbs and Spring Creeks and a single frontage to Myall Creek, as well as eight bores.
$9m+ for CQ's Rainbows End
Gogango's Paul and Karla Tobin, Tobin Beef, have paid $9.05 million for Central Queensland's Rainbows End, described as exceptional cattle country.
The auction ends 20 years of ownership by the Attard family.
Brad Hanson from Hourn & Bishop Qld said the sale was another record price for the Moura district.
"Three registered bidders were vying to expand with the highly sought after, prolific, heavy carrying, melonhole country with improved pastures suitable for breeding, backgrounding or fattening livestock," he said.
The 1241ha block is situated 10km north-east of Moura and 64km west of Biloela, in the heart of the Dawson Valley.
Centrally located to a number of livestock selling complexes and abattoirs, the property has been carrying a dense feed bank of quality pasture that can run 990 adult equivalents.
The country consists of brigalow, blackbutt, belah and softwood scrub soil types, with 80ha developed to leucaena.
The natural melonhole country offers abundant seasonal surface water and a 5km gully (which diagonally traverses the property) and that regularly supplies water to four large, interconnected dams piping water to six tanks and 15 troughs.
Currently managed under a cell grazing system consisting of 93 paddocks, Rainbows End has a large set of timber cattle yards connected to a centralised laneway.
Horton Valley breeding country sells post auction
A New South Wales family seeking breeding country has paid more than $10.2 million for two adjoining properties in the renowned Horton Valley on the northern slopes of New South Wales.
The purchaser, who owns farming country and a feedlot, offered $10.2 million for the 3321ha Belfield before it was passed in at auction.
No bid was received for the neighbouring 315ha Riverstone, situated on the other side of the Horton River.
Later, Peter Etheridge from Etheridge Property and Riley Gibson from Ray White Rural negotiated a deal with the under-bidder for both properties, however they were unable to disclose the name of the purchaser or the price.
For the past 15 years, Belfield and Riverstone have been owned by Bruce and Sue Retschlag who have invested significant capital into improving the infrastructure, including steel cattle yards, water, fences and sheds.
The country ranges from productive creek flats and low rolling hills, a large percentage of which is open and contoured and previously farmed. It then rises 350m to a plateau with heavy basalt soil types that is more heavily timbered.
The Retschlags estimate the property can run 700 cows, however it has the ability to further increase production.
Riverstone carries similar productive creek flats, rising to timbered hill country and steeper areas.
Situated in an 850mm average annual rainfall district, the aggregation has a 4km frontage to the Horton River, a 5km double frontage to Noogera Creek, numerous dams, with water reticulated to an extensive trough system.
CQ's Kantaka secured prior to auction
A Central Queensland property that turns off top quality weaners has sold prior to auction to a cattle family seeking expansion.
The 3399ha Kantaka is situated at Molangul 40 minutes from Gin Gin.
Mike Barry from Shepherdson & Boyd was unable to disclose the buyer or the price paid, but it is understood to have achieved between $8 million and $9 million.
The property has been conservatively stocked with 350 breeders, 230 heifers and 30 cull cows. However, it is estimated to carry up to 650 breeders plus replacement heifers, with the balance of the progeny sold as weaners.
Around 1214ha of gently undulating country with flats and hollows is established to improved pastures. Livestock numbers could be lifted further with the development of 405ha of similar country.
Another 400ha of lower timbered ridges are interspersed with flats and hollows carrying native pastures, and 1376ha is timbered, steeper ridges to range country carrying native grasses.
The water infrastructure on Kantaka is extensive with five bores, numerous dams and semi-permanent watercourses.
Mr Barry paid tribute to the vendors, Jamie and Sigrid Peters, saying they had developed the property with superb pastures, water infrastructure and structural improvements.
Properties passed-in: Negotiations underway for Qld Fitzroy River grazing
Richard Brosnan from Ray White Rural is in discussions with interested parties after Central Queensland's Melaleuca passed in at auction for $15 million.
Owned by Lisa McKinlay, the 3234ha parcel of Fitzroy River grazing country is situated 30km north-west of Gogango and 95km west of Rockhampton.
The river frontage country rises to undulating and heavily grassed higher areas comprising mostly mixed scrub.
The property has 3.2km of Fitzroy River frontage and 5km of Melaleuca Creek frontage. Permanent natural water is supplied by both and supported by five dams.
The newly constructed Riverslea Bridge will allow all year access to the Rookwood Weir which is under construction and due to be operational early next year.
Mr Brosnan said Melaleuca is traditionally a grazing property, but its access to water may generate interest for its future potential.
"Melaleuca lends itself to further development. An area of rich alluvial scrub soils could be placed under irrigation to grow a variety of high value crops or pastures."
"The development of the Rookwood Weir is changing the local landscape with investment committed for a large-scale macadamia plantation and a proposal for a large feedlot," he said.
Well located NQ cattle block listed for $3.65m
A well-located, low-cost cattle enterprise in north Queensland has been listed for $3.65 million bare after failing to sell at auction.
The 6914ha Percy Springs is 28km from Charters Towers and features a mix of fertile creek frontage and sandy and gravelly soils.
The improved pastures, including buffel and native perennials, can carry between 500 and 600 breeders or adult equivalents.
In the centre of the property there are patches of lancewood and spinifex country which offer useful dry weather feed reserves.
Henry Slaney from Slaney & Co said for many years, the vendors had been conservatively managing the property.
"Percy Springs has been understocked, paddocks have been spelled and rotationally grazed resulting in comprehensive pasture coverage, little erosion and very good animal performance."
Mr Slaney said the property will suit a range of buyers.
"The proximity to Charters Towers is likely to attract established or downsizing cattle producers, professionals and businessmen. It would also be a great starter block for a new entrant to the cattle industry."
Percy Springs is watered by seasonal creeks, including the Hann, Percy and Gaines, waterholes and springs, together with six bores and eight dams.