THIS week's property review includes a wrap up of recently completed sales, and a separate article on interesting recent listings across the country.
Historic NSW property to become a national park
Scale & development potential in Charleville makes $27m
Yeppoon family expands with Cocklebinda
High rainfall CQ country relisted for $11.5m
Two KI grazing blocks relisted, one secured prior to auction
Late finishing grazing on KI fails to sell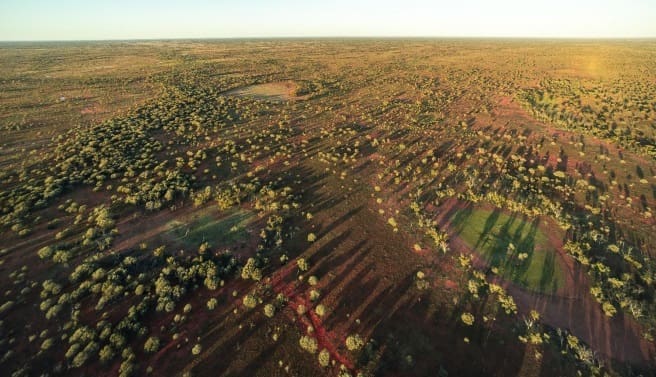 Historic NSW property to become a national park
The historic Thurloo Downs in New South Wales' far north-west has been acquired by the Perrottet state government and will become the state's third largest national park.
Bourke-based agent Greg Seiler from Nutrien Ag Solutions Walsh Hughes negotiated the sale but was unable to disclose the price due to a confidentiality agreement.
However, in this earlier story, Lisa O'Connor from Nundooka Station near Packsaddle told our sister website Sheep Central she understood the property was purchased for $271/ha, putting the price at about $118.8 million.
Comprising five neighbouring properties, the 437,394ha Thurloo Downs aggregation, pictured above, is located 175km north of White Cliffs and 250km north-west of Bourke on the Berawinnia Creek close to the Queensland border.
The country is mostly open and lightly timbered with the balance sandhills and stony ridges.
Once owned by Sir Sidney Kidman, Thurloo Downs was purchased in 1983 by a Mr Hughes (not the prominent Queensland cattleman) and run as a grazing operation.
Situated between Tibooburra and Bourke, the property is adjacent to the Narrieara-Caryapundy Swamp National Park.
Together, the landholdings will protect 90 percent of the Bulloo Overflow floodplain (a huge wetland at the end of one of Australia's last free-flowing rivers, the Bulloo) and support hundreds of thousands of birds, fish and other animals, the government said.
Over the next two years, while the property transitions from pastoral station to national park, feral animal and weed control will be ramped up as part of what is claimed to be the largest ever feral pest control program in the history of the NSW National Parks and Wildlife Service.
A National Parks and Wildlife Service spokesperson said carbon potential was not a consideration and that acquisition priorities are driven by conservation values.
Scale & development potential in Charleville makes $27m
Adrian and Megan Forrest have paid $27 million ($878/ha bare) for sought-after breeding, backgrounding and finishing country in south-west Queensland.
Charleville's 30,759ha Noella, 85km west of Augathella, will be added to the Forrest's other holdings east of Augathella.
For more than 30 years Noella has been held by Chinese-owned, but Sydney-based, Mathew's Farm Investments (previously known as China State Farms Pty Ltd).
Featuring mostly gidgee, brigalow and bottletree scrub, the country features high protein pasture and soil types supporting buffel and soft native grasses, and a mix of gidgee burr, salines and herbages which respond quickly to rain.
Enjoying an excellent season, with much of the country being spelled over the last four years, Noella is capable of running 2500 breeders.
More than 58km of the property is newly fenced and watered by more than 45 dams and tanks, as well as numerous creeks and run-off from scattered hills and ridges.
Keith Richardson from Elders, who handled the sale, was happy with the purchase price, saying it was in line with expectations.
"Noella boasts scale and development potential. It is capable of tremendous livestock production, achieving high daily weight gains."
Yeppoon family expands with Cocklebinda
The Atkinson family from Yeppoon has expand its current holdings with the Central Queensland breeder property Cocklebinda.
They paid $8.8 million or $1086/ha bare for the 8098 hectares which are 37km from Baralaba and 75km from Moura in a tightly held district.
Cocklebinda has been held by Greg and Linda Ohl for 40 years and has historically run 1000 breeders.
The country comprises 3000ha of pulled country, originally timbered with brigalow, belah and box, with the balance mostly forest country with good areas of open grazing country.
Cocklebinda has 13km of dual frontage along the Perch Creek (which has seasonal flows) as well as 11 dams, two bores and 20 watering points.
Rod Harms from Rod Harms Rural handled the marketing and the sale.
Passed in: High rainfall CQ country relisted for $11.5m
A uniquely positioned block in Central Queensland has returned to the market with an $11.5 million price tag, after being passed-in at auction.
The 1617ha Mondover is a sizeable breeding, backgrounding and finishing block on the Capricorn Coast's high rainfall hinterland.
Owned since 2015 by Paul and Margaret Kirkwood who are retiring, the property is situated at Lake Mary, 15 minutes from Yeppoon and 40 minutes from two export abattoirs in Rockhampton and close to the Gracemere saleyards.
Heavily grassed with improved pastures, the country comprises mostly open flood-out and around 200ha of higher country.
Mondover is watered by a chain of permanent lagoons and creeks, with the Daly Creek running through the middle of the property.
Securely fenced, Mondover is running 900 backgrounders that are gaining 0.6 to 0.7kg per day.
The sale of Mondover is being handled by Rod Harms from Rod Harms Rural and Virgil Kenny from Elders Rockhampton.
Two KI grazing blocks relisted, one secured prior to auction
A local has secured one of three parcels of reliable rainfall grazing country on South Australia's Kangaroo Island.
Aggregated by Bruce Dunsdan over 20 to 30 years, the Haines Aggregation was offered to the market in January as a whole or in three non-contingent lots.
The portfolio comprised the 541ha D'Estrees which has returned to the market for $3.7m, the 683ha Sugars listed for $3m and the adjoining 367ha Watts which was sold to a local for an undisclosed sum.
D'Estrees – situated 26km to Kingscote and 45km to the Penneshaw Ferry, the 415ha of useable grazing country are running 1350 ewes, 430 wethers and 40 cows on highly productive improved pastures. D'Estrees is watered by interconnected dams, permanent soaks and a portable solar pump system.
Sugars is located 27km from Kingscote and 31km from Penneshaw. Water is secured by a large freshwater soak and 12 dams. Around 386ha of improved pastures is suitable for grazing.
Leo Redden from Nutrien Ag Solutions said the two properties give existing producers an opportunity to expand their businesses.
Late finishing grazing on KI fails to sell
Well located and well managed late finishing grazing country on South Australia's Kangaroo Island has failed to sell at auction.
Leo Redden from Nutrien Harcourts said the 715ha Lake Ada was passed in at $2.8 million and has now been listed for $3.2m.
The property is located 41km south-west of Kingscote and 72km west of Penneshaw, in the Hundred of Seddon.
Situated in a reliable rainfall region, Lake Ada is well watered by a modern water reticulation from permanent springs and late finishing flood out areas, as well as 16 dams.
Vendor Malcom Schaefer, who is consolidating his landholdings, said the property had been held by his family for 110 years.
"It is an ideal satellite farm for local Kangaroo Islanders or mainland producers looking to grow their business."
In 2001, Mr Schaefer received an SA Landcare award for land reclamation and improvement. With double fenced shelter belts protecting around 425ha of useable grazing, Lake Ada can run 3900 dry sheep equivalents.