THIS week's property review includes a wrap up of recently completed sales, and a separate article on interesting recent listings across the country.
McClymonts secure FNQ's Crystalbrook Station
Victorian Western District grazing makes $22.5m
Graziers pay $5.5m for diversity at Roma
NSW Western Division holding exceeds expectations
Condamine block makes close to $5000/ha
McClymonts secure FNQ's Crystalbrook Station
The McClymont family has paid more than $12 million for North Queensland's Crystalbrook Station, including 2748 head of Brahman cross cattle, plant and equipment.
The 33,900ha breeding property is located near Chillagoe, 220km west of Cairns, close to the McClymont's neighbouring Bolwara and Blackdown Stations.
Peter McPherson from Queensland Rural was unable to confirm the price paid, but a figure above $20 million was anticipated in May when the GA Group listed both Crystalbrook and Silkwood Stations after three years of ownership.
Silkwood remains unsold and is now being offered to the market with a price tag of $8 million. The drought-free coastal fattening and backgrounding grazing country is being sold bare of livestock.
The boundary-fenced Crystalbrook Station features mainly black spear grass and native species with areas of seca stylo.
There are two sets of new modern-design steel yards complete with crush, draft pounds, branding cradles and loading facilities.
The property is watered by more than 26 dams and 13 bores. The Sandy Tate River runs through the southern end providing several permanent and semi-permanent holes.
Crystalbrook also boasts a luxury (fully furnished and operational) homestead catering to ten guests. The wet edge pool overlooks a barramundi-stocked lake covering 120ha and holding 3000 megalitres of water.
Victorian Western District grazing makes $22.5m
Michael and Anna Coughlan have paid a reported $22.5 million for the scenic Southern Grampians property Wykenham in Victoria's Western District.
The blue-ribbon, family-owned holding Wykenham was listed by John and Sally Robertson in April after 40 years of ownership.
The Coughlans are holistic farmers who run two properties – Tarabah at Morundah and their home farm Mt Narra Narra Station at Holbrook in the heart of southern New South Wales' Riverina.
Set in productive red gum country at Dunkeld, Wykeham is a prime lamb breeding and cattle enterprise running 17,500 dry sheep equivalents in a 700mm reliable annual rainfall region.
Spanning 1013ha, the property boasts extensive frontage to the Wannon River and a spectacular panoramic backdrop of Mt Abrupt and Mt Sturgeon.
Wykeham was offered as a whole or in three separate lots via an expressions of interest campaign by HF Richardson Property.
Selling agents Ken McDonald and Matt Poustie said properties of this scale and productivity, coupled with a reliable average rainfall and a mountainous backdrop of unparalleled natural beauty, rarely come on the market.
Graziers pay $5.5m for diversity at Roma
A syndicate of graziers has paid more than $5.5 million for Bellevue, a diverse integrated smaller beef enterprise close to Roma in southern Queensland.
The 548ha property, 28km south-west of Roma in the Mount Abundance area, was passed in at auction for $5.5 million but sold for an undisclosed price to the highest bidder following a 30-day due diligence process.
2DE Pty Ltd owns a number of properties in southern Queensland, with its latest purchase, Bellevue, complementing its existing operations.
Darryl Langton from Nutrien Harcourts who handled the sale, described the result as a "strong sale for a very strong asset."
Bellevue features an accredited 1580 standard cattle unit feedlot, a 112ML intensive water licence and development approval for 5000 SCUs.
Owned by Justin and Sherrill Stivano for 19 years, the property offers cattle producers a finishing operation in all seasons.
The country comprises 486ha of brigalow, belah and bottletree softwood soils that can be cropped. Currently, 300ha are planted to oats with 100ha of late forage sorghum.
The vendors use the cultivation predominately for a hay production enterprise, with storage for around 9000 round bales.
NSW Western Division holding exceeds expectations
The extensively improved and developed New South Wales western division property Multagoona has exceeded expectations selling to Andrew Keatinge from Berremangra, New South Wales, for $5.3 million ($333/ha) bare.
The 15,925ha holding is located 100km north of Cobar and 145km south of Hillston.
When it was listed in June, Multagoona was expected to make between $4 million and $4.5 million.
David Russell from Nutrien Russell Property and Livestock said the final price was a very good result and was possibly a district record for grazing country.
Multagoona is set up as a Dorper breeding property running 2000 ewes, with 500 nannies behind wire.
Vendors Simon and Laura Prince purchased the holding as a blank canvas and during their five-year ownership spent more than $600,000 on new infrastructure, including fencing, handling yards and a permanent water supply.
The grazing country has soft red sandy loam soils heavily grassed with highly fertile, quick responding herbages.
Multagoona is well watered by 12 dams, seven of which are securely fenced with traps, handling yards and loading ramps. Five of the dams are new and five have been recently desilted.
The property was sold with a 600ha cultivation licence – around 130ha have been previously farmed, with the remainder needing to be raked.
A vegetation plan over the property allows for further work to be completed by the incoming purchaser, greatly increasing the carrying capacity.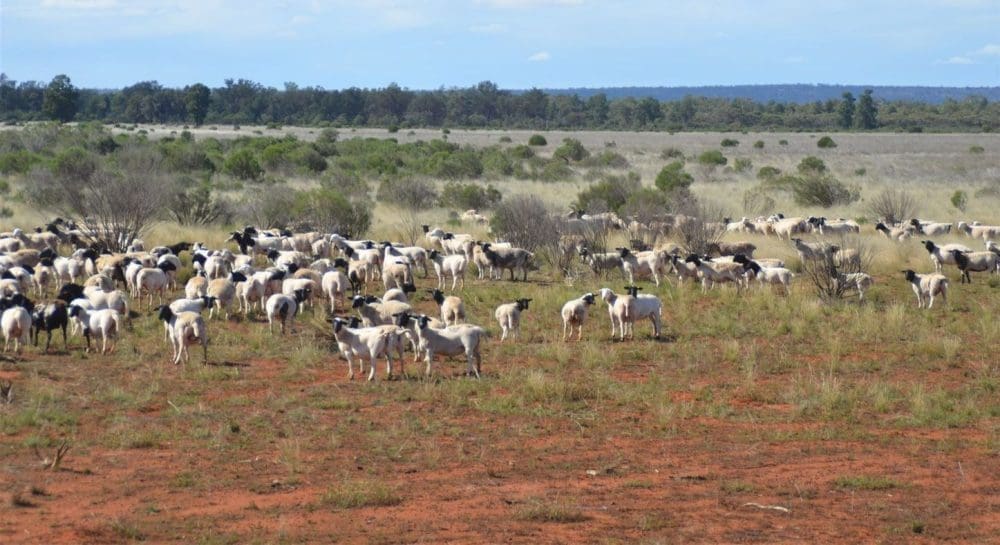 Condamine block makes close to $5000/ha
A local producer seeking expansion has paid $2.75 million ($4885/ha) bare for Rayford Park, a 563ha freehold block on Queensland's western downs.
Held by the Uebergang family for the past two years, Rayford Park is centrally located to feedlots, markets and major towns, 13km north of Condamine and 20km south of Miles.
The property offers the incoming purchaser diverse opportunities. With 222ha of cultivation and the balance open grazing, it lends itself to use as a beef depot, feedlot or centre pivot irrigation opportunity.
Rayford Park has a 4km Dogwood Creek frontage, three dams (which have been desilted) and a 144ML water allocation. The infrastructure includes steel cattle yards and machinery and storage sheds.
A four-bedroom, two storey timber Queenslander has been recently renovated.
The sale of Rayford Park was handled by Ben Forrest from the Resolute Property Group.
Click here to access more property sales results