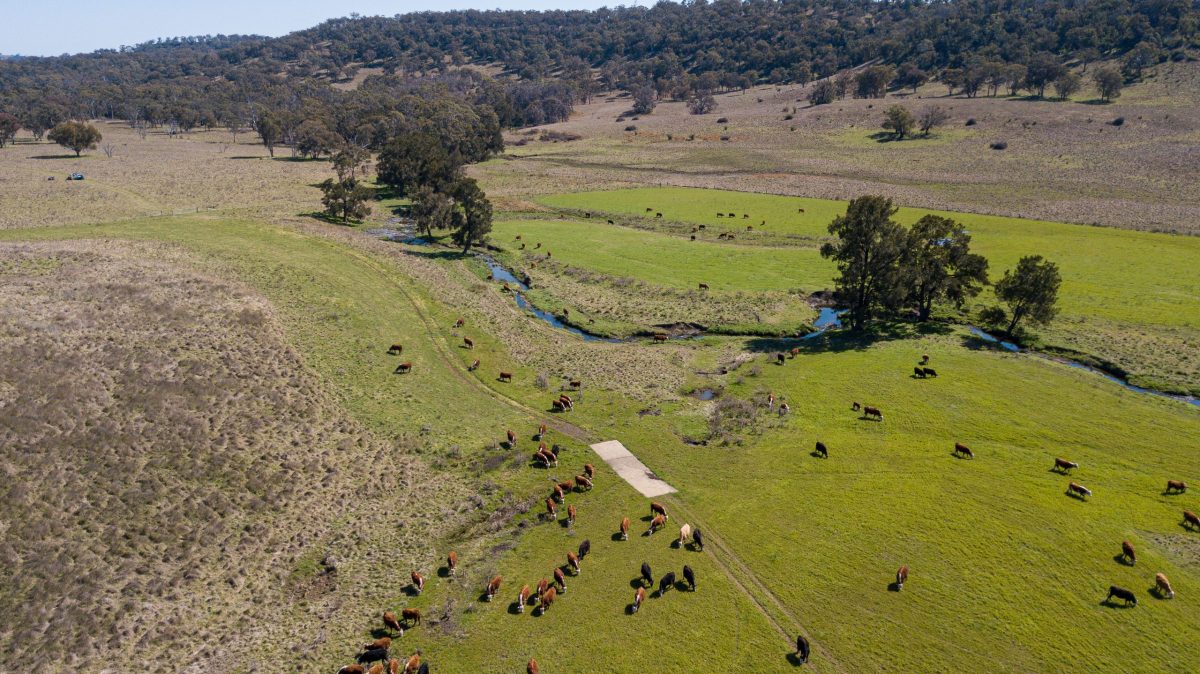 THIS week's property review includes this wrap-up of recently completed sales, and a separate article on significant and interesting recent listings across the country.
Locals secure Paradise in Northern Tablelands for around $23m
Packhorse adds NSW's Ottley Station to its portfolio in $20m deal
Sydney investor swoops on Mudgee's Biraganbil
North west NSW producers purchase diversity in Lachlan Valley
Charleville's Ouida sells for feed and carbon
Locals secure Paradise in NSW Northern Tablelands
A large local group is believed to have paid in excess of $23 million for Inverell's historic Paradise Creek Station, setting a new benchmark for the district.
In November, the property (pictured above) was offered to the market for the first time in 115 years by the Nicholas family, via an expressions of interest campaign which closed on December 9.
Simon Cudmore from Land Agribusiness Water Development (LAWD) was unable to disclose the buyer or the price, but he said there was unbelievable interest in the asset.
"Inquiry came from Queensland, New South Wales, Victoria and Western Australia ranging from farming families to corporates. The property is situated in a region with a proven history of running cattle with a reliable rainfall," he said.
Paradise Creek was made famous by the influential impressionist artist Tom Roberts. In 1895 he painted the famous 'Bailed Up' (which currently hangs in the NSW Art Gallery) sitting on a platform he built in a tree at Paradise Creek Station, as well as 'In a Corner of the Macintyre' (which hangs in the National Gallery of Australia).
The 2575ha of highly productive basalt soil country is located on New South Wales' Northern Tablelands, a region well known for its quality soil types and its ability to breed and produce quality cattle and sheep.
The large-scale freehold breeding and backgrounding enterprise carries between 18,000 and 22,000DSE. It is currently stocking 500 cows.
Paradise Creek has a long and recognised history of producing award winning fine Merino wool and a good reputation for breeding quality Hereford cattle.
Improved pastures feature a large body of perennial rye and fescue grasses with a variety of seasonal herbages and clovers intermixed on predominately chocolate and black earths.
It benefits from 12km of Macintyre River frontage, 6km of Paradise Creek frontage, 4km of Back Creek frontage and nine dams.
Paradise forms part of a proven high-volume grass production system which, alongside sister property Newstead, is capable of producing more than three million kilograms of beef per annum.
Packhorse adds NSW's Ottley Station to its portfolio
Simon and Jenny Gregson's Ottley Station has sold to Packhorse Pastoral Co in an off-market deal believed to be worth more than $20 million.
The 8751ha holding is located 54km north west of Inverell and 80km south of the Queensland border near Warialda, within close proximity to northern New South Wales and southern Queensland feedlots and meat processing facilities.
Ottley Station is the first New South Wales based property in the Packhorse Pastoral Co portfolio.
The holding can run 4000 adult equivalents on heavy black basalt soils.
Packhorse hopes to lift that carrying capacity over the next five years by converting 600ha to improved pastures and planting deep rooted legumes, as well as undertaking water and fencing improvements.
Ottley Station has double frontage to the Ottley and Jardine's Creeks. It is also watered by five equipped bores reticulating into a network of troughs complemented by 32 dams.
Fifty percent of the land has been identified by Carbon Link as suitable for carbon sequestration.
Simon Cudmore from LAWD handled the sale of Ottley but was unable to disclose the price. The property was sold bare of livestock, plant and machinery.
About Packhorse Pastoral Co
In May last year, the cattle property investment manager Packhorse Pastoral Co, launched an agri-business fund seeking to raise $300m in its initial move to combine cattle production with carbon sequestration on a massive scale.
The Australian company has a five-year strategy to acquire $1.5 billion worth of cattle properties stretching west of Coffs Harbour in New South Wales north to Bundaberg in Queensland.
It also launched programs to sequester carbon in the rejuvenated soil and generate lucrative carbon credits.
In July last year, Packhorse secured prominent Roma district property Stuart's Creek for $27m bare.
The 8360ha Stuarts Creek has operated as a Hereford Stud since the early 1950s and continues to be operated with a prime Hereford breeding and fattening herd estimated at 3000 adult equivalents.
Sydney investor swoops on Mudgee's Biraganbil
In an off-market deal, a Sydney-based investor looking for a large parcel of land has secured Biraganbil – one of the Mudgee region's finest landholdings.
Inglis Rural Property was unable to disclose the purchaser or the price paid, but said the buyer is a long standing and valued Thoroughbred client of William Inglis & Son.
Located on the banks of the Cudgegong River, the 3342ha property has been owned since the mid-1980s by the late Eduardo Cojuangco Junior and his wife Gretchen.
The cattle breeding and fattening property can run about 1000 breeding cows and progeny.
It is also conducive to winter and summer cropping and irrigated lucerne production via five centre pivots, with water supplied from the Cudgegong River.
Biraganbil has been the headquarters of the Cojuangco family's commercial Wagyu operation – breeding F1 and purebred Wagyu progeny that are either fattened or grown to specified weights and then sold to feedlots.
The Cojuangco family will continue a smaller commercial Wagyu operation from Gooree Park, which is located nearby.
The new owner of Biraganbil has purchased 550 Angus cows and will continue to run FI operations under the existing manager Will Jackson.
Jamie Inglis from Inglis Rural Property said the firm engages with a wide array of wealthy potential investors, many of which are looking for rural assets.
"As a result, we approached the Cojuangco family privately, inquiring as to whether they would be interested in selling Biraganbil," he said.
Mr Inglis said the sale showcased the strong demand from investors for flagship rural properties close to major capital cities as the appetite for quality rural assets outstrips supply.
Northwest NSW producers purchase diversity in Lachlan Valley
The Le Lievre family from Yathonga Station at Louth, in New South Wales' north west, has secured two highly versatile and complimentary mixed irrigation farms in the heart of the Lachlan Valley.
The non-contiguous Jemalong properties Glenorie and Dorset are located 29km west of Forbes.
While the sale price remains confidential, the properties were listed with a guide of between $6 million and $7 million.
Comprising 495ha of productive farming and grazing country, the sale also included 1250 MgL of ground and surface water.
Gary Johnston from the Johnston Rural Group said the properties generated a significant level of interest for the Forbes area.
"Inquiry came from local operators, producers from western and southern parts of New South Wales, city-based investors and corporates," he said.
Charleville's Ouida sells for feed and carbon
An interstate producer has paid $2.2 million for south west Queensland's Ouida, boasting a big body of feed and a carbon income.
The 18,812ha breeding block situated 96km west of Charleville generates an income from a locked-in carbon contract.
The country features a mix of soft red and heavier soil country, including Peters Creek watercourse, big flats, gidgee and edible low and high mulga.
Ouida is watered by 23 earth dams and a sub-bore that is solar equipped.
The property had been held by three generations of continuous ownership spanning 75 years.
Keith Richardson from Elders handled the marketing and sale of Ouida. While some plant was included in the sale, it was sold bare of stock.
Click here to access more property sales results