THIS week's property review includes this wrap-up of recently completed sales, and a separate article on interesting recent listings across the country.
Tumut's Kimball makes a record $33,600/ha
Benchmark sale for high-rainfall New England country
NSW's Sylvania Aggregation makes $13m
Locals pay high $20m for Walgett's Marshmead Aggregation
Renowned Victorian Wagyu operation changes hands
Capella's Mitchell Park doubles its money
New entrants secure CQ country for $8.9m
Droughtmaster family expands in QLD's southwest
Canberra businessman adds to current holdings
Excel Farms secures SA grazing block for $7m
$10m+ for diversity on SA's Winavon
WA's Hutt River Province sells to local producers
WA's Balladonia sells after three years
Interstate sale for NSW's Waldon
Tumut's Kimball makes a record $33,609/ha
A record $33,609/ha has been paid for the highly regarded Tumut district property Kimball, on New South Wales' south west slopes.
The 363ha holding, offered for sale for the second time since settlement, was purchased by a southern New South Wales cattle producer as an expansion for his current operations.
Located 15 minutes from Gundagai and an hour from Wagga Wagga, the block is suited to cattle, prime lambs and fodder cropping.
When the property was listed in November, selling agent David Nolan from Webster Nolan anticipated Kimball would make between $9m and $12m.
He described the $12.2m sale price as "very strong."
"Many well established industry players participated at auction. It wasn't just local interest, producers came from across the state," he said.
Featuring highly fertile and versatile alluvial river flats and elevated grazing country, Kimball boasts 4km of Tumut River frontage and is watered by dams, lagoons and a 105ML irrigation licence.
Mr Nolan estimates Kimball could carry between 350 and 400 breeders.
"While it may appear to be a small block, it is a big production factory. In certain periods of the year, the river flats are capable of running one steer to the acre."
Benchmark sale for high rainfall New England country
A high rainfall, high production, grazing powerhouse in northern New South Wales had made $14.35m (bare) or $15,010/ha at auction.
The 956ha Brucelyn is situated on top of the Great Dividing Range in the renowned district of Ben Lomond that carries a reputation for consistently producing excellent weights for prime beef and lambs.
Andrew Starr from Ray White Rural said it was a new benchmark sale for a commercially viable standalone asset in the Ben Lomond area.
It was purchased by a well-established Queensland grazing family who have Wagyu cattle in their enterprise mix.
Interestingly, Mr Starr reported six of the 11 registered bidders were well established Queensland beef operators.
"There is still a strong appetite from Queensland for the New England – all seeking consistent rainfall and weight gain," he said.
Brucelyn once formed part of the original 27,000ha Moredun Station which was gazetted in 1848 by Andrew Wauchope.
The country rises to 1350m above sea level with a temperate climate that enables perennial pastures to thrive in the heavy basalt soils.
Water is supplied by 36 dams (many of which are spring fed), Moredun Creek frontage and natural spring-fed streams.
The free-flowing bore, sunk in 2004 with a flow rate test of 17 litres per second, is considered a real asset. While the bore remains unequipped, it provides water security and the opportunity for the development of further troughing.
Mr Starr said Brucelyn had benefited from a long-standing fertiliser history.
"There is an opportunity for the incoming purchasers to further drive production by using the reliable annual rainfall with the development of new pastures."
NSW's Sylvania Aggregation makes $13m
New South Wales producer Brendon Stoney has paid around $13m for MH Premium Farms' high-rainfall grazing and cropping aggregation Sylvania.
Mr Stoney confirmed Sylvania was under contract and due to settle in mid-December. He said the aggregation will be used to expand his southern holdings in Harden and Tumut.
Spanning 3444ha, the Sylvania Aggregation is one of the largest operations in the renowned Wean district, 40km north of Gunnedah and 20km east of Boggabri, in the state's north.
Since 2016, it has been owned by rich-lister and UK-based hedge fund manager Sir Michael Hintze and was sold because it no longer fits the company's long-term strategy.
With highly productive mixed soil types, Sylvania lends itself to a range of commodities, with the current owners annually fattening 8000 sheep, trading 500 head of cattle and cropping 500 hectares.
The country runs from basalts to alluvial creek flats and lighter red open plains ideal for lucerne and sub-tropical grasses.
Emphasis has been placed on substantial water reticulation systems, sheep-proof fencing and laneway infrastructure for ease of livestock movements.
Ian McArthur from Elders Gunnedah handled the expressions of interest campaign.
Locals pay high $20m for Walgett's Marshmead Aggregation
Meantime, the 12,343ha large-scale grazing and dryland cropping platform Marshmead Aggregation, also owned by MH Premium Farms, has sold as two separate assets to two local families for between $25m and $30m.
The large-scale non-contiguous aggregation is located 10km south of Walgett in northern New South Wales.
Managed as a single enterprise, the 8587ha Marshmead and 3756ha Kimo are 2.5km apart and benefit from direct access to the Castlereagh Highway.
The enterprise focus has been on the winter crop production in combination with cattle trading, with the grazing area carrying a large body of feed.
Col Medway from Land Agribusiness Water Development (LAWD) was unable to disclose the price or the buyers, but said settlement would occur following the harvest of the 2021 winter crop.
Renowned Wagyu operation changes hands
Roger Shore from Bonnie Doon Wagyu, Morven in southern New South Wales, has paid more than $12m for Victoria's Moyhu Wagyu Aggregation.
Spanning 847ha, the holdings consist of four properties – Leatarn, Hancocks, Bartons and Sampsons, which are located within a 10km radius.
The enterprise is situated in highly-productive, high-rainfall country at Meadow Creek at the foothills of the Victorian Alps, near the King Valley – renowned for its fine wines and foods.
The cattle run on a mix of improved pastures based on rye grass, phalaris and clover with some native grasses.
The high-performing agribusiness was established more than 25 years ago by Emeritus Professor Bob Officer AM.
He is confident the incoming purchaser can make the enterprise bigger and better.
"The only reason I am selling is because I am over 80. I believe Roger Shore can expand the business by aggregating it with his existing holding, Bonnie Doon," he said.
Mr Officer intends to remain involved in the Wagyu industry. He will retain the Wagyu embroyos and semen, along with several bulls.
Carrying a renowned and registered Fullblood Wagyu stud, the walk-in walk-out sale included plant and equipment, as well as a herd comprising 600 breeders, plus weaners, heifers and bulls, with final numbers still to be determined.
The Moyhu Wagyu Aggregation will settle at the end of January.
Capella's Mitchell Park doubles its money
Capella's Shaw family, Wanditta Station, has paid $8.4m for the neighbouring Mitchell Park owned by Neil and Margaret Dunbar.
The 1240ha property, 15km from Capella and 52km south of Emerald in Central Queensland, were passed in at auction for $7.925m but sold shortly afterwards.
The buffel grass country, boasting 2040ML of water entitlements, was listed for sale in July 2019. According to Trenton Hindman from Colliers Agribusiness, the sale price represents a 100 percent increase in value.
Mitchell Park is EU-accredited and suitable for backgrounding or intensive silage/bunker feeding.
The property features highly productive soil types suitable for improved pastures, various grain and forage crops, with adequate infrastructure to expand intensive paddock production feeding of cattle with silage.
During the Dunbars' ownership, irrigation water over three licences has been secured. This means the property is virtually drought-proof, providing a competitive advantage over other dryland enterprises in the region.
Mitchell Park has 1350ML capacity from the Retro and Sandy Creek dams in the Fitzroy River Basin and scope to build additional dam storage infrastructure.
New entrants secure CQ country for $8.9m
New entrants Corey and Amy Howell from Rockhampton have paid $8.9m ($2126/ha) bare for Baralaba's Avoca.
The 4185 hectares of well-balanced country offering diversity was auctioned by Ray White Rural. Agent Richard Brosnan reported there was lively bidding from eight registered bidders, who were mainly local.
Located 33km north west of Moura, the freehold property has 1600ha of brigalow and blacksoil country with large swamps, and 1600ha of mixed forest country. Around 800ha has been cultivated.
Avoca is watered by three bores, and the Mimosa Creek which provides seasonal waterholes and large swamps.
Droughtmaster family expands in QLD's south west
Michael and Tracey Flynn from Valera Vale, near Augathella, have paid $7.31m for Charleville's 21,124ha Yanna Station in south western Queensland.
The couple runs a core stud herd of about 1200 Droughtmasters on family properties at Milbong, Munbilla and Mt Mort. On Valera Vale they run a further 3000 to 4000 stud and commercial Droughtmasters.
The Flynns will use the safe cattle breeding country on Yanna to expand their current operations.
Located 65km south of Charleville and 340km west of Roma, Yanna is a productive, easily managed operation capable of breeding, growing and fattening.
It features soft Warrego River frontage, open plains, flooded flats, channels, sand ridge buffel and gidgee, as well as high and low edible mulga.
The property is well watered by 13km of Warrego River frontage, seasonal lagoons, and three artesian bores piped 58km to 12 tanks and more than 60 troughs.
Keith Richardson from Elders described the $7.31m sale price as "very good", saying it included working plant and the 200ML irrigation licence from the 5km long Warrego River Murweh waterhole.
Canberra businessman adds to his current holdings
A Canberra businessman who owns large rural holdings around the ACT has paid $6.9m for the blue-ribbon grazing platform Chimney Creek.
Owned since 1998 by retired Australian judge Roger Gyles, the 467ha block has mixed farming capabilities and future development opportunities.
It is situated in the Primrose Valley on New South Wales' Southern Tablelands, 21km south east of Queanbeyan and 37km from Canberra.
Chimney Creek boasts a scenic landscape with highly productive creek flats rising to a gently undulating topography and protected valleys.
Well-appointed with fit for purpose operational improvements for cattle and sheep enterprises, 434ha is pasture improved and suited to forage and fodder cropping supporting 5600DSE or 12.9DSE per hectare.
Water is secured by multiple surface and groundwater sources, including four bores, 15 surface dams and two highly reliable creek systems – the Primrose and Chimney creeks.
The sale was handled by Col Medway and Tim Corcoran from Land, Agribusiness, Water & Development (LAWD).
Excel Farms secures SA grazing block for $7m
Investment group Excel Farms has paid $7.05m ($8383/ha) for 841ha of strong and healthy grazing country in South Australia's mid southeast, ending more than 60 years ownership by the Walkington Group.
Excel Farms is a joint venture between a Canadian fund and Australian private investors that holds a diverse range of properties across Victoria and South Australia.
Manton features picturesque red and blue gum country at Frances, 35km north of Naracoorte in the Gap/Frances area.
When it was purchased in the early 1960s, the virgin scrub was cleared, levelled and sown to pasture.
Since then, the Walkington Group has been running a 1000 head prime lamb operation. Previously, they ran a beef cattle herd of 50 cows and calves, together with ewes and lambs.
The country on Manton comprises open, gently undulating productive grey and brown loams over clay with predominantly clover and grass-based pastures. It is well-fenced and watered by three bores.
Geoff Watts from Nutrien Harcourts said there was an opportunity for the incoming purchaser to increase Manton's carrying capacity with clay spreading and pasture renovation.
$10m+ for diversity on SA's Winavon
A South Australian producer has paid $10.1m for a well-balanced, productive and versatile property in the heart of the state's tightly held south east.
The 609ha Padthaway property is centrally located 50km south of Keith, 50km from Bordertown and 60km north of Naracoorte.
It has a blend of medium loam soils over limestone which are suited to livestock production, irrigation and cropping.
Vendors David and Deanna Dinning use Winavon for beef, wool, seed production and annual cropping including cereals, legumes and oilseeds.
A key feature is the 1600ML water licence that virtually drought proofs the property. Not only does it deliver seasonal security, it also adds significantly to the production capacity and enterprise versatility, with around 175ha irrigated.
Stock water is supplied from the shallow underground aquifer by way of electric pumps and windmills which supply tanks and troughing in each paddock.
Cameron Grundy from SAL Real Estate handled the sale, which will be used to expand the buyer's existing holdings.
WA's Hutt River Province sells to local producers
A local farming family has added Western Australia's iconic aggregation Hutt River, better known as the Hutt River Province, to its current holdings.
Located 43km north west of Northampton and 517km north of Perth, the 6100 ha property was offered to the market in September 2020 – the first time in 50 years.
At the time, Kris Teakle from Elders said there was a wide range of local, interstate and international interest.
He was unable to disclose the buyer or the price paid, but said the incoming purchaser was keen to improve the farmland and current infrastructure.
The topography on Hutt River is undulating, with areas of breakaway country and pristine bush along the river. An abundance of native vegetation adds character to the property, while multiple dams and bores provide access to water.
The property was originally purchased in the mid-1960s when it was cleared and developed for grazing and cropping.
Following a dispute over wheat production quotas in 1970, farmer Leonard Casley claimed the principality to be an independent sovereign state.
He attempted to secede from Australia by appointing himself 'prince', even issuing his own currency, stamps and passports. However, the Hutt River Province was never recognised as a country by the federal government.
The province did become a tourism destination for visitors from all over the world until January 31 last year when it closed its borders. The previous year, the owners lost a Supreme Court battle against the Australian Tax Office which demanded they pay more than $3m in income tax.
In August 2020, the Hutt River Province was formally dissolved, with the aggregation returning to its cropping and grazing roots.
WA's Balladonia sells after three years
After three years on the market, Western Australia's 671,277ha Balladonia Aggregation has sold for around $5m to a partnership from South Australia and New South Wales who already hold a pastoral lease in WA.
Located in the state's southern pastoral region, 220km east of Norseman and 420km north east of Esperance, it comprises four holdings – Balladonia, Nanambinia, Woorlba and Noondoonia.
The country types comprise open salt bush and bluebush grass plains and mosaics of open mallee woodlands.
When Balladonia was listed in March 2019, Greg Smith from Elders said it boasted some of the best available pastoral grazing country.
"The Nullarbor has a good reputation for high fertility, good growth rates and a mild climate. The property is rated to run more than 44,000 DSE or 6300 cattle units – either bos Taurus or bos Indicus."
At the time, more than 5200 head of cattle were included in the $8.5m asking price, as well as an extensive plant list including an R22 Helicopter, D9 equivalent dozer, 50 tonne excavator and a tri drive prime mover with 100 tonne low loader.
Mr Smith said unfortunately, the vendor was forced to destock the property when the dams dried out due to poor seasonal conditions.
Balladonia last traded hands in 2017. Australian-based, Chinese born Liguo Luo (Super Beyond Pty Ltd), who is believed to be one of the world's largest glass and silica producers, paid $5m (including 2500 head of cattle) for the aggregation. Despite stating his intention to build an agricultural portfolio, Mr Luo only purchased Balladonia.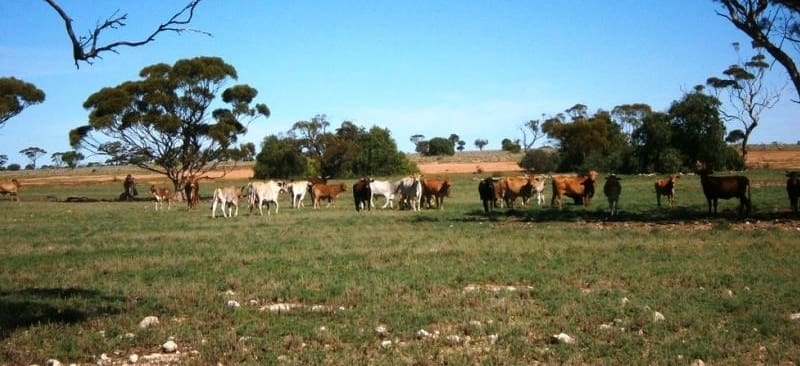 Interstate sale for NSW's Waldon
A Victorian family has paid $2.35m ($2221/ha) for premium grazing country with outstanding water security in New South Wales Central Western Plains.
The 1058ha Waldon, 35km north east of Coonamble, is suitable for breeding and backgrounding cattle, sheep or goats.
Bob Coote from Colliers Agribusiness was unable to disclose the name of the buyers but said they will be increasing their activities in NSW, while maintaining their Victorian base.
Waldon features level to slightly sloping highly productive red loam soils that support an abundance of feed, including extensive stands of buffel, serradella, medics and native grasses.
Around 900ha is arable, giving the incoming purchaser a pasture cropping opportunity to increase stocking rates.
The vendors have invested money into securing permanent water via a bore, stock dams and two billabongs. There is also beneficial flooding from the Teridgerie Creek.
Click here to access more property sales results