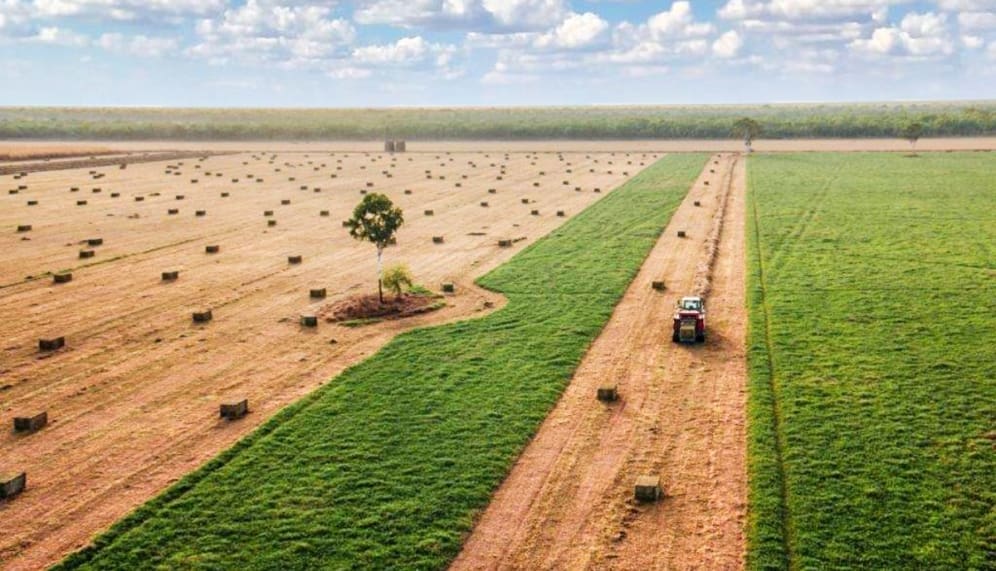 THIS week's property review includes this wrap-up of recently completed sales, and a separate article on interesting recent listings across the country.
Langenhovens secure NT's Larrizona for $19m
Neighbours pay $12m for Gulf's Kiana
Central Queensland's Palari makes $16m
Moola Brangus expands with FNQ's Ellendale
QLD Organic properties sell to NSW producer
SA's picturesque Edeowie Station sells locally
Local pays $12.75m for Armidale's Longford
Thallon's Niminbah achieves more than $5m
Langenhovens secure NT's Larrizona for $19m
In the latest instalment in their recent aggressive Northern Territory grazing property expansion, the Langenhoven family has reportedly paid $19 million for Larrizona Station on the NT's Sturt Plateau.
Over the past three years, the Australia citizens of South African origin have paid $160m for 1.6 million hectares of NT grazing country.
In May 2018, they made their first Australian property purchase, securing the 80,900ha McMinn Station for $7.5m including cattle and plant.
In February the following year, the Langenhoven family purchased the neighbouring 70,700ha Big River Station for $5.5m bare.
In May 2019, they acquired the 376,000ha Barkly Tableland breeding property Kalala Station for $58m on a walk-in walk-out basis including 20,000 breeding age females plus followers.
In February last year, the Langenhoven family secured the UK-based Thames Pastoral Co's extensive cattle stations Tanumbirini and Forrest Hill Stations spanning 560,000ha for $70m.
Andy Gray from Nutrien Harcourts Darwin, who handled the expressions of interest campaign for Larrizona, was unable to disclose the price or the buyer, but admitted the incoming purchaser was adding Larrizona, located 160km south west of Katherine, to its existing NT holdings.
In April last year, Brian and Cathy Lester decided to offload Larrizona, pictured above, as part of a family restructure.
The Lesters, who own a number of cropping, lotfeeding and livestock properties in Western Australia, offered Larrizona on a walk-in walk-out basis inclusive of plant, equipment and livestock, with expressions of interest closing on May 29.
The sale included 6000 head of livestock – a highly regarded Brahman cattle herd bred from predominately polled genetics.
Spanning 70,200ha of perpetual pastoral lease, the holding features large areas of red arable soils, with an equally impressive section of black soil traversing the property from the eastern boundary to the south western boundary.
Extensively developed by the Lester family over 23 years, Larrizona boasts a 1000ha agricultural development producing cavalcade stylo seed to meet growing market demand, clean sought-after hay and introduced pasture species to background livestock.
Further to the developed cropping and improved pastures, extensive areas have been sown to Seca stylo.
Neighbours pay $12m for Gulf's Kiana
Meanwhile in another recent Territory transaction, the Darcy family from Mallapunya Springs has paid $12 million, bare of livestock and plant, for the neighbouring Kiana Station in the Gulf of Carpentaria.
The family, which trades as the Baitlin Cattle Co, is a leading producer of quality live export cattle and has owned Mallapunya Springs since the 1920s.
Rawdon Briggs from Colliers International, who handled the marketing and sale of Kiana, said the $12m deal was a good price given that high cattle prices can be a hindrance in selling unstocked properties.
The 3318sq km holding is situated just above Cresswell Downs on the northern extremity of the Barkly Tablelands, 130km from Borroloola and 1100km south east of Darwin.
Owned by Indonesia's Oceanic Multitrading (Oceanic Cattle Co) since July 2005, Kiana had been on the market for sale or lease since 2016.
Up until 2012, when most of the cattle herd was sold to AA Co, Kiana was running 15,800 head. However, it is rated to carry between 10,000 and 12,000 breeders.
Mr Briggs believes numbers could be lifted and further value-added by completing a water development plan on Kiana's southern section.
The property is also well positioned to feed cattle into northern finishing places closer to Darwin, or to truck weaners to eastern fattening blocks in Queensland or South Australia.
Kiana has a reliable, high annual rainfall and is watered by 10 bores, 39 dams and nine natural springs.
Central Queensland's Palari makes $16m
Rhett and Hannah Camm from Triple C Beef, Pentland have paid $16 million for the Deguara family's blue-ribbon grazing country in Queensland's renowned Valkyrie district.
The 5492ha Palari is located near Nebo in Central Queensland, 180km west of Mackay, and will be used for backgrounding by Triple C Beef – a family-owned cattle company in North Queensland.
Sitting above the Funnel Creek/Connors River junction, the country runs from strong brigalow country to river flats. It is watered by three bores, turkey's nests and permanent waterholes.
Featuring 20km of new boundary fencing, Palari's estimated carrying capacity is 2500 adult equivalents.
It was offered as a high-performing beef producing opportunity – an ideal backgrounding or bullock operation.
The existing 125ac centre pivot infrastructure and substantial water resources are a key strength of the property. One irrigation bore is logged at 44,000 GPH, pumping 33,000 GPH. A second bore pumps 6000 GPH equipped with eighteen solar panels on a portable trailer. Submersible pump servicing two turkey's nests and four paddocks.
Palari was sold bare of livestock, but with plant and equipment, by Bill Hamilton from Nutrien Harcourts GDL Rockhampton.
Moola Brangus expands with FNQ's Ellendale
Moola Brangus Stud owners Bruce and Sandy Ryan have paid around $7.5 million (including 1500 head of mixed cattle) for Ellendale Station, in far north Queensland.
The 15,600ha Einasleigh cattle breeding enterprise has been owned for the past 44 years by Terry and Phillip Cranwell, who are downsizing to the Atherton Tablelands.
New owner Sandy Ryan, who is based at Sapphire on the Queensland's Central Highlands, is excited to be expanding the Moola Brangus Stud.
"We are looking forward to bringing our Brangus genetics into the north with its consistent rainfall. Ellendale boasts Einasleigh River frontage, a quality, mixed herd of cattle and well-maintained infrastructure," he said.
Located 17km south-east of Einasleigh and 330km from Charters Towers, Ellendale boasts flat alluvial soils and can run between 2500 and 3000 mixed cattle.
It is watered by the Einasleigh River, which runs through the property, as well as two large, permanent watering holes, 14 dams and three equipped bores.
Morgan Brennan from Ray White Rural Atherton described the campaign as quick, saying there was solid interest from the buyers from the beginning.
"Like many regional areas in Australia, the Einasleigh market has been very strong. The market is booming, however there is not enough stock to keep up with demand."
QLD Organic properties sell to NSW producer
A New South Wales producer has secured adjoining organically-run Thargomindah properties Kilcowera and Zenonie.
Offering grazing, carbon and tourism, the 47,400ha Kilcowera and 31,700ha Zenonie are situated 90km south and 70km south of Thargomindah respectively, in Queensland's far south west.
Owners Greg and Toni Sherwin have held Kilcowera for 34 years and Zenonie has been in the family's hands for three generations.
Mark Minnis from Ray White Rural Charleville was unable to disclose the buyer or the price, but said Kilcowera and Zenonie are set up for multiple income streams.
"There is cattle grazing, with the option to run sheep and goats, and a tourism business. A carbon credit project is currently in place over a portion of the properties, affording passive income over the next five years and beyond."
The 79,100ha of country comprises red mulga interspersed with water course country, lake systems and large reserves of low mulga running back to range country.
The combined properties can run 2000 cattle or sheep and goat equivalents.
They are watered by four flowing bores, three sub bores, five wells, six dams and natural semi-permanent waterholes and lakes.
SA's picturesque Edeowie Station sells locally
The picturesque Edeowie Station, with the backdrop of South Australia's Flinders Ranges, has been purchased by a local producer adding to their existing holdings.
Edeowie was passed in at auction before Christmas for $3.35 million and sold a week later for a price described by Simon McIntyre from Nutrien Harcourts as exceptional.
Situated 56km north of Hawker, with extensive frontage to the sealed Outback Highway, it is located on the western side of the Wilpena Pound formation.
At 26,540ha, Edeowie runs sheep and cattle, as well as offering tourist accommodation, camping and access to the Edeowie and Bunyeroo Gorges.
The productive open breeding plains include blue bush, salt bush, Flinders and summer grasses, and gum lined creeks with sectors of acacia and mulga.
Average historic carrying records provide for 3862 sheep shorn, together with 137 head of cattle plus progeny.
Three major creeks run through Edeowie and create feed opportunities from natural catchments areas of the Flinders Ranges.
Water is reticulated from nine bores and one permanent well to 29 watering points.
Significant improvements and tourist accommodation activities add opportunity to Edeowie's productivity.
The property was offered on a walk-in walk-out basis, including around 2290 merino ewes, plant and equipment.
Local pays $12.75m for Armidale's Longford
An Ebor producer expanding their current holding has paid $12.75 million for Longford near Armidale in northern New South Wales.
Andrew Starr from Ray White Rural described the auction as a good strong sale that sold above the vendor's reserve.
Located 35km from the regional city, the 2262ha Longford comprises three properties – 982ha Longford, 612ha Romni and 667ha Dulvay.
George and Loy Rose purchased the aggregation from the Commonwealth Scientific and Industrial Research Organisation in 1999.
During its long tenure, the CSIRO had undertaken significant capital investment, including sheds, yards, fencing, internal roads, water security, fertiliser application and pasture development.
Mr Starr said the Roses continued the Longford legacy, further driving its productivity.
"The asset carries a great reputation and was well known as the home for both the Longford Angus cattle and Merino sheep studs," he said.
An ongoing pasture renovation program combined with strong fertiliser inputs have further bolstered the reputation of Longford in its capacity to deliver prime sale stock with excellent weight for age.
At the time of sale, Longford was boasting an abundance of feed and could carry 1000 breeders or 15,000 DSE.
https://www.youtube.com/watch?v=iy09qOvkCMQ&feature=emb_logo
Thallon's Niminbah achieves more than $5m
The Brosnan family has paid $5.1 million ($1313/ha) for Thallon's Niminbah which attracted strong inquiry from locals, as well as from producers in northern New South Wales.
The 3885ha holding, just east of Thallon and 82km south east of St George, has been owned by brothers Ross and Allan Montgomery since 1953.
The country is generally flat, featuring grey coolabah flood-out, grey brigalow melon hole, red wilga, box and sandalwood soils.
Niminbah hasn't been stocked for the last two years, so the property is offering a good body of feed.
Around 2430ha have been farmed in the past, however these areas were returned to pasture in the mid-1990s.
The cultivation country has a good cover of buffel and native pastures which have been used for grazing since the farming operation finished.
Water is supplied by dams which have been renovated and de-silted in the past two years.
The sale of Niminbah was handled by Andrew Jakins from Nutrien Harcourts Goondiwindi.
Click here to access more property sales results