THIS week's property review includes this wrap-up of recently completed sales, and a separate article on interesting recent listings across the country.
Hewitt's Harvest Home sells to a north QLD local
Maranoa's Glenochar makes around $7.5m
$17m for south east Queensland's Glenapp
Versatile St George country makes $5.5m
Hewitt's Harvest Home sells to a north Qld local
A local grazing family looking to expand has secured Hewitt Cattle Australia's Harvest Home Station in north Queensland for an undisclosed price.
The 48,700ha breeding operation was offered for sale by expressions of interest, together with Mount Cooper, in June. Neither sold at the time, despite high market participation from all buyer segments.
Located close to Charters Towers and Townsville, the country on Harvest Home is predominantly undulating with extensive frontage to the Cape River.
The property is dissected by the Rollston River feeding into the Cape Reach of the Burdekin which drains into Dalrymple Lake. It is also watered by 10 bores, 24 dams and numerous natural springs. Stock water is reticulated to 44 troughs via extensive poly pipe.
The property features well-equipped cattle yards with a 400 head capacity, supported by six holding paddocks.
The sale of Harvest Home was handled by Peter MacPherson and Troy Trevor from Queensland Rural.
See this week's Movement at the Station for an update on Hewitt Cattle Australia's Mt Cooper
Maranoa's Glenochar makes around $7.5m
Glenochar, a property that once formed part of the renowned Mount Abundance run in Queensland's Maranoa region, has sold following an expressions of interest campaign for around $7.5 million.
Ben Forrest from the Resolute Property Group was unable to disclose the price, however a price guide of $1900/ha was offered at the time of the listing.
The purchasers were lotfeeders and cattle producers Tim and Tammy Stiller, Weeroona, Guluguba near Wandoan, who will use Glenochar as a backgrounding operation for their feedlot.
For the past 123 years Glenochar was held by members of the Grieve family.
Situated 15km from Muckadilla and 45km from Roma, the 3900ha operation consists of high-quality country suited to grazing and cultivation in selected areas.
Glenochar is watered by dams. It boasts excellent fencing, with all internal fences renewed between 2008 and 2018, as well as 12km of exclusion fencing.
In May, vendor Adam Grieve told Beef Central the enterprise was suited to both cattle and sheep.
"In 2003 we established a white Dorper stud and since that time have been comfortably running between 3000 and 3500 ewes plus progeny."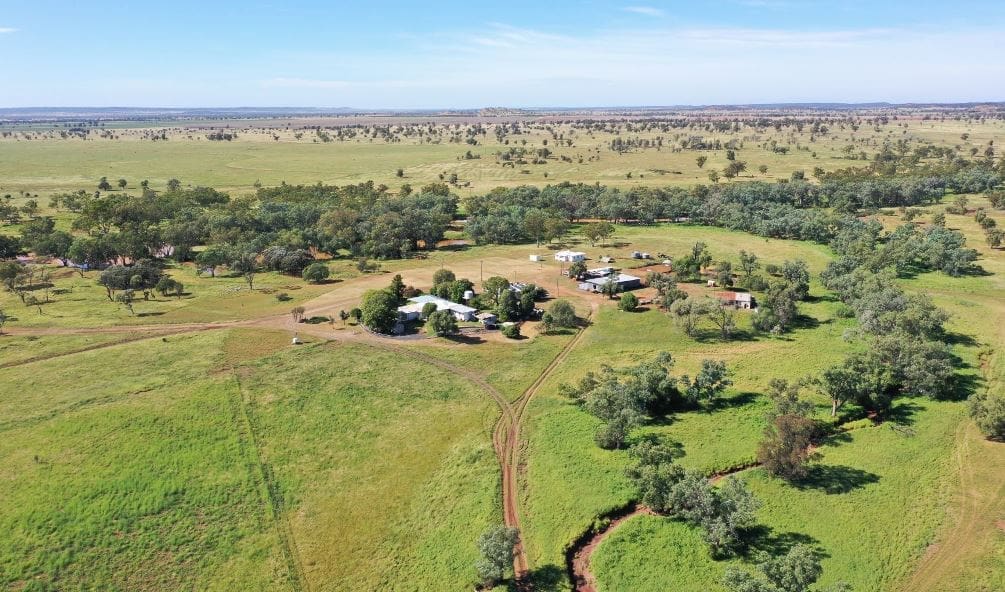 $17 million for south east Queensland's Glenapp
A highly productive grazing and irrigation property in south east Queensland has sold at auction for $17 million (bare) or a record $13,821/ha.
Ten parties registered to bid on the 1230ha Glenapp, with most of the interest coming from central and western Queensland and northern New South Wales. It was purchased by a producer from Surat seeking expansion, water security and higher rainfall.
Located at Running Creek, 40km south of Beaudesert, the property boasts a six kilometre frontage to Running Creek – recognised as one of the region's most permanent and reliable irrigation water supplies.
The highly productive property has historically run 1200 breeders and progeny up to 350kg.There is also a license to operate a 250 head feedlot.
Set up for cattle and fodder production, Glenapp is also ideal for horticulture with its rich soils, and 902 megalitre water allocations, plus major 300ML storage dam and dam sites.
Jez McNamara from Ray White Rural described the result as very good.
"It is difficult to make a price comparison because no other grazing property boasting that much water has sold in the region."
Glenapp, comprising five holdings, was aggregated by the current owners over 10 years. It is sold due of a change of direction.
St George versatility makes $5.5 million
A buyer with interests in New South Wales and Queensland has paid $5.5 million on a walk-in walk-out basis for New Cashmere at St George, in southern Queensland.
The 4458ha holding is near level to gently undulating with mixed soil types including soft red loams used for mixed grazing and developed dryland and flood irrigation.
The balance is semi-open to timbered grazing country well established to buffel grass, native pastures and seasonal herbages.
Phillip Kelly from Colliers International said the well-located irrigation, grain and grazing property has a backgrounding and feedlot opportunity.
"New Cashmere has the potential to provide the new owners with a future drought proofing fodder factory," he said.
With 490ha developed for flood irrigation and the balance of 3961ha developed for grazing, the property offers diversity in production, water and grass with development and growth opportunity.
A 2400ML water licence is used to grow cotton, wheat, barley, oats, sorghum, sunflower and beans.
Click here to access more property sales results