OVER the last decade, the Northern Territory and Kimberley property markets have followed a trajectory of very strong value growth – and at this stage, there's no end in sight.
Prices have gradually improved since 2013, now exceeding the previous 2008-09 market peak, according to Darwin-based Herron Todd White valuer Frank Peacocke.
He told Friday's HTW annual rural property market update in Brisbane that the seriously high prices were being largely driven by the strength of the cattle market.
"Most people, even bankers, thought the price trend was going to pull up. However, prices are not going down. They may stop rocketing away, but values will hold and be underpinned by ongoing demand for breeder country," he said.
"Businesses that have managed to maintain their herds are unlikely to come to the market, but if they did, property prices would continue to rise because as stocked properties, they would be a rarity," Mr Peacocke said.
Factors driving prices
He said the strong demand for northern breeder country would continue as long as cattle prices remained high.
"Producers with fattening country are looking for cheap breeder country and they swear the NT and Kimberley is the cheapest breeder country they can find."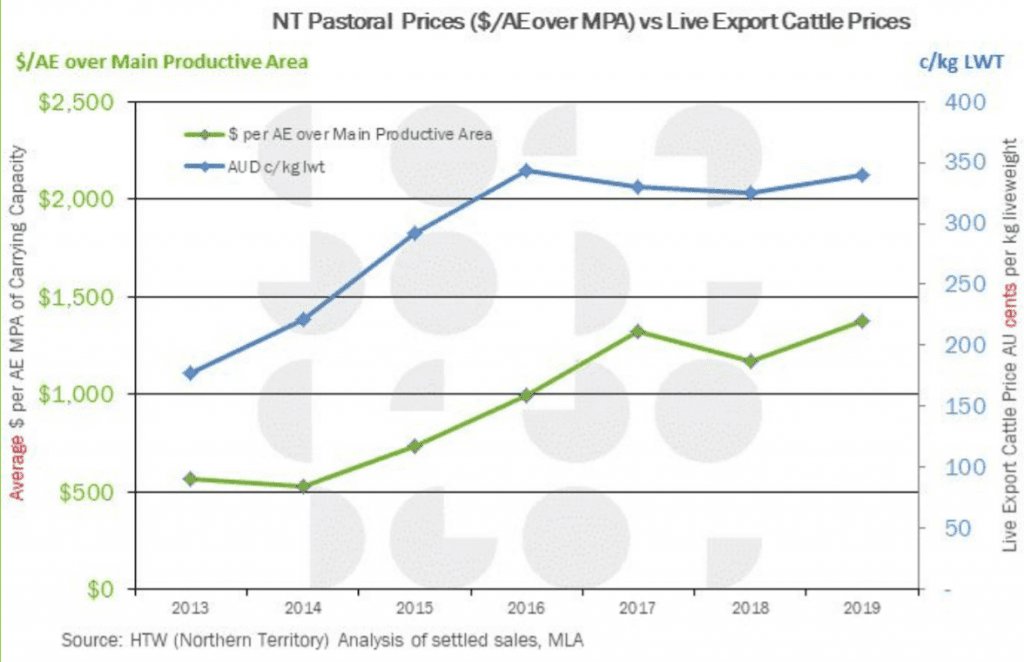 Mr Peacocke said the strong correlation between northern cattle prices (in this case the live export steer price) and pastoral land values was very clear in the above line graph.
"As the dollar per kilogram began its relatively steady rise away from the $1.50/kg mark back in 2013, pastoral land values did the same, lifting away from a base level of around $1100/AE through to a bit over $2000/AE toward the end of 2019, as live export prices reached around $3.30+/kg."
He said the $/AE (or beast area value) measurement he used is the unit value for the developed country only (ie. just the land that is fenced and watered within reasonable grazing radii of permanent water).
"It excludes the added value of any balance/undeveloped land, buildings and yards which (if included as an overall $/AE basis) usually leads to significant variations in the overall rate. Every station tends to have widely-ranging proportions of developed to undeveloped country and the extent of buildings and yards can differ a fair degree between any two stations."
Sales activity
As far as activity goes, there have been 13 transactions (16 cattle stations) in the region since January last year. These included:
January – 414,200ha Auvergne (Katherine), 246,700ha Newry (VRD) and 72,000ha Argyle (Kununurra) Stations were purchased by Vietnam-based investment group Clean Agriculture & International Tourism for $60.6m (bare). That would equate to an overall beast area value of $1450 ($1200 for the developed country) – a district record.
February – 270, 000ha Pine Hill, Alice Springs, sold to South Australia's Greg Vickers and family for around $12m, including 5500 head of mixed cattle ($6.29m bare).
March – 3760,00ha Kalala, Daly Waters, was sold to South Africa's the Langenhoven family (who also own Mt McMinn & Big River Stations) for $58m WIWO ($32.5m bare).
May – 265,600ha Epenarra, Alice Springs, sold to Queensland's Bass Cattle Co for just over $14m ($7.69m bare) or $1400AE.
May – 41,500ha Carmor Plains, Point Stuart, 210km E Darwin, sold for more than $20m ($17.9m bare) to Malaysia's Sarawak Economic Development Corporation.
May – 379,130ha Manbulloo, Katherine, was purchased by Argentina's Buratovich family for $23.4m (bare) or $990AE in a sale and leaseback deal.
June – 245,500ha Ucharonidge, Tennant Creek, was purchased by Malcolm Harris' Cleveland Agriculture for $28.5m bare.
July – 303,605ha Mount Skinner, Alice Springs, sold to South Australia's McCormack family for between $9m-$10m ($7.45m bare).
August – 462,800ha Idracowra, Alice Springs, sold to Angus and Kimberley McKay from the neighbouring Umbearra Station for $10.1m ($6.5m bare).
August – 101,850ha Scott Creek, Katherine, was purchased by the Buratovich family for $12m (bare).
November – 67,840ha Sturt Downs, Katherine, the Buratovich family paid $6.8m ($6.5m bare) including 1000 head of cattle, plant and equipment.
Mr Peacocke said the total walk-in walk-out prices of the above-mentioned properties was $355m, or $275m bare.
"All are pastoral leases and interestingly, part of the CPC sell down of Auvergne, Newry, Manbulloo and Ucharonidge make up 40 percent of those sale prices."
The carrying capacity of all the sales listed is about 153,000 adult equivalents, which gives an overall beast area value of about $1700 and $1200 for just the land, fence and water.
"Both are record level figures," Mr Peacocke said.
NT properties currently listed for sale
Seven properties spanning 10,500sq km are officially advertised for sale at present:
932sq km Mary River West, Katherine
598sq km Stapleton, Katherine
586sq km Lakefield, Sturt Plateau
597sq km Tarlee, Mataranka, Sturt Plateau
602sq km Middle Creek, Sturt Plateau
2590sq km Broadmere, Borroloola
4609sq km Neutral Junction Station, Central Australia
The total area being offered for sale is more likely to be double the figure above, given that several properties, spanning more than 12,600sq km, are under currently contract. These include:
593sq km Forrest Hill, Sturt Plateau, and 5001sq km Tanumbirini, Roper Gulf, under contract to the Langenhoven family for $70m WIWO including 36,400 cattle plus followers and plant.
5762sq km Wollogorang and 1290sq km Wentworth, Gulf of Carpentaria, (WIWO including 30,000 cattle) are reportedly under contract to a Queensland family.
Beef Central is aware of three other NT properties that have been placed under contract, but the details remain confidential at this stage.
Buyer profile
Mr Peacocke said the 2019 sales were dominated by four overseas buyers who out-competed the locals, jumped the Foreign Investment Review Board hurdles and ended up picking up eight stations. They include:
Langhovens
The South African family entered the cattle property market for the first time in 2018, picking up Mt McMinn and Big River Stations in the Roper district. Early on last year they purchased Kalala, and Tanumbirini and Forrest Hill are now under contract to them.
Mr Peacocke believes the Langenhoven family negotiated very accurately. Paying between ……
"This clutch of properties is situated in the live export dependent north. They have excellent access. They have similar country types – good low lying, black grey coolibah floodout featuring typical Sturt Plateau forest country."
Buratovich
Mr Peacocke said the Argentinian farming family purchased a number of properties around Katherine.
"Their main aim for buying was to convert some of this pastoral country to farming. They are farmers with a 100-year history in Argentina and have farming assets all over the world. The family wasn't super interested in the grazing side, however they will more than likely sublease some of their country to a producer."
Mr Peacocke said the Buratovichs paid a good price for Scott Creek, a famous property that was mostly cleared in the past.
Freehold sales
Mr Peacocke reported on just one freehold grazing block sold in the Northern Territory.
"It is difficult to gauge freehold land values due to the dearth of sales evidence. Recently, the 2024ha Kingfisher Station sold for $3.25m ($3500/ha cleared/pasture improved). It is a resale from 2017 ($1500/ha) showing a 135 percent increase (35pc per annum)."
He said NT property prices were unlikely to go backwards in the foreseeable future.
"It might only be six months, but there is certainly tight supply. The market is still rising."