A HEALTHY volume of sales is anticipated in country south of Queensland's tick line, with prices tipped to follow as demand heats up.
As the map published here shows, the northern tick line roughly aligns with the east-west Flinders Highway stretching from Townsville to Mount Isa.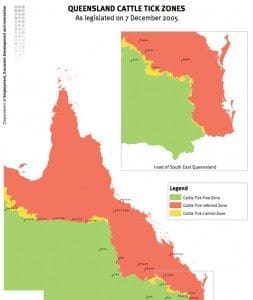 Herron Todd White's north and northwest Queensland regional property valuer, Roger Hill said over the last five years during the drought, there had been 'frequent rumours' of a potential tidal wave of property sales and a subsequent landslide in values in the area south of the line, roughly covering the region from Hughenden to Cloncurry and south to Kynuna and Winton.
"The market has had plenty of time to price this risk in, but it hasn't happened," he said. "The region has maintained a low volume of sales, steady since the Global Financial Crisis in 2007-08."
Apart from a few unfortunate vendor positions over the past five to ten years, property values across the designated land area had maintained a good steady general rate range, from around $172/ha to $284/ha bare improved. This range reflected the variations in downs soil types, grass status, infrastructure condition and its inherent seasonal risk, Mr Hill said.
This price range was at a discount to its north-of-the-line counterparts, where there was lower seasonal risk, frontage country and heavier soil types – which had ranged from $276/ha to $494/ha bare improved.
"The market prices the variances between country north-of-the-line and south-of-the-line by $30/ha to $100/ha bare improved," he said.
Mr Hill said that in the latter half of 2016, there was late winter rain south of Hughenden and Richmond, resulting in an abundance of herbages, edible vine, roly poly and wild carrot.
"These weeds and herbaceous flowering plants are nature's way of preparing the earth to recover, making it ready for the next rain event. A spate of property sales around Hughenden followed, with stronger prices from $270/ha to $495/ha bare, improved."
Those post-winter rain (2016) value rates were still relevant now, and had been confirmed by subsequent sales, Mr Hill said.
Examples include:
13,505ha Narollah Station, near Corfield, sold for $271/ha bare (10pc above its 2012 sale price or 1.6pc annual compounding return per annum)
2643ha Brookfield, near Hughenden, $491/ha bare
12,336ha Illalong, 70km west of Hughenden, $284/ha bare
39,262ha Katandra, 96km south Hughenden, $331/ha bare
17,755ha Sarre – 90km south-west of Richmond, $248/ha (land component)
9256ha Glentor Downs, 42km north of Hughenden, $497/ha bare (11pc above its July 2008 sale price or 1.2pc annual compounding return per annum)
21,327ha Zara Station, near Hughenden, $282/ha (land component), and
17,945ha Waihaorunga, 109km south-west of Hughenden, $268/ha bare.
This recent stable trend in North Queensland (including both downs and forest country) value rates is consistent with HTW's recent release of its 2017 regional Qld Grazing Property Index for broadacre country (click on image for a larger view).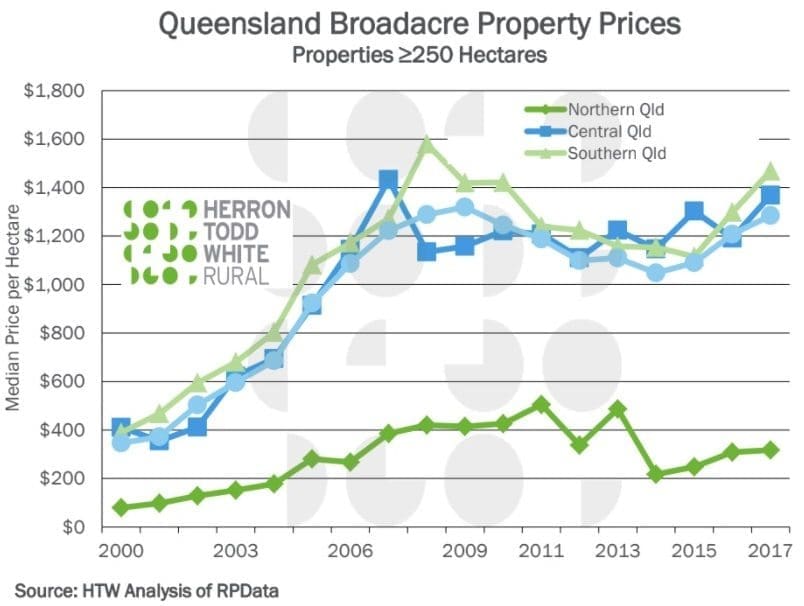 Today, reduced stock numbers followed by recent rain this year, have resulted in a mixed response of grass growth.
Those paddocks that were 'rain-ready' and lucky enough to have some early showers, have seen a prolific response of herbages and Flinders grass (the first phase of pasture growth), particularly to the south of Richmond. Mitchell grass, which is a perennial and the last grass to grow, is currently responding well, given the late season.
Mr Hill said late last year, some producers with northern forest country (Georgetown and west to Normanton) breeding operations were looking to buy backgrounding country further south – starting to do their research, because they knew they had nowhere to put weaners this year.
"That's created interest and demand for south-of-the-line downs country, because those northern forest breeders either can't afford or do not have the time to wait for the Mitchell grass downs country (the golden triangle from Hughenden, Richmond, Julia Creek to Cloncurry), north of the tick line, to come onto the market," he said.
Mr Hill said those producers knew they could not get into the 'golden triangle' market because they would have to pay more money or wait until a property was offered publicly for sale.
"The next best thing is to look south-of-the-line at country which has good grass for this year's weaners, and is more competitively priced."
"The golden triangle is for North Queensland grazing property markets, what the blue-ribbon address of Bellevue Hill is for the Sydney Eastern Suburbs residential markets," he said.
More properties to come to market
Mr Hill expects more northern properties will hit the market shortly.
"We have clients currently working off-market with their selling agents getting ready to list their beef operations and expect there will be some good properties to meet that northern weaner buyer demand," he said.
"Each of these properties were in good condition prior to the rain (so were 'rain ready' with good tussock height and density) and have responded well following the recent events."
Mr Hill warned that while there was some good interest getting around, there might not be a flood of interest as there were only so many potential buyers in the marketplace right now.
Local perspectives
Typical of recent listing momentum, the 16,592ha grazing property Adbrin listed by Kennedy Rural is quality country, south of the tick line, that is attracting strong interest. Located 100km south west of Richmond, the black soil open downs country has Mitchell, Flinders grass and herbages and includes 1000 head of cattle.
In the last two weeks, Luke Westaway from Stockplace Marketing has listed the 11,759ha grazing properties Wivenhoe and Brando, 45km south-east of Julia Creek, as well as the 46,975ha Thornhill Aggregation, between Hughenden and Richmond, with another two properties getting ready for market.
"There is some good quality country coming on, with the main motivators being retirement and succession," Mr Westaway said. "There is a lot of restructuring going on and producers are selling on the back of market confidence."
"That black soil country south of Richmond has had a really good season and it's grown enough grass to carry a buyer's weaners for the year ahead. Price expectations are anywhere between a $250/ha and $375/ha," he said.
His counterpart Ashley Naclerio agrees there is plenty of available country in the area.
"There are others in the pipeline. A number of producers with well-grassed properties have been considering selling for some time. Most of these holdings are being quietly offered to known buyers in the market. Vendors are not under pressure to sell and are happy to test the marketplace without being overly committed to a sale," Mr Naclerio said.
Neighbours were involved in some in negotiations.
"These parcels are not large enough to warrant serious inquiry from private investment from overseas, and therefore are not being openly advertised."
He said most of the interest was coming from northern forest breeders seeking somewhere to background and fatten cattle.
"Reasonable prices are being paid for country south of the tick line. That country is typically cheaper than north of the line – that frontage country through Hughenden and Richmond which is in the slightly higher rainfall belt."
Peter MacPherson from Ruralco/Queensland Rural Mareeba and Charters Towers is also fielding interest for grow-out and fattening in the downs and western country.
"Buyers looking for suitable country would have to go at least to the tick line where prices range from $210/ha up to $300/ha or more. However, producers with better budgets may well go further south into the buffel country which is higher priced."
Even though there had been reasonable rain across most areas, potential vendors were still 'thinking it over', Mr McPherson said. "Producers have been sitting on their decision to sell because it was so dry. In most cases, that has been fixed, so listings should follow," he said.
Stephen Vohland from Ray White Rural Richmond has two grazing properties for private sale south of Richmond – one is 5261ha of country offered for $310/ha, and the other is 10,481ha of country asking $300/ha, including working plant and 300 head of cattle.
"You are going to struggle paying $370/ha south of the line, but close to the line that's achievable. There's very little for sale at present, but demand is strong particularly for grazing properties selling for under $2 million," he said.
Henry Slaney from the Charters Towers-based Slaney & Co said it was still early days, but listings south of the line were likely to come forth.
"No one is transacting yet because 90 percent of properties have only just had their first rain event. It will take six to eight weeks before there are any big movements in listings. Those fortunate enough to pick up rain earlier this year and get some good grass response, are still waiting for that grass to grow," he said.
Values
HTW's Roger Hill doesn't believe the 'emotional exuberance' experienced in the property market before the 2008 global financial crisis will be revisited this year, due to the increased business prudency of buyers in their due diligence process.
"Instead, you will see sensible offers being made to sensible vendors (doing their homework) resulting in reasonably-priced transactions for the market conditions of the day," he said.