There has been a massive turnaround in the Northern Territory cattle property market during 2015-2016, following years of sluggish sales.
Herron Todd White's Darwin-based valuer Frank Peacocke said the rising cattle and live export markets kick-started beef property values and transactions in the region.
"Better cattle prices, an influx of foreign money and corporate investment by the likes of Gina Rinehart, have boosted confidence and created a more competitive market tension," Mr Peacocke said.
"It has especially boosted the price and sales activity of high-end properties."
He estimates the "A to C" class beef cattle property values in the territory have lifted between 15 to 25 percent in the last 12 months.
A recent example could be found within QIC's 80 percent acquisition of North Australian Pastoral Co, which included the 16,116sq km Alexandria in the Barkly Tablelands – considered by many to be the best cattle station in the Northern Territory.
According to a Lands Titles Office search, Alexandria was worth about $110 million bare, within the broader QIC/NAPCo deal. Even though that 'price' set a new benchmark for the Barkly region, Mr Peacocke said it was within market expectations.
"Alexandria is in the tightly-held Barkly Tablelands. If another Barkly property sells and exceeds that valuation this year, it will indicate the market is stronger – but I don't necessarily believe that if (theoretically) Alexandria was offered again this year, that it would achieve a higher figure."
Alison Ross from Elders Real Estate in Katherine agrees the NT beef property market has been riding on the back of the strong cattle market, better live export prices and increasing confidence.
"Foreign interest is still there, but the Chinese have backed-off due to a crackdown on outward investment," Ms Ross said.
"While beast area values have not reached the peak of 2007/08, they have improved in many cases by between 20 and 25 percent. Property prices will be strongly determined by live export prices throughout 2017 and 2018."
Last year, Ms Ross sold four properties in the Katherine region – 57,560ha Florina Station, 73,200ha Lonesome Dove, 1110sq km Hodgson River and the 3443ha export cattle depot Phoenix Park.
She said the prices were firm, but not exceptionally high.
"Each of the properties achieved a 'win-win' for the buyers and the vendors," she said.
"The purchasers were happy knowing the market was picking up and that cattle prices were strong. At those sale prices they could move forward and add improvement to the land. For the vendors, the timing was suitable with each of their personal needs."
In 2016, 18 NT pastoral leases changed hands and the value was almost double that achieved in 2015, reaching $416.35m. Sales included:
April – 1090sq km Humbert River – $3.5m
April – 72,300ha Lonesome Dove – $6m
April – 3800sq km Old Mount Bundey – $4.5m
May – 16,116sq km Alexandria – $110m
May – 1110sq km Hodgson River – $6.5m
June – 4512sq km Benmara – $12m
July – 5000sq km Inverway & Riveren – $60m
July – 3443ha Phoenix Park – just under $15m
August – 2022sq km Numery – $4.85m
August – 42,896ha Wyworrie – $4.25m
August – 6800sq km Manners Creek – $15m
September –2700sq km Tipperary – $50m
September – 57,560ha Florina – $7m
September – 2000sq km Vermelha – $18m
November – 2950sq km Singleton – around $4.75
December – 3760sq km Kalala – $70m
December –1873sq km Ban Ban Springs – $10m
December – 1627sq km Bullo River – $15m
The massive turnaround is highlighted by the following HTW results, published in August 2015, which show earlier sales from 2010-2014:
2014 – $66.8m – nine sales
2013 – $56.8m – five sales
2012 – $24.5m – two sales
2011 – $14.6m – four sales (live export suspension occurred mid 2011)
2010 – $12.9m – three sales (GFC & 350kg live export weight restrictions introduced)
A calculation by Beef Central of NT beef property sales completed in 2015 shows 12 pastoral leases transacted that year to the tune of $214.85m – which, at the time, was a massive 70 percent increase on the previous year:
2015
February – 1788sq km Bunda Station – $15m
March – 60,000ha Stapleton – $3m
March – 2300sq km Moroak & Goondooloo – $17.5m
April – 1550sq km Douglas Station – $8m
June – 4080sq km Aileron – $10m
July – 7057sq km Wollogorang & Wentworth – $47m
August – 1627sq km Bullo River – $9.5m
August – 3080sq km Derwent & Glen Helen – $11.5m
November – 8250sq km Murray Downs & Epenarra – $20m
December – 9997sq km Walhallow and Cresswell Downs – $56m
December – 2700sq km MacDonald Downs – $8.6m
December – 2590sq km Narwietooma – $8.75m
So, what lies beyond for 2017?
Andy Gray from Ruralco Property Territory Rural said the fundamentals are very strong in the North for the coming 12 months.
"There are large tracts of land, well-managed herds, an enormous market to the immediate north and most regions receive regular rainfall. A number of domestic corporate players, such as Gina Rinehart and Kerry Stokes, have put a good solid floor in the market; there's been active interest from international players who want to shore up supply chains; and low interest rates and a very strong domestic beef market have all had an influence."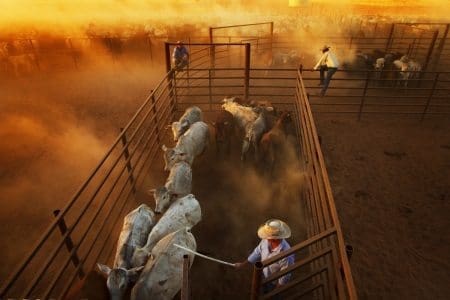 Mr Gray said in the past, those fundamentals and breeder values were under-rated.
"Breeders are now achieving in excess of $1000 a head, that's double what they were 18 to 24 months ago. Property sales have been robust across the NT and the very positive and bullish nature of the market is largely due to the fundamentals which have been realised."
Mr Gray said prior to the Global Financial Crisis in 2008, the beast area value in the territory averaged $1000, and then it dipped considerably.
"The NT beef property market has now made up that lost ground and in some cases exceeded it. In 2017, the market should remain robust. There may be room for a slight increase, but it will level off."
Mr Gray said there were less than 230 pastoral leases in the NT (not taking into account smaller freehold properties) stretching from the Centre to the North.
"So when a larger carrying capacity property, or a property of scale, comes to the market, it is generally without competition. If a property, or a series of properties, of scale came to the market, there would be significant competition because there so few of them."
Central Australia in great shape
Mr Peacocke said there had been a big jump in values for properties in Central Australia, which is currently experiencing a magnificent season.
"I know a number of people who are looking to buy around Alice Springs, but it can be difficult because properties in the region are so tightly held. Any properties that are still on the market may be asking too much."
Mr Peacocke believes it could be over confidence among some vendors.
"At the outset, they test the water. With greater confidence, there is more sales activity and when you see more properties selling, vendors have a better idea of where values are. Buyers are more confident to make the investment when valuers can show a good line of sales evidence."
Currently, two substantial Central Australian properties are reportedly close to being finalised. The 2022sq km Numery Station (which transacted just six months ago) and the neighbouring 3000sq km Ambilindum Station are close to being transacted, Beef Central understands.