Augathella's Killarney makes $8m
Biloela's Bayfield sells for $5.6m
Hughenden's Narollah makes $271.ha bare
Jericho's Lancevale sells post-auction
Off-market transactions successful for Longview, Brookfield
$15m Maryvale adds to big Alice Springs portfolio
Holbrook's Hillview makes red-hot $10,000/ha
NT's Mathieson Station hits the market
Katherine's Carbeen Park offers versatility
Organic certification feature for Blackall's Athol
Water big feature on Shauna Hills
Biloela's Stornaway well improved
Warrawee and Hillcrest offer diverse landscapes
Moree's Teralba offers mixed farming/grazing options
Western Vic's Murraba attracts investor interest
THIS week's property review focuses on recent sales of note, and recent listings of interest across the country.
Properties sold: Queensland
Killarney, a prominent cattle breeding, backgrounding and fattening property located in the tightly-held east Augathella district, sold at auction this morning under the hammer for $8 million. Buyer was the Alpha-based Clews Cattle Co, seeking expansion.
The auction in Roma was described as 'standing-room only,' and the property attracted six registered bidders, from Injune, Taroom, Alpha and local areas.
Comprising 10,412ha plus more than 2000ha of unfenced stock route, the freehold property, pictured above, boasts a diverse mixture of undulating fertile soil types and established buffel pasture. It attracted strong pre-sale inspection interest and agents were quietly confident of achieving a result under the hammer, given the competitive tension.
Estimated to carry 1500 breeders, Killarney is well watered with 30km of double frontage to Hoganthulla Creek, together with three bores, 13 dams, four turkey nests, 28 troughs, numerous tanks and permanent and semi-permanent holes.
Also included was a large 1000 head capacity set of portable steel cattle yards at the homestead which is centrally located, includes two loading ramps, crush, new calf branding cradle and four-way draft.
The price worked out at $768/ha ($311/ac) bare. Agent was Daven Vohland, Elders Roma.
In Central Queensland, Mark Simpson from Ray White Rural has sold the versatile fattening and breeding block, Bayfield for $5.6m or $2238/ha.
Located 24km east of Biloela and adjoining the Kroombit Dam, the 2502ha freehold property consistently carries up to 1200 head of cattle. The holding includes well established stands of leucaena.
Mr Simpson said the buyers were Geoff and Dalrae Shaw who recently listed their 7599ha Glenroy property Comanche, west of Rockhampton.
Comanche has an 864ml water allocation from the Fitzroy River which fronts the property for 9km. There is also 170ha of established leucaena, as well as a 10-pen feedlot. It is being auctioned on May 16 during Beef 2018 in Rockhampton.
The 13,505ha Corfield fattening property Narollah Station, 170km south-west of Hughenden, has sold for $3.66m or $271/ha bare. The freehold property, which can carry 1700 dry cattle, traded 10 percent above its 2012 sale price. Its ownership has been returned to the neighbouring property owners on Corfield Downs.
Central Queensland grazing country, spelled and offering a body of feed, has sold post-auction to the owners of a neighbouring property.
Lancevale is a 14,000ha freehold breeding property or backgrounding depot, located 77km north-east of Blackall and 55km south-east of Jericho.
Comprising desert country with varying red loamy soils, 80 percent has been pulled with established buffel grass, seca stylo and native grasses.
The owners have recently spent about $100,000 in water infrastructure upgrades, pushing the carrying capacity to 1350 breeders.
Des Cuffe from Elders North Queensland said several potential buyers seeking grass had lost interest due to recent rain.
"This gave locals a chance to expand. The purchasers are Ryan and Bonnie Hughes, the daughter and son-in-law of the operators of the neighbouring property."
The WIWO sale included 300 head of cattle and plant. No price was disclosed.
Stephen Vohland from Ray White Rural, Richmond has secured two successful off-market transactions recently for vendors seeking 'quiet' sales.
Richmond property Longview, comprising 4114ha of superb grazing country, sold to Bill and Yvonne Schaefer from Ellimeek at Pentland for an undisclosed price, but reportedly above district averages.
And the renowned D I Brahman Stud at Muttaburra will relocate to Hughenden after owners Kelvin and Libby Harriman purchased Brookfield for $445/ha ($180/ac) bare. The 2643ha property boasts single frontage to the Flinders River and double frontage to Galah Creek.
Mr Vohland said while both properties had cattle yards, holding paddocks and fencing, they did not have dwellings which made the price more attractive.
Properties sold: Northern Territory
Prominent Central Australian businessman Viv Oldfield recently paid $15 million for the 3244sq km Maryvale Station, 107km south of Alice Springs, adding to his extensive portfolio in the region.
Maryvale, which adjoins Mr Oldfield's 1641sq km Deep Well Station (60km south-east of Alice Springs), features the well-known rock formations Chambers Pillar and Castle Rock. The Finke and Hugh Rivers flow through the property, which can run 6500 head of cattle.
In addition to Maryvale and Deep Well Stations, Mr Oldfield jointly owns the adjoining Lilla Creek Station on the SA/NT border, 10,850sq km Andado Station (situated on the western edge of the Simpson Desert), 5936sq km Horseshoe Bend Station (160km from Alice Springs) and 6600sq km New Crown Station (460km south of Alice Springs).
Mr Oldfield is also a well-known horse trainer and owner of Tanami Transport, featured in Beef Central's earlier Top 25 Livestock Transporters feature. In 2016, he teamed up with Tom Brinkworth, Sterling Buntine and Malcolm Harris to form BBHO, an all-Australian company which lodged an unsuccessful $365m bid for S. Kidman & Co.
The Maryvale sale was handled by Herbie Neville from Elders Alice Springs.
Properties sold: New South Wales
A small parcel of tightly-held, highly-regarded grazing country in the Eastern Riverina of New South Wales has sold recently for a whopping $10,000/ha at auction.
Three local producers competed to purchase 322ha Hillview, just north of Holbrook – a sought-after area where sales have been limited during the last four years. The property was expected to achieve between $2.7m and $3m, but sold under the hammer for $3.25m to a neighbour seeking expansion.
With a carrying capacity of 240 breeders, Hillview had been conservatively managed for the past 32 years by Tony and Heather Emerson who are retiring.
Selling agent Matthew Pitzen from Landmark Harcourts described it as an exceptional price.
"It's one of the highest results on a per hectare basis we have had for a number of years. The reasons were a lack of local listings, still-reasonable commodity prices and cashed-up local producers looking for bolt-on acquisitions."
Withdrawn
The historic cattle breeding and fattening property Prestwick, located on the scenic 'high country' of New England in northern New South Wales, has been withdrawn from sale.
Sitting on top of the Great Dividing Range, the 1171ha property is 35km south of Walcha and 65km from Tamworth and is rated to carry 500 breeding cows.
The property, which was to be offered via an online auction on April 4 and 5, was expected to sell for between $5.5m to $6m. Meares and Associates cited personal reasons for the withdrawal.
Properties for sale: Northern Territory
Mathison Station, 100km south-west of Katherine, is on the market, after last traded in 2011.
The 65,200ha backgrounding and breeding property was purchased seven years ago by cattle producer Jay Mohr-Dell, his father and an equity partner. The three have decided to go their separate ways after a company restructure.
Andy Gray from Ruralco Property said Mathison, pictured below, was an ideally located property with diverse landforms including black soils to red arable country suited to agricultural development.
"There is a lot of upside for this block. Mathison presents ample opportunity to increase the current 5500 head carrying capacity and subject to clearing permits, develop country for both hay and pasture," Mr Gray said.
"It will suit an entry-level player or someone wishing to expand their current holdings," he said.
Mathison is being offered bare, with plant and livestock offered separately. It is being sold via an expressions of interest campaign closing on May 25.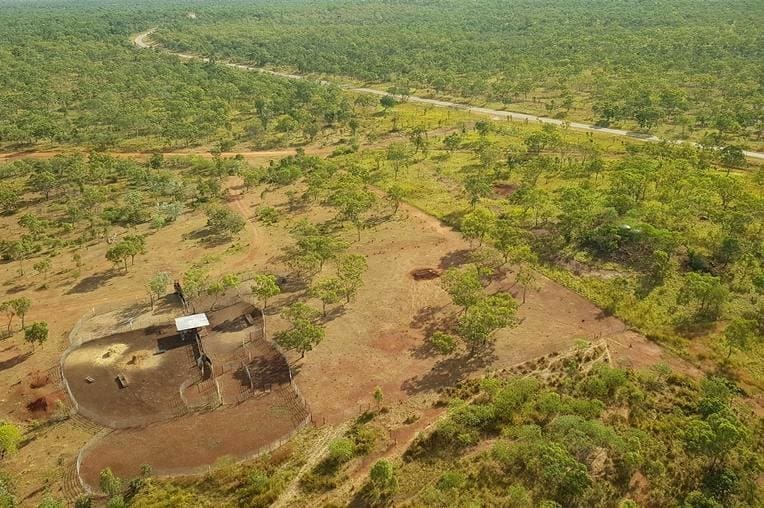 A Katherine cattle depot and backgrounding block, expected to sell for more than $9m, is attracting strong interest from northern beef producers.
The 7390ha Carbeen Park is a freehold grazing property boasting a 5000 to 8000 head feedlot. For the past six years, it has been leased by AA Co as a holding depot for its Livingstone Abattoir near Darwin. That lease expires at the end of the year.
Carbeen Park, pictured below, is currently owned by the Hayes family from Mainoru Station. Previously, it was held by northern live export industry identity John Quintana, who died tragically in an aviation accident in 2013. He used the property as a live export holding depot and pre-shipment facility – backgrounding and feeding cattle, farming crops and producing his own feed requirements for the sea voyages.
Up to half of Carbeen Park provides quality river levee soils suited to horticulture, cropping, hay and pasture – with 1500ha cleared and planted to pastures, 40ha to sorghum under a centre pivot irrigation and 365ha to established pastures (dryland sarbi and Verano grass) that are lightly timbered. The balance is used for grazing.
Carbeen Park has a 14km frontage to the Katherine River. It is being sold by Alison Ross at Elders Katherine via an expressions of interest campaign closing on May 21.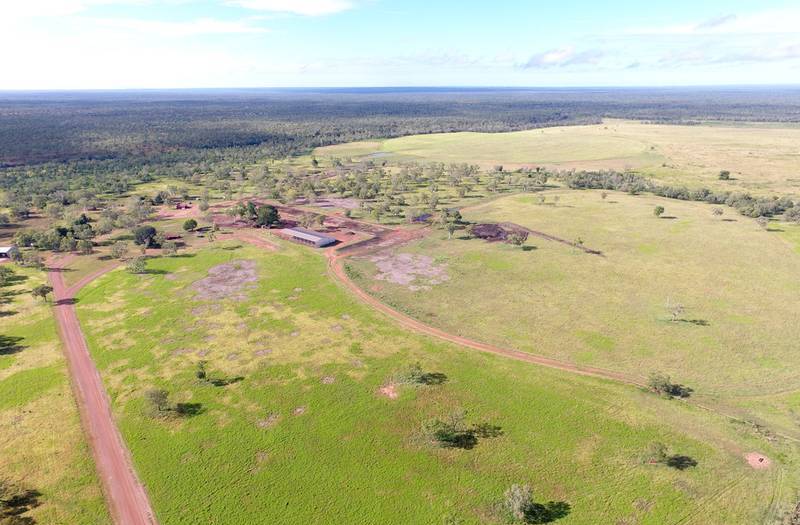 For sale: Queensland
Expressions of interest are being sought for one of the largest freehold properties in the Blackall district, in Western Queensland.
The 36,275ha organically-accredited Athol Station is being sold as whole or in three separate portions, plus 2023ha of stock route.
The quality mix of soft country is attractive for breeding, fattening or backgrounding 3500 breeders with weaners or up to 6000 backgrounders in an average season.
Wally Cooper from Longreach-based Rural Property Livestock (RPL) and Andrew McCallum from Ruralco GDL have been appointed to sell the property, which has been owned by the Butler family for 18 years.
Mr Cooper said Athol (set of yards on the property, pictured below) was very well positioned, extremely well-developed, and an ideal cattle depot.
"The scale of the property would suit a family operation or a corporate alike. It is a low-cost operation that has been set-up to run very efficiently," he said.
Vendor Michael Butler said the family has achieved what it set out to do when it purchased Athol in 2000.
Over the last ten years the Butlers have installed new fencing, yards and inter-connecting laneways. The three capped artesian bores service 175km of poly pipe and 70 troughs – or one trough every 2.5km. The Ravensbourne Creek also runs through the middle of the property meaning the cattle don't have far to walk to water or to feed.
Mr Butler and his wife Danielle have purchased a smaller property further south, as part of succession planning.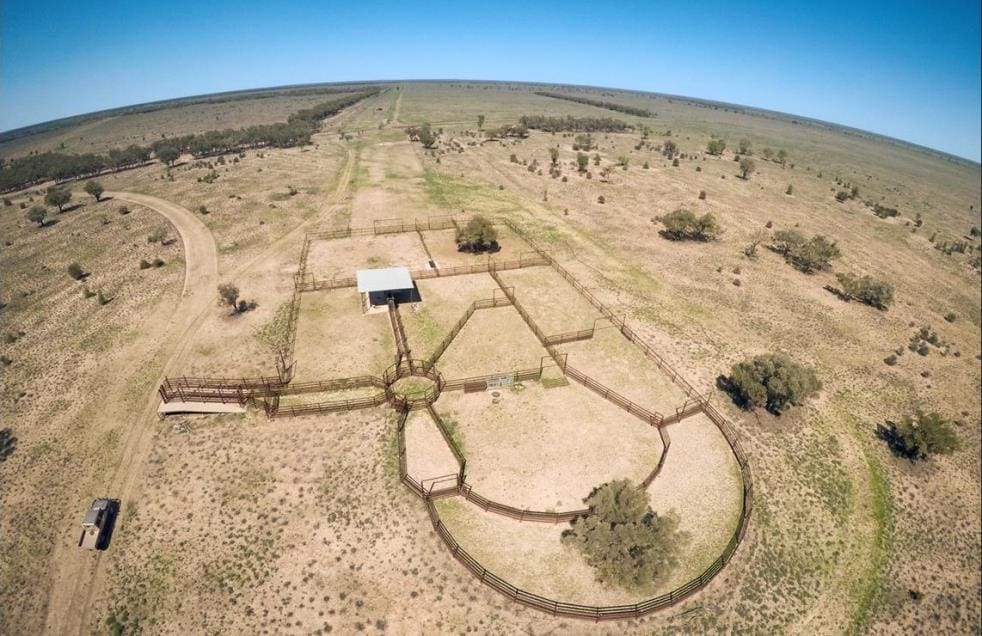 The tightly-held Bauhinia grazing property Shauna Hills has been listed for sale by Gary Bishop from Hourn and Bishop Qld and Virgil Kenny from Elders.
Located 20km north of Bauhinia, the 6014ha enterprise boasts strong stands of buffel and can carry 1000 breeders plus progeny to weaners.
Water is a stand-out feature, with 16 dams and a flowing bore piped through the entire property servicing tanks and 36 troughs.
Properties in the renowned Bauhinia district can make more than $2500/ha ($1000/ac). Shauna Hills, pictured below, is expected to appeal to local producers seeking expansion, but inquiry is already coming from North Queensland, Southern Queensland and New South Wales producers looking to move into a secure grazing area.
The auction takes place in Rockhampton on May 10.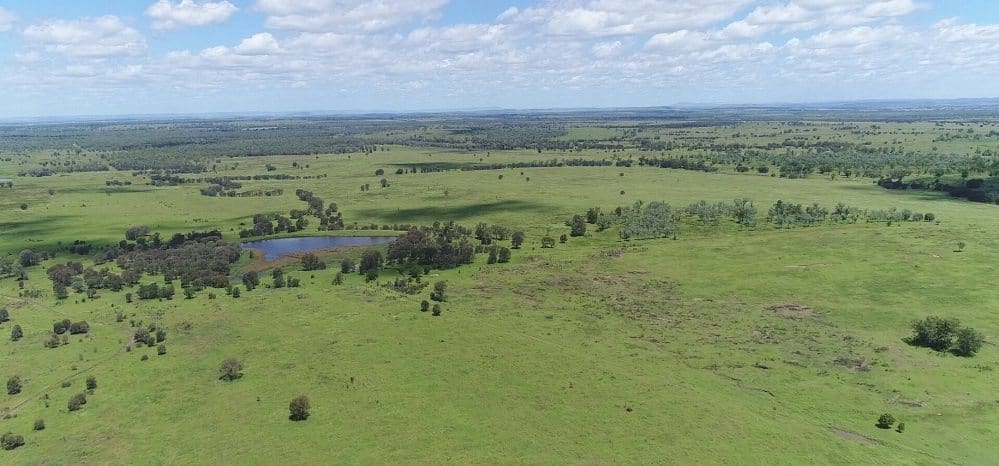 Large-scale bullock fattening country in the Callide Valley will be auctioned by Landmark Harcourts on May 9.
Stornoway, 35km from Biloela and 130km from Rockhampton, comprises 2089ha of softwood scrub country with improved pastures, including 485ha of leucaena. It is well watered with 16 dams and permanent waterholes in Bell Creek and is currently carrying 1100 steers.
Vendors Lloyd and Wendy Hick, who have large pastoral holdings in Julia Creek, Richmond and Barcaldine, are selling Stornoway after Lloyd's father, Ray, passed away.
Ross Jorgensen from Landmark Harcourts said there's been strong interest from producers in Central, Western and Southern Queensland.
For sale: New South Wales
Solid interest is being shown for two landholdings with multiple income options, 3.5 hours from Sydney.
730ha Warrawee and 198ha Hillcrest, situated 27km north of Bathurst, feature diverse landscapes rising from small areas of creek and river flats through to undulating grazing land and timbered ridges.
With a combined carrying capacity of 1700 dry sheep equivalents, Warrawee, pictured below, and Hillcrest have a history of running both cattle and sheep.
The vendors, Adam and Maryanne Boyd, capture more than 1000 wild goats a year, generating $45,000 to $50,000 a year in additional income.
Richie Inglis from CBRE said Sydneysiders were showing the strongest interest.
"They are looking at one or the other of the properties as a weekend getaway, but we are also fielding interest from entry-level players, as well as local producers seeking expansion."
Warrawee is expected to achieve between $1.35m and $1.5m, while Hillcrest could sell for more than $550,000. Both properties are being auctioned on May 3.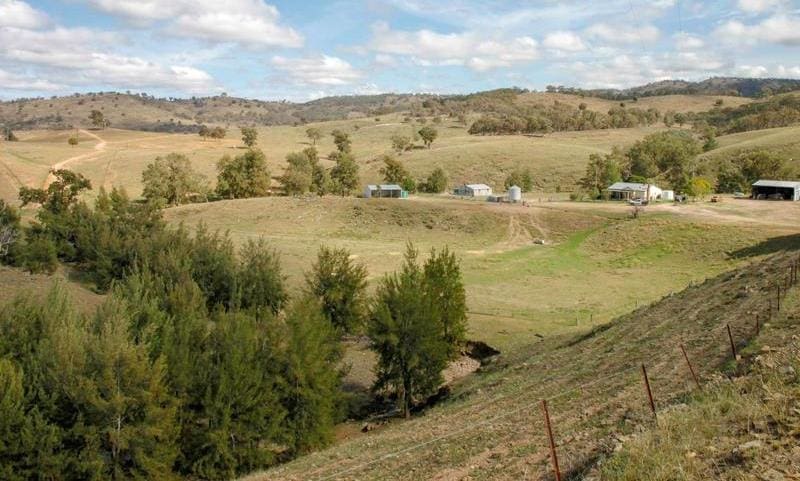 A recently listed 2030ha mixed farming operation, 20km north-west of Moree, would make an ideal backgrounding or fattening block, according to owner Geoff Vickers.
Teralba is a grazing and dryland cultivation enterprise comprising mostly level alluvial brown loams, typical of the Gingham area.
It has a 170ml bore licence and is well watered with regulated flows from the Gingham Channel, permanent holes, dams, bores, tanks and troughs.
Paul Thomas from Moree Real Estate said Teralba is already attracting a reasonable level of local interest as a bolt-on acquisition.
Mr Vickers, who has held the property for 32 years, is retiring to the coast.
Teralba is being auctioned on April 27 by MRE and LJ Hooker.
Properties for sale: Victoria
Expectations of $6m are anticipated for an aggregation of three contiguous grazing properties in Willatook – a highly productive region in Western Victoria.
The properties – 594ha Murraba, 99ha Maloneys and 149ha Glenholme have been held by the Webster family for more than 35 years. Conservatively they have been running 450 Angus breeders with calves at foot, 350 yearling cattle, 30 Angus bulls and 150 crossbred ewes for prime lamb production, but the property has scope to carry more.
The 842ha property, pictured below, consists of high quality soil types, reliable rainfall, improved pastures and an excellent fertiliser history. It features quality fencing, a well-designed laneway system and reticulated stock water to each paddock.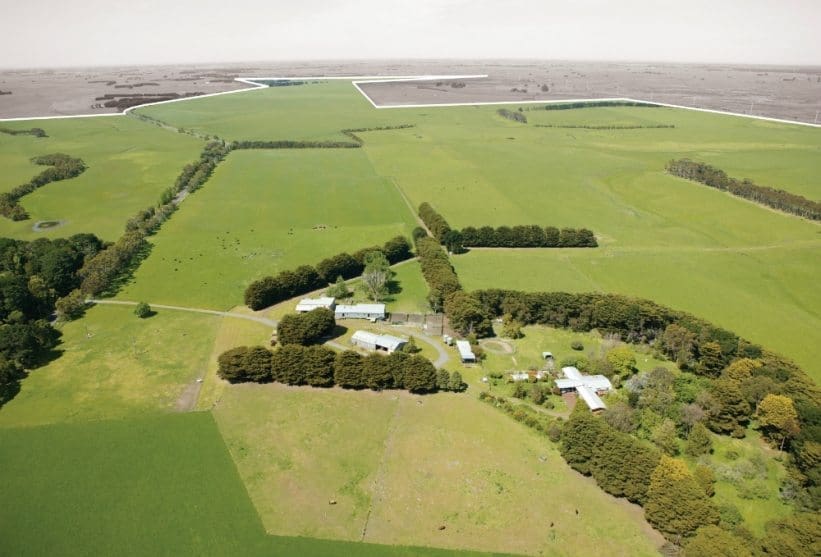 CBRE Agribusiness agent James Beer believes the aggregation will attract both local and corporate purchasers.
"Most of interest will come from local farming families and mid-level corporates. It could also attract interest from corporates with broad exposure seeking a bolt-on acquisition," he said.
Murraba, Maloneys and Glenholme are being offered for sale on a walk-in walk-out basis via expression of interest closing on May 31.