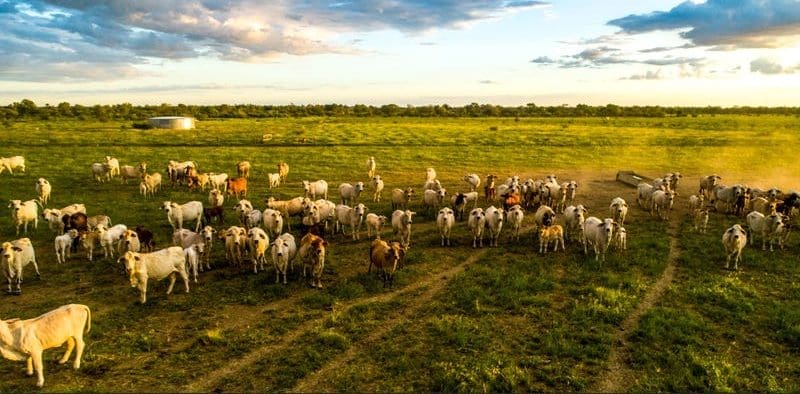 IT'S BEEN an interesting month in the Queensland grazing property market, with cattle price adjustments, seasonal outlook and rises in cost of production starting to have an impact.
In one location, those eager to get their hands on a quality asset battled it out on auction day to achieve a district record price.
In other areas, properties have been passed-in, with agents now negotiating with interested parties, while good offers (from those reluctant to compete on auction day) have been accepted by a number of vendors prior to auction.
In this week's property review, rural sales specialists give their views on where the Queensland property market is currently sitting.
Herron Todd White north and north-west Queensland director Roger Hill believes the property market conditions and sentiment are challenging at present, and agents are doing it tough.
He said the market value for good quality country has not changed, however some of the secondary country types are taking time to sell.
"The fundamentals of the grazing business have changed due to softening cattle prices, rising operating costs and a doubling of interest rates," Mr Hill said.
"Buyers are getting picky as the property cycle potentially transitions from a seller's market to a buyer's market for secondary country types."
Mr Hill said it takes both parties to do a deal – buyer and seller.
"In light of this, sellers do not have to accept an offer, especially if they have a good bit of country, good business, solid balance sheet and are optimistic about longer term cattle prices."
He said vendors who really wanted to do business, needed to pick their shots and be agile when they take their property to market.
"In the current business environment, the skill is to pivot and realise there is a smaller pool of buyers. If sellers want to build the deal, they will need to put it on the table and make it happen, because sometimes 'one in the hand is worth two in the bush'."
Mr Hill likened the situation to a football game.
"If the field of play has changed, then a smart little halfback knows when it is time to switch the plan of attack."
David Woodhouse, Nutrien Harcourts
David Woodhouse from Nutrien Harcourts Charters Towers said in recent months, the biggest issue impacting prospective property purchasers in his region was the drop in the cattle market.
"Many cash flows have dropped by up to 30 percent and as a result, producers are readjusting their plans moving forward, based on the new figures," he said.
Despite a record number of property listings, Mr Woodhouse said overall prospective buyer numbers in North Queensland were down.
"Last year, a record number of people inspected properties following two years of strong market prices for cattle which strengthened their cash flows."
"As a result, the property market here was mainly driven by two types of buyers – those seeking to expand existing holdings and those selling to upsize to a larger operation."
Mr Woodhouse said today's buyers are conducting more in-depth due diligence.
"With the recent downward correction in the cattle market and a tighter surplus cash flow, people are now focusing their intentions on consolidation."
"There is still genuine interest for better class properties, but not in the same number as last year. Those who are in the market are happy to sit and wait for the right property to come along."
Mr Woodhouse said there were plenty of listings and if a place was recognised as a district premium asset, there would be genuine inquiry and interest.
"Producers are willing to pay a premium for good country. New price levels have been reached and most understand values are unlikely to fall."
Right on cue, the 15,604ha well-developed north Queensland cattle enterprise Slogan Downs sold on Monday prior to this week's anticipated auction.
The finishing, breeding and backgrounding country is located 80km south of Charters Towers. The purchaser and price were undisclosed but during the marketing campaign, an indicated value of $8000 to $12,000 a beast area was offered.
Mr Woodhouse said the sale price was in line with market expectations for a property of its calibre.
Henry Slaney, Slaney & Co
Henry Slaney from Slaney & Co, Charters Towers said property prices presently were solid, but the euphoria that was driving the market appears to have eased.
"Generally speaking, the best of the properties will continue to be well-contested, but it is still possible to overprice a place in a buoyant market so the passed-in rate may rise a little."
Mr Slaney said on a positive note, overall, beef demand globally is strong.
"A short-term correction in the cattle market is not going to change a buyer's perspective. It may give them cause to think but it doesn't alter their outlook, especially if the right property comes up."
Mr Slaney said four things impacted an operation – management, seasons, interest rates and cattle prices.
"Two of those – interest rates and cattle prices – have headed in slightly the wrong direction, but it hasn't dampened the enthusiasm for expansion. The good operators will continue their expansion plans on their own timelines," he said.
Mr Slaney said property values had not fallen and are unlikely to in the short to medium term.
"The market has never been stronger. Seasons have been historically good and they still are, along with healthy cash flows and profits. Producers are in a much stronger position than they were during the peak of 2008/09 simply due to the strength of the cattle market since 2016."
He suggested some buyers were being selective by assessing every property on its merits.
"With more listings, it would appear buyers have more options, that is until the neighbouring property comes up for sale. Every property has an adjoining place that will continue to attract premiums."
"On the other hand, waning interest will start with second rate properties, followed by those places that need money spent on them, such as new infrastructure."
Mr Slaney said suitable scale was now a key driver in investment decisions.
"How do the second or third properties enhance operational outcomes? Succession planning requirements weigh heavily as the older generation move to retirement. The market is a complex mix and there are no simplistic, generic answers."
Edward O'Dwyer, CBRE Agribusiness
Edward O'Dwyer from CBRE Agribusiness said it was easy to say buyers are now being more selective.
"There are many active buyers seeking opportunities in agriculture who are, no more or no less, selective. Most of them have cash reserves in the bank and are in a good position to purchase," he said.
"Clients range from corporates to family operators. They consider each property on its merits and if it fits their requirements, they will purchase it."
Mr O'Dwyer said the depth of the market has changed this year, but not the demand.
"The number of potential buyers has declined as some watch and wait to see what happens with interest rates and commodity prices. These people are not undertaking the same level of inquiry as they were six or 12 months ago."
As a result, places weren't transacting as easily.
"The immediate and lower-level purchasers are discerning and waiting in the wings for market signals to show the volatility has ended," he said.
"On the flipside, blue-chip and high-quality assets are still hotly contested and achieving premiums as buyers recognise that high quality assets are not offered to the market regularly."
Mr O'Dwyer believes property prices will plateau eventually, but he said the market is not seeing it yet.