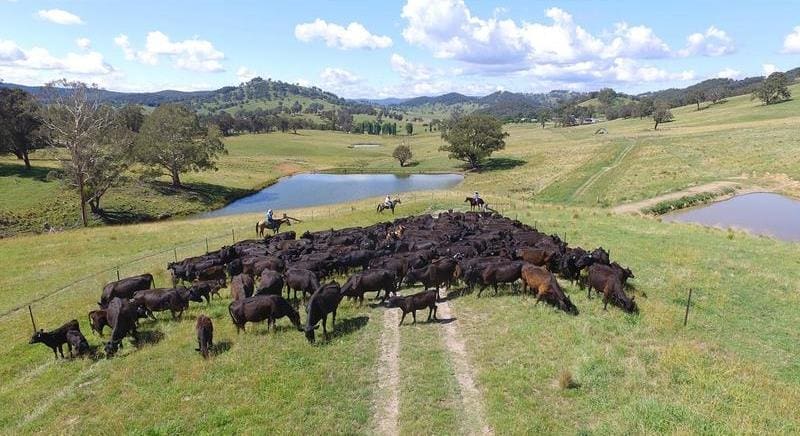 FINANCE appears to be tightening on the back of the recent Royal Commission into banking and drought. The banks claim their rural lending criteria remains relatively unchanged, saying the process is being mostly dominated by seasonal conditions and commodity prices.
In this first installment in a two-part series, bankers, agribusiness specialists and consultants give their insight into what impact the above factors will have on the rural property market.
Khan Horne is Regional Customer Executive, Regional & Agribusiness NSW at National Australia Bank. He said, 'hand on heart', that NAB was consistent with its approach to assessing and providing finance.
"It continues to focus on a customer's character, their integrity, projected cash flow, collateral, security and leverage. The bank is staying close to customers and working with them during the drought."
Mr Horne said while serviceability was paramount, character was equally as important during drought times.
"You must know who you are lending to. Does that producer have the integrity to repay the bank and at the same time, service the debt?"
Mr Horne said while the NAB insisted on three to five years of financials for lending, some clients provide 10 years of records.
"You would be amazed at the professionalism and the information we get from clients who put forward serious proposals," he said.
Rabobank is currently reviewing its most impacted clients in the light of the drought, according Brad James – regional manager for southern Queensland and northern New South Wales.
"What is making the process fruitful is the open dialogue we are having with our clients on the position they are facing. By addressing the matter early, the bank can work with them and work through any situation that may arise. For instance, what is the next step if it doesn't rain and if it does rain, what opportunities can they avail themselves of if they need extra capital, particularly if they are fully geared?"
Mr James said invariably, those impacted the most by vagaries such as drought, commodity price downturns or increasing interest rates, tended to carry the heaviest gearing.
"That is why it is so important that the bank is conservative and measured with the level of gearing that it extends to primary producers and ensures that our expertise and industry knowledge among our staff is maintained, to be in the best position to ensure that the position of both the bank and the borrower is safeguarded."
Mr James said it was important to note that Rabobank had not changed its lending policies even in the light of the drought.
"We have conservative lending policies. If they weren't, the bank would have had customers in diabolical circumstances on the back of drought. In due course, the Royal Banking Commission will hand down its findings and we will naturally review any areas of concern that may arise as a result of those findings."
Historical data/Financials
Mr James said Rabobank had always looked at three years of historical financials and 12 months of bank statements to examine the behaviour of a customer's account when they seek to refinance.
"When things are tight, the bank is prudent and always adheres to policy. On the other hand, when markets are freer there is a policy tolerance. For example, when a producer wants to bridge into another place and the market is extremely strong, the bank has more comfort allowing them to do that pending their own sale, compared to a market where there is very little sales activity. The bank varies its approach within our policies rather than changing its policy on the back of seasonal or market conditions."
Opportunities haven't expired
What must be remembered is the opportunities to expand haven't expired because of the drought and lending hasn't stopped either.
Mr James said some producers are approaching property purchases with very measured caution, for good reason.
"My advice to anyone who is buying is to remove as many vagaries as you possibly can through that transaction, aim for the best result you can achieve but project conservatively. Access to water is key."
October – an important month
Rural finance advisory specialist Brad Sewell has been involved in the rural property market for 25 years. He is a founding director at Robinson Sewell which provides finance solutions to agricultural businesses.
"Banks are generally being supportive, but October will be an important month in determining how cash flows will look in 2019. It is imperative that farmers keep their banks informed and have rolling three to four-month strategies in place to deal with threats and opportunities," Mr Sewell said.
"By October, seasonal conditions and weather forecasts will indicate what sort of summer the eastern seaboard will be dealing with. It also allows producers to engage with their bank on any future finance needs before the disruptive Christmas/New Year period."
Martin Pentecost is a director of Grow Financial Group, a boutique finance and agribusiness consultancy based in Central Queensland with clients throughout Queensland, New South Wales, Victoria and the Northern Territory.
He believes It is lot harder to get money now than it was 12 months ago because banks have tightened up their lending criteria in the wake of the Royal Commission.
"You should be careful about what you wish for! Many consumers and producers wanted a banking enquiry to be critical of banking practices around 'easy credit'. But now with some of the findings from the commission the tables have turned, and many are now questioning why the banks are tightening credit and scrutinising loan serviceability a lot more than they were."
Mr Pentecost said the screws are definitely tightening, with many banks asking new clients wishing to refinance for four to five years of financials, instead of the usual three years.
Buyers should exercise caution
Mr Pentecost advised producers seeking country for expansion to start looking at their profit loss.
"The reason is banks are scrutinising historical data and if financials are not showing a good degree of loan servicing (for instance, only making profits in one year out of four), banks will more than likely decline to finance another property purchase."
"Banks appetite for lending at the present for another property purchase is certainly focussing on serviceability. There might be equity and security, however if the loan can't be serviced then the banks will not forward the funds," he said.
Fewer buyers
Mr Pentecost believes this will filter through to the rural property market and as a consequence, selling agents may see a shorter potential buyers list.
"The many agents I have spoken to have lists of buyers still wanting to purchase and lease properties. Those in a strong cash position with solid businesses will proceed, however those who are skinny on equity and serviceability will not because the banks won't lend them the funds. I don't believe there will be as many buyers as there were 18 months ago."
This finance report will continue in next week's property review