IN April 2015, Australia's biggest private landholder S. Kidman & Co was listed for sale. Including the world's largest cattle station, Anna Creek, the Kidman portfolio of properties was valued at the time at $390 million.
Since that time, two sale offers were rejected by the Federal Government over national security and national interest concerns.
Both slaughter and live export cattle prices now are at record highs, and considerably stronger than where they sat when the Kidman offer was first announced 16 months ago. Darwin live export prices for Indo steers today are at 365c/kg liveweight – at least 110c/kg higher than where they sat when the offer was first tabled. Grassfed heavy steers worth 570c/kg dressed weight today were only worth 430c back in April last year.
As a result of that dramatic market movement, there's been an argument brewing that Kidman is worth much more today, than it was back then. In fact, some retired valuers have expressed views on this issue, only to be howled-down by other industry players.
Shaun Hendy is the director of valuation rural & agribusiness for Colliers International. He said while valuation isn't an exact science, Kidman today is certainly within a value range that could be justified.
"Our analysis shows Kidman's asking price still compares favourably with the recent NAPCo sale," Mr Hendy said.
In May, Australian superannuation investment manager QIC purchased an 80 percent stake in the North Australia Pastoral Co (see earlier Beef Central story).
As part of his comparison, Mr Hendy said:
Kidman (including Anna Creek) was initially valued at $390m. NAPCo was valued at $400m.
Both assets have an estimated carrying capacity of 185,000 head. At present Kidman is running 160,000 head, NAPCo 175,000 head.
Both were offered as a going concern including cattle, property, plant and staff.
While the main difference is land area and type – Kidman covers 10,140,000ha and NAPCo is 5,775,000ha – Mr Hendy said both assets are comparable.
"NAPCo might be smaller in terms of land area, but it is running the same number of cattle on better country. On a direct comparison basis, NAPCo is a marginally better integrated portfolio with better quality land."
Mr Hendy said however, there was a goodwill component with the S. Kidman asset that perhaps does not exist with other large pastoral aggregations.
"The name, Kidman, adds a tremendous amount of value given we are moving into an era where provenance (where the commodity comes from, and the production story behind it) will have considerable value at the retail end," he said.
"Kidman is a name that is iconic and is recognised as a pastoral producer with over 100 years of history in Australia. What you pay for that, I'm not sure. The market will determine that."
Asked about the option of splitting-up the Kidman portfolio for sale as separate properties, much as the Stanbroke buyers did back in 2006, Mr Hendy said the splitting-up option risked devaluing that 'goodwill' behind the Kidman name.
"At the moment you have an integrated, going concern with management and systems in place, a history of properties with different attributes working together as a single entity. If you pull that apart and sell each item off, you lose the value of that asset knowledge," he said.
According to a spokesman for sale manager Don Manifold from Ernst and Young, South Australia, the Kidman sale process was 'ongoing.'
"Discussions are underway with a number different parties comprising both Australian and overseas interests," the spokesman said. "There is no imminent deal, but an outcome is expected by early next year."
Rinehart in the wings?
Of interest to many is the intentions of Australia's richest woman, Gina Rinehart, pictured below, who is reportedly bidding jointly with Chinese interests to secure Kidman & Co.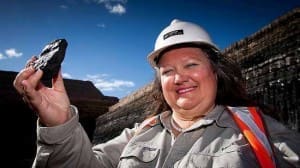 If successful, she would apparently secure a two-thirds stake in the company, while existing bidder, Shanghai CRED, would hold one-third.
An Australian majority shareholder like this would greatly change the dynamics of the Foreign Investment Review Board scrutiny process. Almost certainly, the Federal Government would look more favourably on the deal.
However, even holding a one-third stake, a Chinese involvement would need to undergo FIRB approval, as it exceeds the revised $55m threshold imposed by the Federal Government.
Watch this space for further developments.
Kidman sale timeline
10 April 2015 – S. Kidman and Co was listed for sale as a single going concern including stock, plant and property.  Founded by Sir Sidney Kidman in 1899, the company has been in the hands of family members for more than 100 years. The business includes a cattle feedlot and cattle stations across Western Australia, the Northern Territory, Queensland and South Australia. Anna Creek Station in SA's outback is the largest at 23,000sq km. Other holdings include Durham Downs, Durrie, Glengyle, Morney Plains, Naryilco and Rockybank in Queensland; Innamincka, Macumba and Tungali feedlot in South Australia; Helen Springs in the Northern Territory and Ruby Plains in Western Australia.
19 November 2015 – Federal Treasurer Scott Morrison blocked the sale of Kidman to foreign buyers saying it would be contrary to the national interest. It was reported that a $350m bidding war for the vast cattle enterprise had played out between two Chinese companies – the Shanghai Pengxin Group and the Hong Kong investment firm Genius Link Asset Management.
09 December 2015 – An intended $410 million crowdfunding campaign was launched by DomaCon to self-managed super fund investors in a bid to keep S. Kidman and Co, the country's largest landholder, majority Australian owned.
06 February 2016 – Trucking magnate Lindsay Fox launches a late bid to buy the Kidman property portfolio.
19 April 2016 – A takeover bid for the vast cattle empire was launched by Dakang Australia Holdings comprising 51pc Hunan Dakang Pasture Farming (Shanghai Pengxin, a private Chinese company owned by billionaire property developer and businessman Zhaobai Jiang, is the major shareholder at 55pc) and 49pc by Shanghai CRED Real Estate, and the ASX-listed Australia Rural Capital. Dakang was set to acquire 80pc of Kidman under the bid, with ARC taking a 20pc stake.
21 April 2016 – South Australia's Williams Cattle Co agrees to purchase the 23,677sq km Anna Creek Station (accounting for almost one quarter of the total land area of the Kidman pastoral operations) after it was carved-off and offered separately for sale to address the national security and portfolio land area concerns of the Commonwealth government. The sale is conditional on the sale of the remaining Kidman portfolio.
28 April 2016 – Federal Treasurer Scott Morrison again all but knocked back the $371m proposal for the sale of Australia's largest cattle empire to a foreign-led consortium. "Given the size and significance of the Kidman portfolio, I am concerned that the acquisition of an 80pc interest in S. Kidman and Co Limited by Dakang Australia Holdings may be contrary to the national interest," Mr Morrison said.
04 May 2016 – After terminating its bid for Australia's biggest private landholding, Dakang Australia declares it will spend the next three months negotiating with Kidman in an effort to finally gain Commonwealth approval.
22 May 2016 – Crowdfunder DomaCom joined forces with Lloyds Business Brokers to launch a fresh strategy for the purchase of the Kidman stations, involving separating the land component ($210m) and operating businesses ($160m).
28 July 2016 –Australia's richest woman, mining magnate Gina Rinehart is mooted as a possible contender for S. Kidman and Co.
26 August 2016 – Shanghai Cred quits Dakang Australia, the Chinese-led consortium that was twice named preferred bidder for the S. Kidman & Co pastoral empire.
28 August 2016 – Gina Rinehart reportedly enters a multimillion dollar joint bid ($300m) with Shanghai CRED (owned by Chinese billionaire Guiguo Jie) for the remaining Kidman assets, minus Anna Plains.