IT IS perhaps not that surprising that recent all-time record cattle prices are sparking interest in traditional grazing land – in some cases pushing values back close to where they were at the peak in 2006-07.
However, according to Herron Todd White's latest monthly property review, early signs are also emerging of possible transition from cropping landuse back to grazing, or at least fodder crops instead of cereals, as opportunities in beef production grow.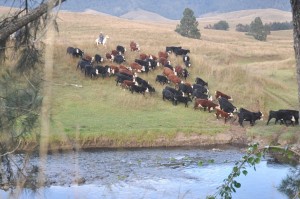 Digby Makim from HTW's Roma office said interest in his area was coming for mixed farming properties with cropping and cattle.
"Farmers are thinking about cattle and the potential returns they can make.  They are straightening-up some of their old fences and growing winter fodder crops for grazing, as opposed to traditional winter cereal crops."
He suggested that in some circumstances, the option could certainly be attractive.
"The numbers add up if you factor in steers being worth upwards of $3 a kilo. A decent oats crop may run close to a beast to the acre. These animals could then put on over a kilo per day." (See Beef Central's summer silage harvest report published tomorrow, covering similar themes.)
Martin Tremaine from Opteon Northern Inland NSW said many genuine mixed farmers whose infrastructure was well set-up for grazing were rolling back into cattle.
"Farmers aren't running around installing fencing and re-watering 10,000 hectares of prime, flat, black soil cropping country. But genuine mixed farms, stretching from Northern NSW all the way down to the Riverina – that have flexibility – are converting to grazing."
"And others who have been cash-cropping are changing their mix to improved/annual pasture or fodder crops, such as oats, for livestock fattening."
HTW National Director Rural Tim Lane said it was a strategic decision. "Particularly for those who have mixed farm operations to potentially grow more fodder crops and turn them into protein. I expect to see more mixed farmers growing forage and fodder crops for the beef, lamb and sheepmeat markets instead of growing cereals," he said.
Forestry conversion to grazing
Herron Todd White has recently undertaken a large forestry research project which has also reflected the increased demand for marginal forestry land to be reverted back to grazing.
Mr Lane said former forestry country across Queensland, NSW, Victoria, Tasmania, south-eastern South Australia and south-western Western Australia was attracting the attention of graziers with a view to progressively buying it, cleaning it up and converting it to grazing country.
"These assets have been progressively coming to the market over the past two to three years, particularly around the NSW North Coast area, due to ongoing rationalisation," he said.
In August last year, five former Forest Enterprises Australia plantations on the NSW North Coast were auctioned. Located at Mummulgum, Baryugil, Hogarth Range and Unumgar, they followed the successful sale in July of four similar properties.
Tony Flood from George & Fuhrmann Real Estate at Casino said there was good enquiry and the successful buyers were seeking to rehabilitate the land to its former purpose as cattle grazing.
"Most of the blocks have gone the full circle – from grazing and breeding country to forestry and now back to livestock operations. Some people purchased a neighbouring block to expand their existing holdings, while others purchased knowing there was a fair bit of remediation involved.
Mr Flood also attributed the interest to strong local cattle prices which has improved market confidence for beef cattle grazing land.
"Northern NSW is not far from cattle markets and abattoirs. Twenty-nine bidders subsequently registered for a further 13 former forestry blocks that were auctioned at the end of February. Eight were sold on the day," he said.
Similarly, 21 former timber plantations were put up for sale recently near Miriam Vale in Central Queensland.
Leroy Manskie from Landmark Harcourts in Bundaberg listed the blocks as "grazing development opportunities." The blocks were freehold, had a highly productive grazing capability and were located in a high rainfall location.
"Before becoming timber plantations, these properties were blue ribbon grazing operations. Most of them had improved sub-tropical pasture in place. Most of them sold to Queensland graziers and achieved their independent valuation," Mr Manskie said.
HTW's Tim Lane said every operator had a different view of how to deal with any surplus or non-core forestry assets.
"Fundamentally, it is just a block of land with either timber to be harvested or it's already been harvested with stumps in the ground. Buyers will look at it and say what can I afford to pay for the land to return it to its best use for grazing? That's the challenge for anyone in agriculture – to have the land producing at the highest available opportunity," he said.
Mr Lane said most of the former forestry land was returning to grazing. "Not a lot of that country is suitable, by either topography or area, for cropping and it appears to be attracting mostly locals.
"We haven't seen any corporate activity buying mass tracts of that land and converting it back to grazing. So, it's a good opportunity for graziers to get a small expansion on their existing operations and make some additional money over time."