SOME stakeholders feared beef property prices would nose-dive as a result of coal seam gas mining activity, but four or five years down the track, there is little evidence to support the claim.
To date, there have been few property transactions where gas wells are established, with some industry experts believing on-farm CSG infrastructure will have little or no effect on future sale prices. But others beg to differ.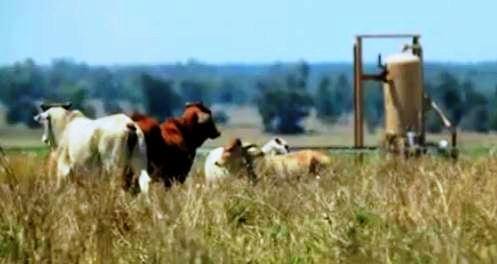 The Surat Basin contains some of the country's richest proven coal seam gas resources. It extends across an area of 270,000sq km, with the southern third occupying a large part of northern New South Wales, while the remainder is in Queensland. Much of it overlaps some of the best cattle country in the region.
According to the Queensland Valuer-General's latest Property Market Movement Report on 24 Local Government Areas, the value of primary production land in the Western Downs in the Surat Basin region rose seven percent last year.
However, it is difficult to draw any definitive conclusions about the impact of CSG, given limited rural land sales to date and a background of other seasonal and cattle market factors.
Valuer-General Neil Bray admitted that all industries dealt with the effects of a long-term and widespread drought, restrictive financial policies and rising costs. "Across Queensland, limited sales activity in many rural markets, including grazing, resulted in continued static land values. It is expected that potential purchasers will remain cautious for some time until there is an improvement in the weather and there is more confidence in the economy."
The Property Market Movement Report said, "as the gas industry in the Surat Basin moved from exploration and development into the production phase, property markets in that area slowed… while sales of rural properties in Dalby, Haystack and Wandoan, in the Western Downs Regional Council, showed minor to moderate increases due to the effect of the strengthening of beef commodity prices."
Queensland GasFields Commissioner John Cotter said given the prolonged drought and lack of property sales for land supporting with gas infrastructure, there was still insufficient evidence of a trend in rural property values as a result of the onshore gas industry.
Roger Lyne, principal of Ray White Rural at Dalby, has not yet sold any grazing or farming properties with CSG wells, but said the time will come.
"Everyone wants to know what will happen to a property's price. Whether CSG will have a positive or a negative impact is yet to be determined," he said.
Bill Fitzsimmons, director of Fitzsimmons Real Estate in Dalby, doesn't think CSG wells on beef properties will be an issue in terms of land value.
"The landholder will still be able to run cattle as normal, because the gas only interferes with a small part of the property – probably a hectare that's fenced."
Mr Fitzsimmons is confident there will be no gain or loss from coal seam gas because the landholder already has received the compensation. "CSG won't devalue a property, but it won't add value it either. I don't believe people looking at a nice property with gas wells would be dissuaded from purchasing it."
Dalby solicitor Peter Shannon is a partner in the local branch of Shine Lawyers, and is prominent in legal dealings between miners and landholders.
With more than 30 years' experience in the field, he said it was difficult to have any kind of informed debate on the impact of coal seam gas because most agreements were subject to confidentiality.
"In the same way as normal conveyancing, you are never really sure when you search the transfer register whether the printed price is the actual price," he said.
Mr Shannon suggested what an informed property buyer should do is ask for the Conduct and Compensation Agreement (CCA) and work out what they are going to get, or what the previous buyer received.
"The theory of compensation is the property is devaluated by the amount of compensation. In other words, the buyer will have to accommodate the CSG activity for the next 30 years and not get any income – that's if the compensation has been paid up front."
Mr Shannon said the way the compensation works is the gas companies look at a property's before-and-after value. "If the property was worth $3m before and $2m after, then the gas company will pay a million dollars compensation. What the gas companies are really doing is borrowing the compensation amount from the landholder and paying it over 20 or 30 years. The problem is that the CSG activities might not last more than eight years. So people who enter into an agreement over 20 years could be short changed," he warned.
Conversely, he admitted, if the agreement was very generous and it was more than the property's worth, then that might add to a property's value.
Mr Shannon believes the price of beef properties with CSG wells have already been devalued, but the landholders are getting the value they have lost back in the compensation payments.
"By its very nature and the way the legislation is framed, there can be no property price benefit from onshore gas, because it is purely compensatory," he said.