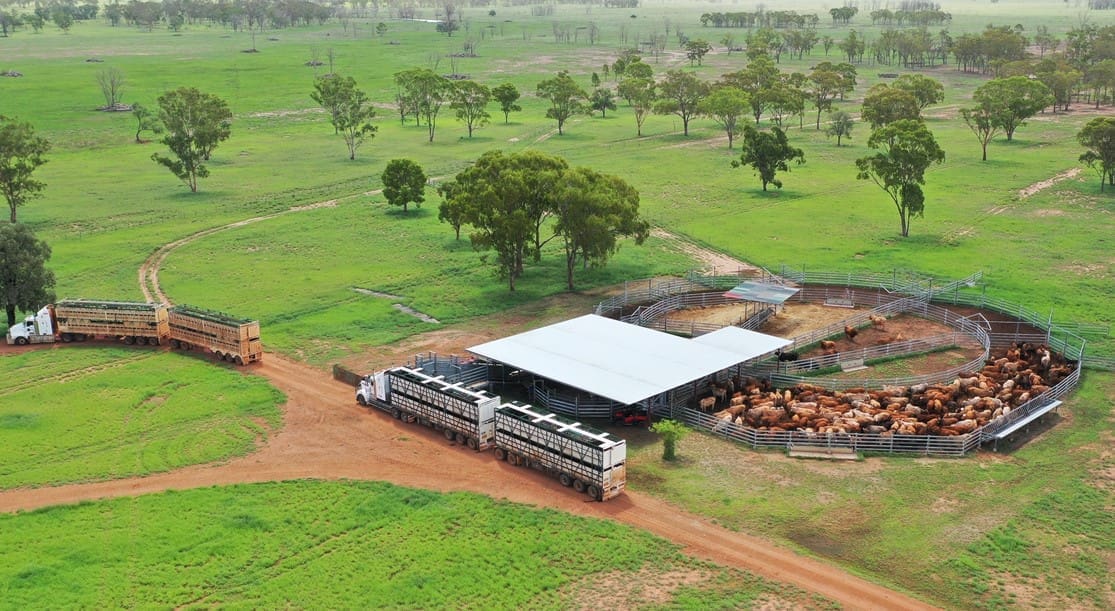 WITH interest rates already looming as a darkening cloud on the horizon and biosecurity threats also emerging, a question now emerging is whether the rural property market is headed into the eye of a storm.
In this week's property review, three specialists – a valuer, a property marketer and a financial advisor – discuss the situation and the likely outcomes for landholders.
Valuer Roger Hill from Herron Todd White, who works in north and north-west Queensland, said during the last quarter of last financial year, a spate of tax motivated purchases pressured property prices.
"Purchasers were rolling over their gains from prior property sales into new acquisitions. In one transaction, the premium between established local sale values and what it sold for was about 15 percent," he said.
Mr Hill said premiums of that level are not uncommon.
"It is not unreasonable for an anxious purchaser to pay a notch more with neighbouring or motivated (such as grass) purchases attracting a 10 to 15 percent premium."
Now the tax year has rolled over and it is a new financial year, Mr Hill questioned whether rural property transactions will equal the May/June contract pricing or whether the market will pause and take a breath.
"In free-market economics, it only takes a small straw to break the camel's back, and there have been many straws popping up in the form of higher operating costs – fuel, steel prices, wire, sheds, cattle yards, utes, tractors, lick, fertilisers, wages and interest rates on new loan facilities to name a few."
"All of these factors impact the cost of owning and operating a rural property business, without taking in account changes in the commodity prices and export market dynamics," he said.
Mr Hill said there were also a series of storm clouds on the horizon.
"No one wants to see a biosecurity outbreak such as foot and mouth disease or lumpy skin disease because that will be the straw that breaks the camel's back. It will threaten the property market, on top of rising interest rates and higher operating costs."
He admitted that FMD was a topic that everyone in the industry was talking about.
"The last market shock (the straw that broke the camel's back) was the live export ban in 2011 that followed hot on the heels of the global financial crisis in 2008/09 – which happened to coincide with the rural property peak."
Mr Hill said the property market did not collapse immediately after that event, but assets took longer to sell, then, as time moved on, values softened by between 30 and 50 percent.
Will this scenario be repeated if FMD or LSD reach Australia? Mr Hill believes it certainly could be a leveller, but the market will decide that.
"The property market impact would take some time to filter through – between six months and two years."
"There are other market demand drivers (the world has to eat and the emerging carbon industry) that will help, because most balance sheets are solid. There will be an element of financial stability from government support if there is a biosecurity matter to attend to."
Mr Hill said agricultural land was favourably viewed as an asset class because prices don't drop overnight.
"Rural land values are slightly counter-cyclical to other national and global investment options such as office, retail and industrial property. To some extent this provides a safety hedge against investment volatility."
"This was evident during and after the GFC when large global investments were made into Consolidated Pastoral Co and the Paraway Pastoral portfolio was formed," he said.
Mr Hill said in the meantime, some markets are still experiencing extremely good prices.
"Good quality country always sells, especially if it is well located and has good water infrastructure, good fencing and buildings that aren't falling down."
Rural sales specialist
Danny Thomas, a senior director at LAWD, expects demand for agricultural land will remain strong for the remainder of the year because the number of buyers continues to outweigh the number of sellers.
He said the two drivers of property market confidence are climatic circumstances and commodity prices.
"Unless there is a wholesale collapse in commodity prices or a drought, then it will be as steady as she goes," Mr Thomas said.
"At present, there is no change in the volume of listings and demand remains strong with many interested parties, who have missed out despite making robust offers, still in the market."
He said there was good liquidity evident in agricultural lending.
Risk of 'black swan event'
"Financial support is readily available and there is more ability to borrow money for plant, equipment and livestock than ever before."
Mr Thomas said a 'black swan event' like an outbreak of foot and mouth disease would have severe consequences on the property market, however landholders needed to continue to run their business and use their assets.
"It wouldn't make sense to sit on the roof your house in the middle of a flood plain, waiting for a flood.
"The fact is that FMD has been sitting on Australia's doorstep for the past 40 years and may or may not impact Australia this year or anytime in the future."
In the meantime, Mr Thomas believes property prices may have plateaued.
"I don't believe the 20 percent year-on-year growth in prices will continue. They are likely to track sideways for a while, but to say prices will deteriorate is incorrect."
"Land values usually follow record high cattle prices, but data shows they are not absolutely correlated. For instance, when cattle prices decline, land prices track sideways and, in some circumstances, track upwards."
Mr Thomas doesn't believe 'fear of missing out' has influenced the property market.
"Buyers are sensible. They have been to their accountants, are well advised, and have structured their debt over ten years. FOMO may have been experienced in some tightly held areas where assets rarely come to the market (areas of Central Queensland and pockets in Western Victoria), but on the whole, FOMO has been absent from the market."
Agribusiness finance specialist
Martin Pentecost from Grow Financial Group believes property prices have now peaked.
"Quality places are still selling and making good money, but we have also seen other properties passed in at auction, which we haven't seen for a good while."
Mr Pentecost said many producers are fearful about FMD and LSD and if it reaches Australia, it would be a train-wreck.
"Livestock markets would be severely impacted and the property market is likely to follow suit. I don't want to be negative, but it could wipe 20 to 30 percent off the value of rural properties in an instant."
Mr Pentecost said a biosecurity threat is not outside the realms of reality.
"No one thought something like COVID would hit and we saw what happened to small businesses – it sent some of them broke. The same could happen to the livestock industry – many producers would lose livestock and quite possibly their livelihoods."
Mr Pentecost said an incursion of FMD and/or LSD could also deter many people from buying or selling a property.
"If beef prices halved and property prices dropped by a third, then listings could well come off the market with some people being forced to sell."
Mr Pentecost said talk about solid balance sheets was, in many cases, just talk.
"Outwardly, some producers appear to be doing well, but the reality can be very different. If rising balance sheets are the result of rising property prices (their asset value), then some businesses would be hit hard with an FMD outbreak."
"I ask my clients what would happen to their business if cattle prices halved, if they were locked down due to FMD or LSD and if interest rates rose to seven percent?"
Mr Pentecost believes some producers have made expansion decisions based on FOMO, rather than good business.
"There are many different players in the property market. Corporates and large family farmers don't operate on a 'fear of missing out' mentality, but some mum and dad operators have told me that if they don't buy now, they will never buy."
Mr Pentecost said rising interest rates was another concern.
"Major banks are predicting the cash rate to be sitting at, or close to 3 percent to 3.5 percent by the end of the year. Yes, it is the cost of doing business, but what will be the impact if interest rates rise to seven percent on the back of falling commodity prices? Expansion may come to a halt."
While businesses have to go on and keep making investments, Mr Pentecost is warning producers to be prudent.
"The screws have been tightening on the days of easy credit for some time. People need to be cautious and make good decisions, not emotionally charged ones."