TO SELL your property, would you be prepared to open your financial records to potentially gain a higher return, or is this simply not required to achieve the best possible price?
While supporters suggest not to do so highlights a lack of transparency, others suggest there has never been an obligation on the part of vendors to release business performance information.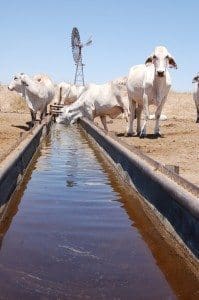 The arguments raise interesting questions about the type of information required to make a grazing property sale.
Advisor Michael Vail from Brisbane-based Tre Ponte Corporate said he had had clients who had walked away from potential property purchases over the years because no proper due diligence could be done.
"The records, including financial statements were not made available. This needs to change. Who would buy a business without understanding what the factory might produce, year-in, year-out?"
Mr Vail believes there is resistance across the board to releasing any data except area, carry capacity, average annual rainfall and number of paddocks.
"Lawyers worry about their client (vendor or agent) getting sued. So, it is up to the prospective purchaser to form their own expectations after an inspection of the target property."
He said agents for the vendor need to demand this documentation to complete due diligence themselves, and not produce a mere disclaimer as to 'no responsibility'.
"The vendor may get offered a better price if there was transparency. If the tax return or financial statement data is not forthcoming, it could create a discount to other prices received due to recognition of risk factors."
Mr Vail claimed it was negligent obstruction not to supply transparency.
"It creates an impression in some that there is something to hide and due to uncertainty, the price in the prospective buyer's mind is discounted."
However, there has never been an obligation for the vendor to provide financial details, according to Ben Forrest from Colliers International, so how can vendors and agents be condemned for hiding something?
"Financials are not often requested, and they don't influence a sale in my opinion. For the few buyers that ask for financials, most vendors are prepared and ready," he said.
"Properties presenting transparently with their cash flow figures are usually the bigger, investment style pastoral assets. The top 25 percent of grazing operators might be happy to give examples because they are more likely to be positive."
Mr Forrest said there were some sectors where financials are front and centre.
"Poultry is a standard cash flowing asset that is easy to analyse financially. It has a predictable income pattern, so investment funds requesting to explore the financials are ensuring it is relatively profitable, to industry standards."
However, Mr Forrest doesn't see a point in presenting a set of financial statements for cattle enterprises.
"Potential buyers are likely to undertake their own modelling and cash flow assumptions. People in existing grazing businesses already have an idea of what their profitability levels are and are not seeking financials from a vendor who might be running the property differently to themselves."
Agribusiness lawyer Bill Loughnan from Brisbane-based Thynne + Macartney said his clients don't want neighbours knowing how they are travelling financially.
"Those details are very often jealously guarded. A grazier doesn't want his neighbours or his contemporaries knowing how many head of cattle he is running, or details of his profit or loss. A prospective buyer seeking access to those records will be asked to sign a confidentiality agreement."
"Someone selling a business in Brisbane, such as a coffee shop or a hairdressing salon, would need to produce financials to justify the sale price. However, that doesn't appear to translate to sales of broadacre grazing properties," he said.
"In a grazing situation, even the big boys run at losses from time-to-time, so does that information assist the buyer in increasing his bid? I doubt it."
Mr Loughnan said Australia has one of the most variable climatic conditions in the world which means that sometimes broadacre grazing properties run at a loss.
"If you run at a loss and you disclose those figures to a buyer, is that going to encourage the buyer to bid a higher figure? It is a different scenario if you're running an irrigation operation where the water is guaranteed. In that case you may well be prepared to offer your financial figures. In a grazing situation, even the big boys run at losses from time-to-time, so does that assist the buyer in increasing his bid? I doubt it."
Rockhampton-based Martin Pentecost is an agribusiness and finance consultant with Powers Financial Group. He said that most producers who inspected a property never asked for the books.
"There is a big difference between buying a property and buying a pub or a shop. The first thing I would do when buying a business is look at the books. Graziers don't see they are buying a business – they are buying a property."
Mr Pentecost said even the banks aren't necessarily interested in a vendor's financial records.
"Banks look at the purchaser's financials. They forecast cashflow based on the new property projections, such as the new owners planning to run another 2000 breeders or steers. They scrutinise how the business will look with the new acquisition, not at how the previous owners have been running it."
Mr Pentecost said financials did not have any bearing on prices for pastoral properties.
"Potential buyers are looking at a property's productive capacity, infrastructure and potential earnings. That's what drives property prices. Strong commodity prices and a bullish outlook also help."
Mr Vail agrees that in the current market, there is nil effect as 'a rising tide may float all boats', however it is when the tide goes out that the problems may emerge in litigation.
"Graziers want to see production-ability over time to understand the constraints on the upside and the downside. Would you buy something you did not understand fully, especially if a very large premium (maybe up to 100 percent) above economic value was being asked by vendors? I think not."
However, Mr Pentecost argues that every grazier has a different management style.
"Just because a vendor manages a cattle property a certain way, doesn't mean the new owners will do the same. For instance, Richmond, North Queensland beef producers Tony and Mandy Mott developed Somerville Station into a highly intensive cell grazing block. The first thing the new owners did was pull down all the electric fencing because they wanted to manage the property differently. It is common practice and ranges from controlled baiting, best management practices to monitoring pasture."
Mr Loughnan agrees.
"The records are relevant for just that property. If a grazier is running an aggregation and moving stock from place to place, depending on particular requirements, then the actual stock numbers and the productivity of the individual blocks don't necessarily reflect their true carrying capacity and true value."
He said in terms of domestic sales and purchases, nine out of ten vendors would go to some length not to reveal stock numbers, carrying capacities and exact acreages under crops.
"Each management approach is different, and if you decide to adopt different practices you may well run different numbers to what has been run traditionally.
"Conversely, more sophisticated operators and possibly where there are foreign parties involved, then quite often as part of the due diligence exercise, subject to a confidentiality agreement, financial figures will be asked for and given."
The type of detail a typical vendor might require will be explored in part two of this property review discussion, appearing in a fortnight. Next week, we will summarise recent noteworthy sales around the Australian beef industry, and some interesting recent listings.