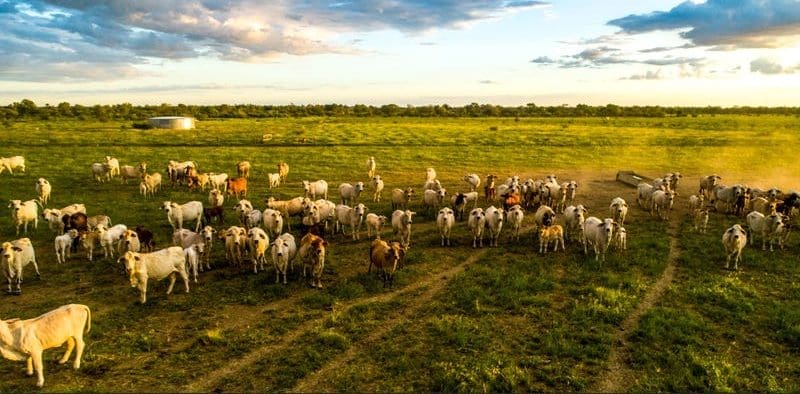 Editor's note: Important developments coming on this story tomorrow.
THIS week's property review showcases a state-by-state snapshot of the defining property sales across Australia, as reported over the past 12 months.
This is not a definitive list, as other significant properties may have sold in off-market deals. It is however interesting to look back over the past year at the prices, size and buyer trends among the more significant grazing properties that have changed hands.
Biggest single property transaction
The largest single cattle property transaction in Australian history will be the sale of the Northern Territory's 10,034sq km Walhallow Aggregation which is expected to achieve north of $250 million.
The 3580sq km Walhallow Station (pictured above) and 6454sq km Creswell Downs are situated on the northern end of the Barkly Tableland, east of Daly Waters, 1000km from Darwin.
In September, Colliers Agribusiness agents Rawdon Briggs, Jesse Manuel, Leah Freney and James Beer were appointed to conduct a second expressions of interest campaign on behalf of the vendor, Australian billionaire Brett Blundy.
The team indicated it would work to close the landmark offering before the end of 2022. By October, Colliers reported it had received multiple offers and, together with Mr Blundy, had requested additional information from the group so the final stage two bidders could progress to contracted offers.
This week, the preferred bidder will be chosen and lawyers intend to finalise the contracts in December.
The Walhallow Aggregation is being offered for sale on a walk-in-walk-out basis including 61,000 head of cattle.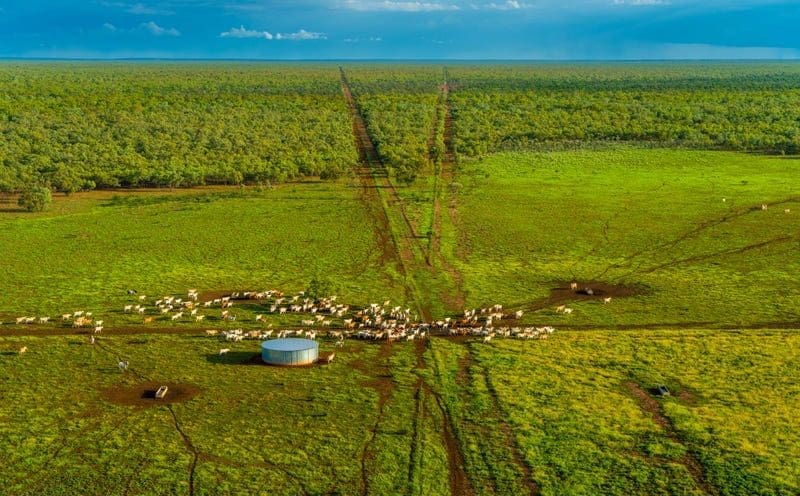 Northern Territory
In September – the 147,300ha Maryfield on the Barkly Tableland and 521,883ha Limbunya in the Victoria River District sold for $175 million on a walk-in walk-out basis. The $103.4m land component ($38.2m for Maryfield and $65.2m for Limbuyna) was secured by funds manager Sam Mitchell from Sydney-based Wealthcheck, while the 50,000 head of Brahman cattle ($71.6m) were purchased by Brisbane-based AAM Investments who will operate the business under a lease arrangement. The productive cattle breeding, backgrounding and finishing facilities, featuring an extensive capital development program, are considered by some to be among the best holdings in the country.
April – Peter and Jane Hughes paid $105 million WIWO (including around 40,000 head of cattle) or $52.6m (land) for the extensive Victoria River District cattle stations Riveren and Inverway. Spanning 550,000ha, they are located south-west of Katherine and typical of the region, mostly open black soil plains. Both enjoy an abundance of reliable water. The aggregation supports a combined herd of around 40,000 head of cattle.
Last year, Peter and Jane Hughes paid an eye-watering $215 million for Stanbroke's Miranda Station in Queensland's Gulf of Carpentaria – it became the largest single cattle property transaction in Australian history. Miranda Downs is located north-west of Normanton and spans 438,000ha. The walk-in, walk-out sale included 55,000 head of Brahman and crossbred cattle (including 20,000 breeders) valued at between $80m and $90m, and a 6000 megalitre water licence from the Gilbert River, which runs through the property.
Western Australia
March – Twiggy Forrest's Harvest Road group paid around $70 million (including 35,000 head of Brahman cattle) for the Springvale Aggregation (comprising the adjoining Springvale, Mable Downs, Alice Downs and Texas Downs) in the East Kimberley region, 70km north of Halls Creek and 320km south of Kununurra. The 604,430ha aggregation (pictured below) features large areas of expansive gently undulating plains including black soil flood country with Mitchell, Flinders and buffel grasses. There is an abundance of water and extensive water infrastructure.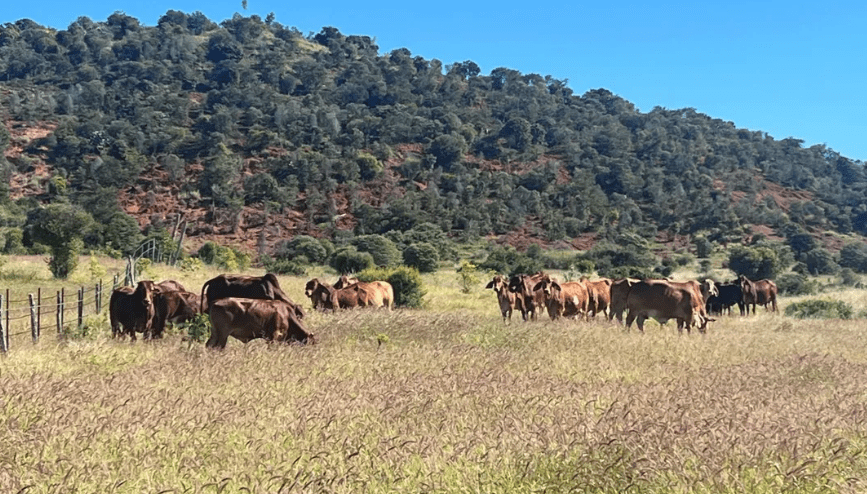 February – Twiggy Forrest's Harvest Road group paid around $40 million WIWO (including 12,000 Red Brahman cattle) for the large-scale breeding and finishing operation Balfour Downs. The 634,004ha Balfour Downs Station and Wandanya are located east of Port Hedland and 200km north-east of Newman, in the Eastern Pilbara region. The holding, about one-tenth the size of Tasmania, includes extensive river, watercourse and channel country, opening onto large flood-out plains grassed with Mitchell, Flinders, and buffel. Located in one of WA's richest mining regions, the grazing country is rich in minerals and there is no need for supplementary feeding. The water infrastructure includes fully equipped watering points, 55 bores, 35 ring dams and seasonal waterholes.
Queensland
November – Sedgeford in Central Queensland's Barcaldine region sold for between $70m and $100m in a walk-in walk-out (WIWO) sale that included 5500 head of mixed livestock and an extensive list of station plant. Situated 35km south-east of Alpha, the 48,370ha breeding and fattening cattle property has a carrying capacity of 7000 mixed cattle. Featuring strong cattle country, Sedgeford has gently undulating heavy black soils, with fertile pebbly ridges running to red sandy loams. It has 30km of dual frontage to the Native Companion Creek, 51 dams and an extensive water system (comprising 15 tanks and 14 turkey nests) supplying water to 54 troughs.
May – Consolidated Pastoral Co paid a record $47.5m for Jimarndy Station in Central Queensland's Fitzroy region. The sale price (which included $500,000 of plant and machinery) equates to $2735/ha or $7580 an adult equivalent. The deal included a 4410ha forestry lease adjoining the aggregation. The 17,638ha aggregation (comprising the 3646ha Jimarndy, the 9500ha Tawarri and the adjoining 4402ha Tandarra) is located 70km from Middlemount, 245km north-west of Rockhampton and 200km south-west of Mackay. Together, they can carry 6200 adult equivalents. Boasting a 16km Isaac River frontage, the country is a good balance of deep alluvial soils on the riverside plains, complimented by rich red loam soils on the rising slopes leading up to elevated plateaus of extensive grasslands. The property has good water infrastructure, pasture improvement and 680ha of leucaena on the alluvial river country.
Standout sale
August – One of the standout sales in North Queensland was Hughenden's Peronne Station that made a record $13.1m (including 480 breeders) at auction. The price exceeded expectations (achieving around 30 percent above the previous best sale) and set a new record for the region. On a bare basis, the 9788ha sold for around $11.6m or $1185/ha (depending on the price of the cattle which at the time were calving) or $10,000 a breeder area. Featuring sweet, quick responding, dual purpose breeding, backgrounding and fattening country, the property was presenting with a good body of feed at the time of sale. The pastures, which showed the full benefits of rotational grazing and paddock spelling, can run 700 breeders plus progeny or background 1700 weaners. Peronne's improvements were described as first class. Most of the property is exclusion fenced and is well watered by two equipped bores and four dams.
New South Wales
November – A New South Wales family with existing investments in the cattle industry paid more than $100m WIWO for the historic northern New South Wales' Plumthorpe Aggregation, described as one of the most prestigious properties in Australia. The successful purchaser also secured the 6300 head breeding herd, including 3360 joined cows and heifers. Plumthorpe (pictured below) was anticipated to make around $7500/ha bare or $84m. An additional $16m to $17m paid for the livestock is believed to have pushed the final price to more than $100m plus plant and equipment.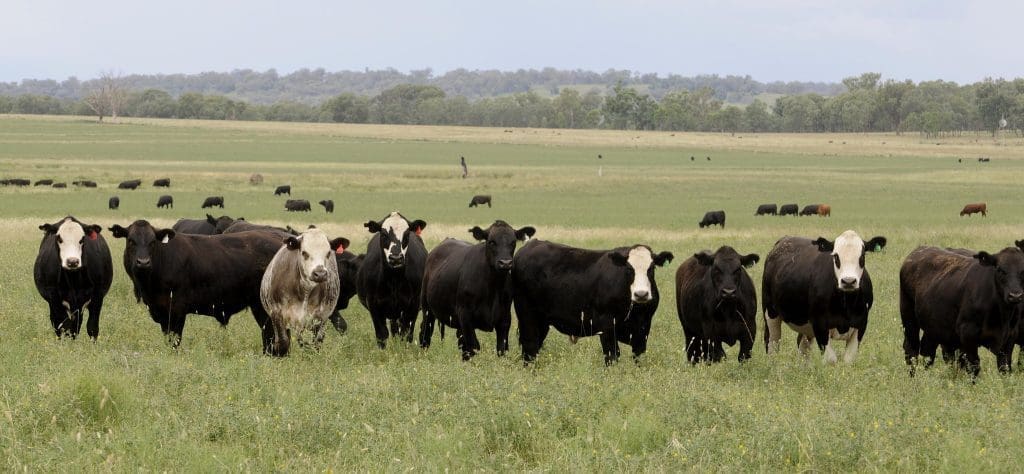 April – A Queensland family with existing beef holdings secured Upton Farms, described as a green pasture feedlot in New South Wales' New England, for around $80m WIWO (including 4500 head of cattle). The 2668ha backgrounding and fattening operation comprises four nearby farms at Niangala, east of Walcha. The high rainfall aggregation features heavy red and chocolate basalt soils capable of running 6000 steers or 4000 cows or 60,000 dry sheep equivalents.
Victoria
July – Holistic farmers Michael and Anna Coughlan paid $22.5m ($22,111/ha) for the scenic Southern Grampians property Wykenham in Victoria's Western District. Set in productive red gum country at Dunkeld, Wykeham is a prime lamb breeding and cattle enterprise running 17,500 dry sheep equivalents in a 700mm reliable annual rainfall region. The blue-ribbon holding boasts extensive frontage to the Wannon River and a spectacular panoramic backdrop of Mt Abrupt and Mt Sturgeon.
South Australia
October – A local family paid a record $13.7m or $20,510/ha for the 668ha Chessington at Spence, 25km from Naracoorte in South Australia's Limestone Coast region. Described as a quality turnkey grazing property in a sought-after area, the country has warm rises and productive flats with well drained loam over clay. Chessington, pictured below, features quality improvements including high-capacity yards, new fencing and abundant underground water. It is rated to carry around 500 mixed cattle comprising 400 cows and calves plus replacements and 100 steers.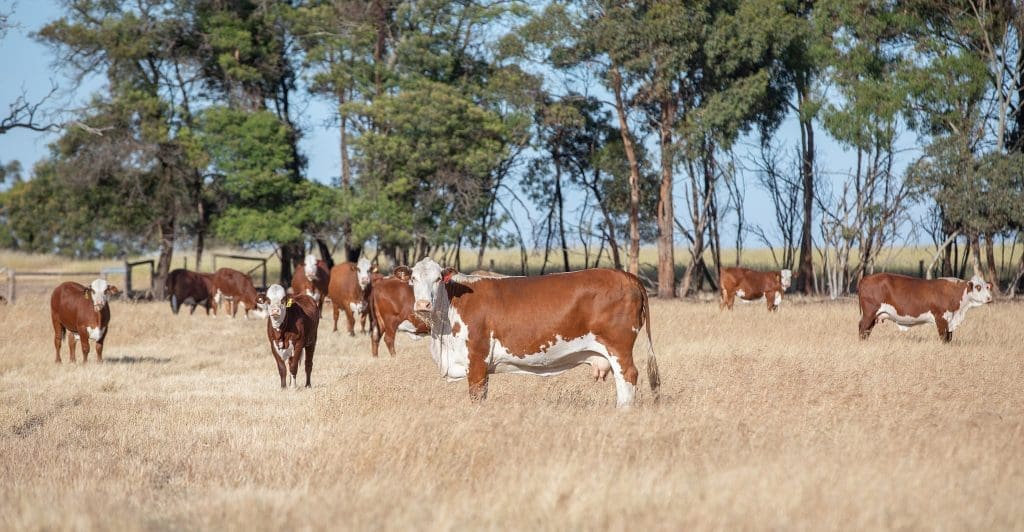 On a per hectare basis
October – In Central Queensland, the highest grazing value on a per hectare basis was achieved in the tightly held Dawson Valley. The Finger family paid a record breaking $7764/ha bare or $22.5m for Malo, a strong performing beef factory at Isla, 15km south of Theodore. The price equates to $27,700 a breeder value area or $17,000/AE. The 2898ha of country is heavy-carrying capacity country that can run around 1300 adult equivalents. Featuring deep fertile soils, the property is capable of breeding, growing or fattening and at the time of sale was carrying a good body of grass.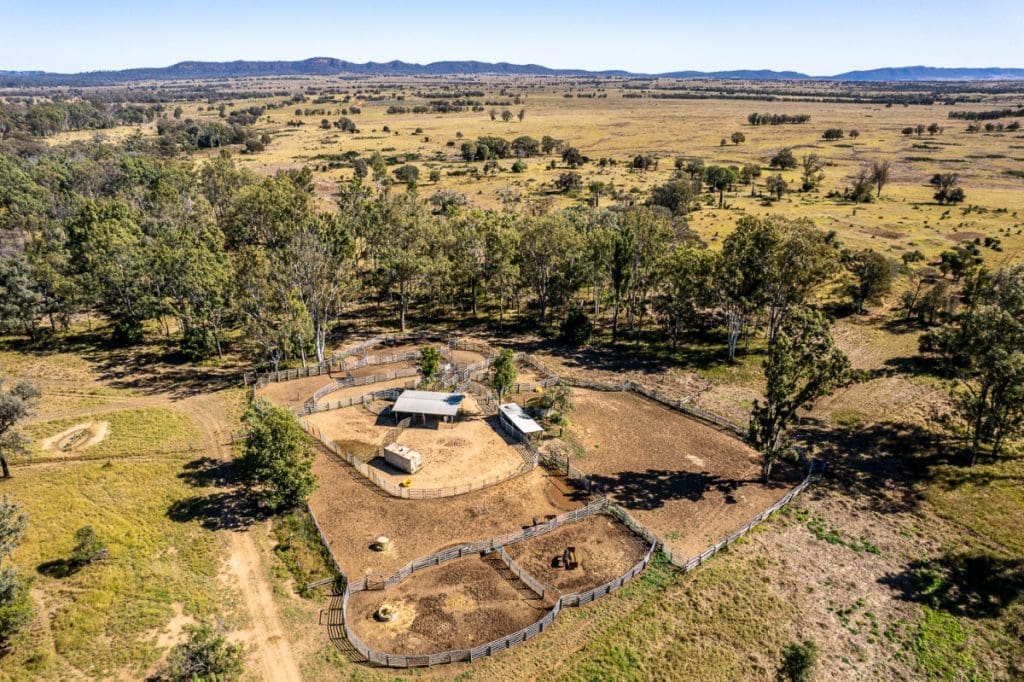 October – In Southern Queensland's Maranoa, the blue-ribbon 9366ha Finsbury Park, 60km north of Roma, set a new benchmark for the region selling for $6478/ha or $24.55m. The figure is estimated to be around 45 percent higher than prices achieved two and half years ago. The large scale, high carrying capacity country features prime brigalow, bottle tree and belah in traditional bullock country that can run 1000 head of cattle. The property is well watered by three bores, nine dams, two turkey nests and 24 troughs and features quality improvements and fencing.
Best performing region
Herron Todd White director Will McLay said when it comes to grazing property prices, Central Queensland was one of the best performing regions in Australia this year.
"It is one of the most reactive markets and there is a lot of capacity in terms of the balance sheets that sit within the area's significant family businesses," he said.
Mr McLay said the grazing market tends to gravitate to Central Queensland.
"The region provides buyers with the opportunity to acquire scale properties which are capable of producing solid weight-for-age gains for cattle."
He said the key property market drivers were still sound.
"Last year, strong cattle prices and the cheap money were the market's driving factors. During 2022, these forces began to settle and as a result has moderated the pool of buyers."
However, Mr Lay said due to continued seasons and a reasonably strong cattle market, there was unlikely to be a significant increase in the supply of properties to the market.
"This means existing demand will underpin the relatively low supply of properties coming to market, particularly for good quality properties."
In summary
2022 (disclosed) livestock property (some of which have irrigation or cropping capabilities) sales reported by Beef Central show:
21 properties sold in the sub $5m bracket
46 properties sold in $5m-$10m
14 properties sold in $10m-$15m
36 properties achieved above $15m
 2021
30 properties sold in the sub $5m bracket
36 properties sold in $5m-$10m
20 properties sold in $10m-$15m
30 properties achieved above $15m
 2020
31 properties sold in the sub $5m bracket
19 properties sold in $5m-$10m
12 properties sold in $10m-$15m
22 properties achieved above $15m
2019
17 properties sold in the sub $5m bracket
14 properties sold in $5m-$10m
18 properties sold in $10m-$15m
22 properties achieved above $15m
2018
31 properties sold in the sub $5m bracket
17 properties sold in $5m-$10m
12 properties sold in $10m-$15m
14 properties achieved above $15m
2017
40 properties sold in the sub $5m bracket
23 properties sold in $5m-$10m
10 properties sold in $10m-$15m
13 properties achieved above $15m.