A COOPERATIVE approach by neighbouring land owners wanting to sell could be the key to unlock additional value, with several examples highlighting the financial benefits of aggregating to create scale and attract corporate buyers.
Henry Slaney from Charters Towers-based Slaney & Co has listed two adjoining properties, St Ronans and Springfield Stations, in the Mt Surprise region of North Queensland.
Mr Slaney said the significance of the sale is two co-operating vendors working together to list their adjoining, complementary properties on the same marketing plan, same timeline and same agent.
The 44,000ha St Ronans has the ability to breed, background and fatten cattle. Other options include grain or forage cropping on the red volcanic soils, improved pastures and Leucaena. It has a first class feedlot with capacity for 2000 Standard Cattle Units, with approval to expand to 10,000 SCU. A feature is the spring-fed Mero Creek that flows through the property and joins the Lynd River flowing north through Springfield Station. The sale includes 5000 quality Brahman cross cattle.
The ajoining 68,500ha Springfield is a strong breeding-oriented enterprise with two major flowing permanent spring-fed creeks which run the length of the property. The sale includes 8000 mixed Brahman cattle.
"The proposal works because of compatible vendors, compatible marketing, transparency, a single co-ordinating agent and complementary properties," Mr Slaney said.
One is a straight breeding operation, the other is a value-add fattener/breeding enterprise. Together, the two individual properties span more than 100,000ha, creating a full breeding, integrated fattening and growing opportunity."
Mr Slaney said there had been very few transactions in the sub-5000 head cattle property category across north Queensland recently, because they were either under-stocked or unstocked.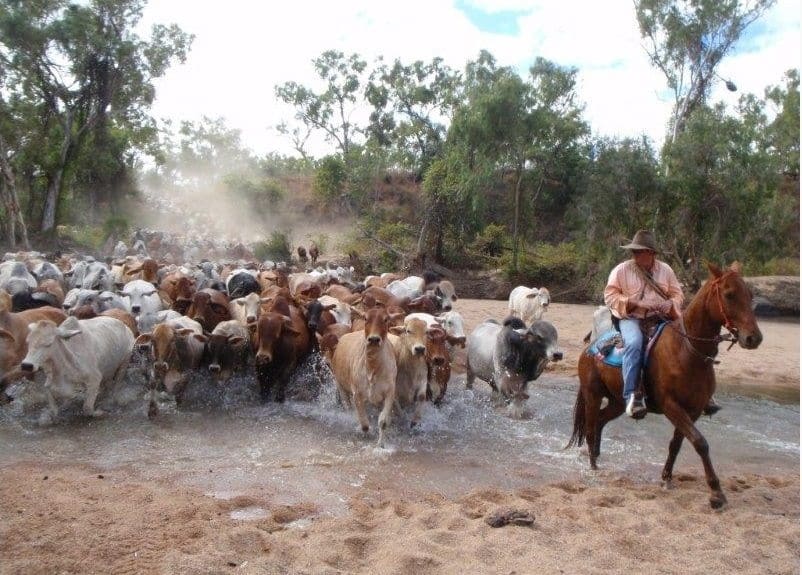 He said Springfield had been offered for private sale, without achieving a result.
"Then Cameron Burtenshaw & Sasha Bucknell (St Ronans) and neighbour Alan Gaynor (Springfield) started talked about marketing their properties – buy one, buy both."
"Putting St Ronans and Springfield together makes sense. Working with an agent to make the sale process a well-coordinated approach has opened another door – one that hopefully the vendors can capitalise on."
Mr Slaney said scale and stocked properties appealed to a different audience and could achieve spectacular results.
"The result is, there has been enquiry from large, investor-style buyers from Australia and overseas; from large family cattle enterprises; and moderate-sized family operations. This approach gives a buying opportunity to the smaller family enterprises, right up to the larger corporates. It is an aggregation with upside."
Mr Slaney said the sale process had been very clear-cut for both the vendors and the buyers.
"We haven't tried to make each vendor comply with the other. Each has their own agenda and own requirements. It could be a difficult process, but in this case the vendors are working in unison with me and each other. On the other hand, the tender process allows interested parties to do their due diligence. It also allows for the privacy of the negotiation (a corporate requirement) and the flexibility to make the two transactions work together."
"Aggregating the three family operations is supplying what the current market demands – large scale grazing opportunities"
Mr Slaney said it is difficult to know at this stage whether the properties will sell individually, or as an aggregation.
"The biggest money will come from a corporate-sized operator, but whether we will secure that only time will tell. Whatever the outcome, neither vendor is obligated to the other."
Another North Queensland stock and property agent, Luke Westaway from the newly-formed Stockplace Marketing (based in Richmond and Cloncurry) is also offering three adjoining properties, in Georgetown in North Queensland, as a whole or individually.
As the crow flies, the three properties are located just 30km from the St Ronans/Springfield Aggregation.
The three holdings are:
97,600ha Dagworth Station – carrying capacity 6000 breeders (sale includes 2000 breeders owned by a third party).
96,609ha Van Lee – carrying capacity more than 7000 breeders (sale includes 2000 breeders).
14,000ha Ooralat – carrying capacity 1500 breeders (sale includes 600 breeders).
Together, the neighbouring properties cover 208,209ha, carry more than 14,500 head of cattle and have a combined 75km of Einasleigh River frontage.
Dagworth and Van Lee had been offered separately on the property market for a number of years until Mr Westaway approached the vendors about aggregating them, in the light of the changing cattle and property market conditions.
"The two properties are similar. They have breeder country and double frontage to the Einasleigh River. Then neighbouring Ooralat came on board with complimentary high-value backgrounding and fattening country, as well as bitumen highway frontage."
Mr Westaway said aggregating the three privately-owned family operations is supplying what the current market demands – large scale grazing opportunities.
"It is putting them into the corporate spotlight. They have a lot to offer an investment company looking to enter the market, especially with their location and scale."
Mr Westaway said the benefit of marketing the properties together meant it was a 'one-stop-shop' for buyers.
"Interested parties don't need to talk to three different agents, or try to line up inspections on three different properties on the one day. We arrange the whole thing."
And Mr Westaway believes an aggregation will be much more profitable for the vendors.
"Together, the three properties should attract a 10 to 30pc premium. In just one week, there have been five enquiries from foreign interests and Australians backed by overseas money," he said.
Mr Westaway said it might look like there's an oversupply of land in the North Queensland region, but the number of properties listed for sale, itself, was actually generating enormous interest.
"It shows there are great investment opportunities in the same geographical location that will support large-scale corporate investments," he said.
NSW aggregation of properties
Earlier this year, Colliers International agent Matt Shaw also put together a grazing property aggregation in New South Wales.
He was selling the 1635ha grazing property White Rock in the Scone district when buyer prospects making inspections kept remarking on the irrigation infrastructure on the adjoining property.
"I managed to convince the Sydney-based owner of the 588ha neighbouring property Shannandore to offer his property also – as an aggregation or separately. One property lacked irrigation, the other lacked scale, but together the sum of the two equals more than the parts."
Mr Shaw said one of the requirements to attract a premium price was scale.
"Combined, the properties cover 2223ha. However, an even bigger neighbouring aggregation spanning 4500-6000ha would be better still, depending on individual circumstances and the quality of the neighbouring country. You would get a more profile out of them and you'd attract corporate and institutional interest."
Mr Shaw said while it was difficult to predict a price premium, 10 percent would be the maximum.
"Neighbouring aggregations provide more opportunity to transact. The premium's already there, but a larger holding will attract more interest."