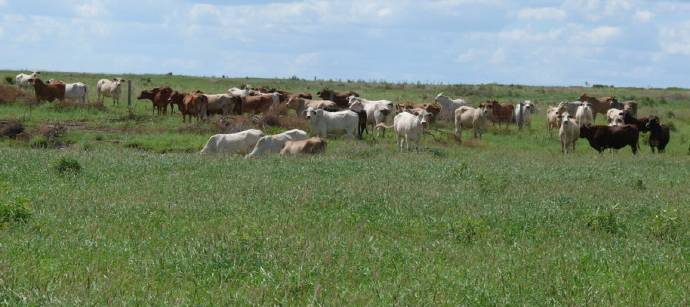 OVER the quieter December and January period, the cattle property market traditionally slows down.
However independent property valuer Herron Todd White notes there have been some agents working hard to achieve new sales over the summer months.
Southern Queensland appears to have been a hot spot, with Landmark Harcourts reporting to have an estimated $30 million in written sales and $50 million in listed property in January.
It claims the New Year has opened with strong inquiry for grass country, particularly from local pastoral families seeking expansion.
With large parts of the state's west still drought-stricken, Goondiwindi selling agent Andrew Jakins said the main challenge was to get the listing, with some vendors reluctant to sell when the outlook was so dry.
In Dalby and Chinchilla, where some relief rain has fallen last week, rural property specialist Ross Murray has secured more than $5.3 million in sales over the holiday season, with a further $7m over the coming months.
"There is strong buyer enquiry for quality grazing properties, with good operators consolidating with nearby purchase interest," he said this week.
Roma-based agent Darryl Langton says he has off-market instructions from vendors for property above $10m, as well as auction and private treaty for sub $10m property.
"There is still intense buyer interest about, however listing opportunities remain tight," he said.
"Western Queensland remains very dry but continues to generate strong demand from prospective purchasers across all price points from entry level buyers to $20 million plus."
Mr Langton said local producers looking to increase scale dominated current buyer inquiry.
"The property market will continue to strengthen as demand exceeds supply and farm-gate prices remain strong, attracting expansion from existing industry participants and interest to new investors," he said.
In HTW's February Monthly review released recently, valuers claim property prices in most areas are near all-time highs.
However, national director Tim Lane questions how high they will go.
"Buyers are actively chasing grazing enterprises and appear prepared to pay historically high prices for properties that provide good economies of scale and have a good standard of improvements," he said.
"Dry conditions, beef prices (while stable but down from highs) and a strengthening dollar could mean this year is shaping as one where the trend line for property values may start to waver," Mr Lane said.
Northern Territory:
Given the generally widely-held view that pastoral values must be somewhere near peak levels, Darwin-based HTW valuer Frank Peacocke said it would be interesting to see how many other pastoralists head to the market over the next six months to take advantage of the historically high property values.
"Potential property purchasers and vendors will be weighing-up how the weaker demand from Indonesia for export steers and weaker demand from Vietnam, versus the potential growth in the China live cattle market will impact on demand for NT pastoral land.
"It appears that many are also waiting to see if the domestic cattle market will also weaken if the drought affecting two-thirds of Queensland doesn't break," he said.
Central and Western NSW
NSW-based valuer Allister Rodgers reported the local rural property market appeared to be continuing in a very bullish manner.
"Regardless of seasonal tightness, the market demand continues to outstrip supply. We are analysing sales that are continually breaking records and well in advance of market expectation," he said.
Central Tablelands /Southern Tablelands NSW
HTW's Craig Johnstone reported two properties being valued for sale showing very strong rates per hectare. "By kick-starting the year, they indicate the market is still strong and isn't showing signs of steadying," he said.
Riverina and Central Victoria  
Valuer David Leeds reported that there had been several relatively strong recent grazing sales in his region. "Notably there has been a real depth in the market, with corporate buyers and private owners competing to varying degrees across almost all segments."
Western Victoria and South-East South Australia
Valuer Angus Shaw said he believed 2018 was likely to be another exciting year for land owners, farmers and investors in his region.
"The market remains heated, with demand significantly outstripping supply in most areas. Local and corporate sales continue to break price barriers and grazing sales above $500/DSE are becoming more common," he said.
Likely trends
Mildura-based HTW valuer Graeme Whyte (servicing South Australia, Victoria and NSW) outlined three trends he expects to see in 2018:
A large number of sales continuing to be negotiated in off-market transactions, with both buyers and sellers willing to by-pass real estate agents. "The trend of buyers directly approaching owners of properties deemed to suit their requirements is set to continue," he said. "Most have missed out on other property sales and are anxious to buy, so they jump the gun. The vendor knows they can get a good price and doesn't feel the need to openly market their property because strong offers are being made privately." "It is not only happening over the fence, corporate buyers are also targeting particular asset classes," he said.
The price gap between highly improved and just average standard properties will narrow. It will get harder to find highly improved properties and buyers will likely become more pragmatic as a result. "At the beginning of an upward cycle, highly improved properties sell for big money. As that cycle evolves and supply declines, there is still pent up demand from buyers. As a result, second rate properties manage to secure a higher than expected price," Mr Whyte said.
As the market moves through the current cycle, there will be some properties purchased for prices that are subsequently viewed as being at above market levels. "With the merging of the first and second-class properties, there is a potential for buyers, particularly corporates with money to spend, to pay too much."
Next week: Property industry identities across the country offer their thoughts and forecasts about the 2018 cattle property market.