THIS week's property review focuses on recent listings of interest across the country, and some recent sales of note.
Kalala Station back to the market
Lamonds Lagoon has great season
Complementary features in Mount Surprise's St Ronans, Springfield, Barwidgi and Amber aggregation
Additional breeding country attraction with NQ's Pallamana Station
CQ's Camelot sells for $7.45m at auction
Kilkivan aggregation under negotiation
Strong interest in NSW's Eaglehawk Station
Interest from 5 states in Alice Springs' Coniston Station
On the market: Northern Territory
Barkly Tableland breeding property Kalala Station is being taken back to the market by Darwin-based Andy Gray from Ruralco Property/Territory Rural, 12 months after first being listed for sale.
The large-scale property (pictured above) was reportedly sold in December last year to an Australian-resident Asian businessman, who was said to have made earlier rural land investments in New South Wales.
Mr Gray said while contracts for Kalala were exchanged last year, the purchasers were unable to seal the deal.
"The decision has been made to take the property back to the market. There is absolutely no reason (for the re-offering) associated with the property itself or the vendors. It was simply that there were two buyers involved, and the purchasing entity hasn't been able to complete the deal," Mr Gray said.
Kalala was advertised last year with capacity for 40,000 head of cattle, making it one of the largest carrying capacity listings in Australia in the past 12 months. The holding is currently carrying about 35,000 Brahman and Brahman cross cattle, including 20,000 breeding-age females.
While no price was disclosed at the time of the original sale announcement last December, the asset was expected to make about $70 million.
Kalala is a large 3760sq km Perpetual Pastoral Lease about 280km south of Katherine, near the township of Daly Waters. Year-round market access is provided by frontage to both the Stuart and Carpentaria Highways.
Extensive areas of fertile black and red soil types can be found, including downs, forest and some coolibah country.
The property is being offered for sale on walk-in, walk-out basis via an Expression of Interest campaign closing on August 30.
Queensland
The 26,000ha Lamonds Lagoon, south-west of Mt Garnet in North Queensland, is not new to the market, but it has had a great season this year and is well-grassed and stocked, according to Charters Towers selling agent Henry Slaney from Slaney & Co.
"The owners, Richard and Rebecca Burge, have five sons and are seeking scale to grow the family business. They have been running this property in conjunction with their Mitchell grass downs property Benean at Richmond," Mr Slaney said.
The property, which has the ability to run 3500 head of mixed cattle, is being offered bare of stock and plant for $2.6m. Available for separate sale are 2500 branded cattle.
Slaney & Co has also put together a Mount Surprise aggregation, comprising adjoining stations – St Ronans, Springfield, Barwidgi and Amber. Mr Slaney said the 290,000ha aggregation with 20,000 head of mixed cattle could be enlarged further with available, nearby off-market listings.
He said the aggregation is an opportunity for a corporate or substantial individual buyer to purchase a large-scale breeding operation, with each of the four properties 'bringing something different to the table':
74,100ha Barwidgi Station is a highly–improved large-scale calf factory with the ability to run more than 7500 mixed cattle.
44,000ha St Ronans Station is a breeding, backgrounding and fattening operation with a 6000 head carrying capacity.
103,000ha Amber Station has more than 30km of double frontage to the spring-fed Lynd River with year–round spring fed inflow from Fossilbrook and Saltwater Creeks. It is running 4000-5000 mixed cattle.
68,500ha Springfield Station is a strong breeding enterprise with further production potential, carrying around 8000 head of cattle.
Some people had incorrectly deduced that graziers are currently exiting the Mount Garnet /Mount Surprise region at a rate of knots, but that couldn't be further from the truth, Mr Slaney said.
"If you look at why a number of local producers are selling up, you will see that every situation is different. None of the families are in a 'have to sell' situation. They have all had a terrific season," he said.
Further south, large operators looking for additional breeding country will be attracted to Pallamana Station near Charters Towers, which is being auctioned on August 17.
David Buckley from Ray White Rural said the 27,600ha proven breeder enterprise, comprising 25,500ha of grazing country and a 1930ha mine lease, is enjoying an excellent season and has a good body of feed.
"Historically, Pallamana has run 2500 breeders. More recently, the property has been lightly stocked and will be offered with 550 Brahman and Brahman-cross breeders."
Mr Buckely said it was 'early days', but there had already been strong enquiry.
"In one day, I had 20 calls. Location is a feature of Pallamana. It is close to export markets, feedlots, meatworks and saleyards. In addition, it has substantial improvements – fences, laneways and cattle yards."
Recent auction results: Queensland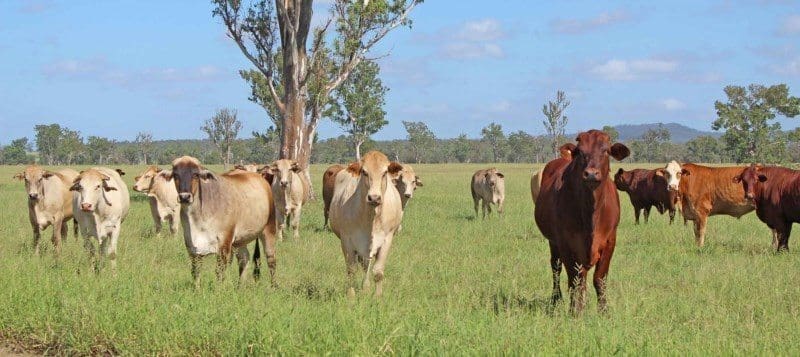 Camelot, the 6126ha Monto property in Central Qld, sold at auction recently for $7.45m.Camelot, the 6126ha Monto property in Central Queensland, sold at auction recently for $7.45m ($1216/ha) bare of cattle and plant. Mark Simpson from Ray White Rural said there hadn't been a property of that size offered for some time, so the end result wasn't unexpected.
"It was difficult to say how much the property was going to make because it was a mix of country. The 4672ha freehold country was very strong, however the leasehold country had minimal value. Realistically, it could have made anywhere between $6m and $8m," he said.
New owners the Hatton family from Dareen, Eidsvold, will use the property for backgrounding.
Meanwhile further south, the 3916ha Kilkivan Aggregation, 220km north east of Brisbane, is under negotiation after being passed-in at its May 17 auction.
The aggregation, comprising Cinnabar, Burnvale and Wongella, was a former tree plantation that has been cleared, raked and burnt and returned to pasture.
James Bredhauer from Aussie Land & Livestock said the new purchasers will benefit from the current impressive body of feed.
"As a livestock operation, Kilkivan will run 1000 breeders. It would also suit some irrigation and or tourism, with the possibility of more development potential," he said.
Upcoming auctions: New South Wales
There's been strong interest in the 28,240ha Eaglehawk Station, 80km south of Broken Hill in New South Wales' far west.
The property is located in the renowned Western Division and boasts open, undulating red grazing country with a mixture of native grasses including Mitchell and button grass, native clovers, native salt bush varieties, pearl, blue & black bush, Sturt's desert pea and crowsfoot.
Elders selling agent Marty Deacon has conducted 25 property inspections.
"Two of those were corporates, and the balance have been farming families seeking expansion. Eaglehawk Station is ideally suited to sheep, but in very good seasons it can run cattle. The vendor suggests the property can run 5500 dry sheep equivalent," he said.
Eaglehawk Station will be auctioned on July 28 with price expectations around $2.8m bare of stock.
Central Australia
Simon McIntyre from Landmark Harcourts reports there has been sound interest in the 2170sq km Coniston Station, 250km north-west of Alice Springs.
The property is on the market for the first time in more than 40 years and is considered one of the best stations for productivity and water in the tightly-held Central Australia region.
Mr McIntyre said there is local interest, as well as inquiry from Queensland, New South Wales, Western Australia and South Australia.
"There are a couple of corporates, some are looking for expansion and others are entering the pastoral market for the first time," he said.
Coniston is being sold on a walk-in, walk-out basis with 5200 mixed cattle, including 3000 cows. However, the property has the capacity to run between 5500 and 6000 head.
When Coniston is auctioned on July 26, it will be the first substantial rural property auction in Central Australia in more than seven years. It is expected to sell for more than $10m.