PRICKLY acacia is one of Australia's worst exotic woody weed pests, but while it is well accepted that it reduces grazing land productivity and profitability, to date it has had little real impact on cattle property values.
Prickly acacia is a woody tree that aggressively invades grasslands and woodlands, replacing them with dense, thorny thickets. According to the Australian Weeds Committee, it is a particular threat to the 50 million hectares of Mitchell grasslands in northern Australia – prime extensive grazing country.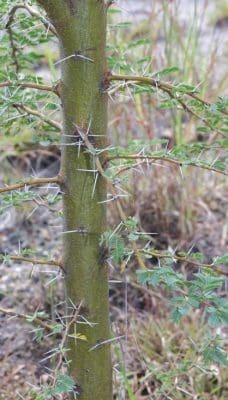 Large established infestations are roughly bordered by Hughenden, Julia Creek, Winton, Barcaldine and Aramac in western Queensland. They also occur in coastal and southern Queensland, the Barkly and Victoria River districts of the Northern Territory, the Kimberley region of Western Australia and the north-east of South Australia, the Weeds Committee advises.
However, potential distribution mapping and climate change models suggest the weed could spread well beyond its current range.
The AWC said the impacts of Prickly acacia on productive grazing systems are enormous, with high-density infestations eliminating perennial grass production through shading.
"Direct economic impacts can exceed $100,000 each year per property, while it is estimated that landholders are spending at least $8 million each year to control and manage Prickly acacia in the core infestation areas of western Queensland," it says.
Mark Kleinschmidt from community-based natural resource management group, Desert Channels Queensland said prickly acacia infestations have skyrocketed, especially since last winter's unusual wet weather.
"According to data from DCQ, Pest Central and the Department of Science, Innovation and Technology, there are problem concentrations across 23 million hectares in Queensland alone – triple the footprint it had 20 years ago," he said.
In terms of lost production, the DCQ estimates the impact of reduced stocking rate alone costs the livestock industry between $24 million and $200 million each year – not accounting for increased mustering and maintenance costs.
Mr Kleinschmidt said cattle, predominately run where prickly acacia infestations are present, have become the major spread vector for seeds.
"Eighty one percent of seeds passing through cattle are viable, compared to two percent for sheep. It can take a week for them to pass through cattle that walk them into a paddock, planting them in fertile cow pats all over the country."
While some primary producers believe prickly acacia is beneficial because it provides shade and fodder, most landholders viewed it as undesirable due to its invasive potential and substantial impact as densities increase, he said.
"Twenty-five percent prickly acacia canopy cover can reduce pasture by 50pc, while 50pc canopy cover virtually eliminates pasture. So, it is a false economy for landholders to believe PA is advantageous."
Impact on cattle property values
To date, there have been no formal studies on how prickly acacia impacts cattle property values, but Mr Kleinschmidt said he had spoken to a number of marketing agents who had seen land values discounted due to PA infestations.
"There is a resistance to buying infested country and there is also a degree of resistance to cattle coming off 'dirty' country," he said.
Richard Simpson from Simstock Rural Agencies Longreach, said from a buyer's perspective, a property infested with prickly acacia was often discounted by between $25 and $37 per hectare.
"Southern buyers who are not used to prickly acacia will often discount the entire property, because if it's not there now, it will be when it rains. Those buyers might have a property in the south and don't want to be carting prickly acacia seeds back to their country (the palatable seeds can remain viable even after passing through an animal) – especially if it's clean. On the other hand, a buyer from Julia Creek or Hughenden wouldn't be as concerned because they are used to such infestations."
"At the peak of the recent property market cycle, some buyers tried using woody weeds to negotiate a lower price – but at the end of the day they paid within market expectations."
One industry calculation found if there is currently 23m ha of highly productive Mitchell Grass downs country infested with prickly acacia, a devaluation of $25/ha could equate to a reduction in PA-infested land value of $575 million.
Townsville-based Herron Todd White valuer Roger Hill said it will take time for the property market to more accurately discount PA infested country.
"Every place will be different relative to the density of that infestation. At the peak of the recent property market cycle, some buyers tried using woody weeds to negotiate a lower price – but at the end of the day they paid within market expectations. On the flip side, during the drought, graziers were happy to have prickly acacia on their properties and were pushing it over for fodder."
Rather than affecting outright value, Mr Hill said woody weeds tended to make a grazing property harder or slower to sell.
"The pool of potential buyers is more than halved when a property is being sold with light to moderate infestations of prickly acacia. However, someone will inevitably pay the expected market range and won't consider prickly acacia to be an issue."
Mr Hill said the last property boom didn't discriminate against properties infested with the woody weed, but that could soon change.
"Prickly acacia is presently a topic of discussion, so it may become a relevant point of negotiation in the current property cycle."
Mr Hill said sometimes land owners would agree to discount the specific area within a property boundary that required treatment.
"The calculation won't be factored across the whole property. It might only be reduced for land that is heavily infested with prickly acacia and needs treating. Most graziers aren't concerned about light to moderate infestations. They are only spurred into action if there is no grass."
Mr Hill said prickly acacia was an issue he raises in his property valuation reports.
"I am required to mention it in my environmental risk assessment because it is a weed of national significance. While there are times in the property cycle where the marketability of a property infested with the weed could be reduced, there is no evidence to suggest that there is a discount paid at the end of the day."
Next week: How are property prospects shaping up for 2017?