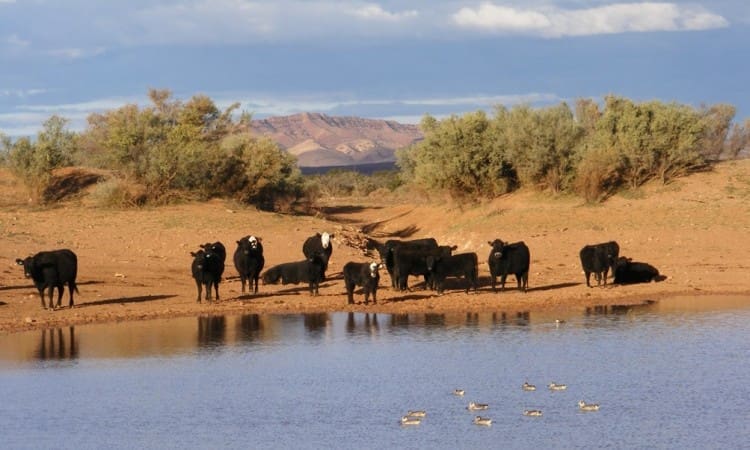 WITH 2019 now well underway, three leading rural property specialists this week reveal their expectations for the New Year cattle property market.
CBRE Agribusiness regional director Danny Thomas is expecting the 2019 market to remain relatively buoyant throughout the first two quarters.
"However, the farmer-to-farmer market may experience lower demand in the second half of the year if the persistent drought across much of eastern Australia and tightening credit/lending conditions create barriers for local farmers to make long term purchasing decisions," he said.
"The new year's key drivers are likely to include access to credit, stability of commodity prices and the status of the ongoing east coast drought – whether or not it breaks and the extent to which it affects credit availability and confidence," Mr Thomas said.
Ray White Rural & Livestock chief executive Stephen Nell said although there had been a lot of jawboning and press about tightened credit and the impact this could have on rural sales, drought is currently the single biggest factor in the farmer-to-farmer market.
"The reality is that credit is always hard to obtain in the farmer-to-farmer space, and the impact of tightened credit on the residential regional real estate market will be felt far more than the ag sector. That's why auction will be so critical in an adjusted market, to keep days-on-market low and to attract qualified buyers who have the finance to complete the sale."
Mr Nell said in recent years, producer margins had shrunk due to the burden of higher input costs, and the more astute landholders realised that turnover is the key to profit.
"This has created a hunger for scale to offset these costs, and has made many landholders keen to purchase additional country to deliver efficiencies through such scale. This in itself is creating competition for rural properties that is competing against both local and foreign based purchasers who are keen to purchase in a market where there are limited quality offerings."
Chris Meares, the principal of rural marketing agent Meares & Associates, said a change in market dynamics had resulted in a shift in lending criteria.
"While the 2016/17 rural property market saw a very strong dominance of overseas buying interest for the larger/corporate type investments, Australian buyers, including family farm investors, corporate and institutional investors, came to the fore from late 2017/18," he said.
"As a result, agribusiness investments in Australia are now being recognised by domestic asset allocators as an asset class, especially for corporate / institutional type investments."
Mr Meares said this global and institutional recognition had seen banks and others shift from valuing on a client recognition or comparative sale basis to more of a returns or yield basis.
"This has resulted in not only a supply and demand equation but the global prices for commodities and farm returns becoming important."
He said while much of eastern Australia had experienced severe drought over the past 12 to 18 months, most investors were taking a medium to long-term view of investment in the sector, regarding the extended dry as a short-term cash flow deficit period.
"In many cases there has been a focus on well-situated higher rainfall country, as a means of minimising risk and exposure."
Institutional investment and the Aussie dollar
At this stage, institutional investment is expected to remain strong throughout 2019 – especially if the Australian dollar remains at or around US70c, which will continue to attract foreign investors.
RWR's Stephen Nell said the extended dry conditions being experienced, particularly in the eastern states, hadn't deterred institutional investment in Australian farms.
"Returns are down slightly year-on-year, as you'd expect with the seasonal conditions, but overall annual returns are so strong against comparable markets that it is still sensible for institutions to have Australian agriculture as part of their portfolio."
Mr Nell said commodity prices remained strong, and presuming the dollar stays where it is, institutional investment is expected to remain strong.
Recently, the NCREIF Australian Farmland Index, comprising the returns from companies invested in agriculture, announced that Australian farms had a total annual return of 12.75 percent, compared with 6.87pc in the United States.
Mr Nell said he was not entirely sure how it came up with that number as a percentage, but it painted an impressive picture nonetheless.
If the Australian dollar stays at the low of US70c, it would have a marked impact on the attractiveness of Australian farmland and its commodity prices.
However, Mr Nell said the drought will play a continuing role in the farmer-to-farmer market here.
"The volume of cattle being offloaded is unusually high for this time of year.
"It's hard for farmers to be increasing or divesting land size when they're urgently sending cattle to market and trying to predict their next move. Nonetheless, we have a large number of active buyers particularly in the farming family demographic expanding their enterprises, particularly in the search for grass."
Foreign investment
Mr Nell said the rural property market is being buoyed by both local and offshore bidders.
Foreign-backed buyers were registered bidders on RWR's recent sale of Tenterden Station, for which local graziers were successful, paying $17million. A month earlier, local bidders missed out on nearby Dyamberin, purchased by Rural Funds Management for $13.4 million.
"It's swings and roundabouts. Depending on your circumstances, there are opportunities right now for both buyers and sellers," he said.
Mr Nell said a lower Australian dollar had no doubt created some attractive buying opportunities for international players looking to invest here.
"Once you combine the foreign exchange easing with reports that our agricultural sector delivers better returns than global peers, this makes local quality farmland a magnet for foreign buyers."
Demand
Mr Nell said the greatest demand was coming from farming family enterprises looking to expand, and perhaps seeking grass and fodder.
"RWR inspection numbers are extremely high at the moment in this buyer-group, and listings are in shorter supply. Proactive buyers are in force in this sector, and the offers coming through are high."
CBRE's Danny Thomas said demand for grazing land suitable for sheep (for meat and/or wool) and demand for existing permanent plantings (such as almonds and citrus) was expected to remain very strong.
Property prices may have peaked
Chris Meares believes the rural property market has possibly peaked for the time being, at least.
"There's been some resistance to the high property prices which prevailed up until September last year and the possibility of more land being available for sale in 2019, has created a more balanced outlook between supply of land for sale and demand for the same."
"However, given continuing strong commodity prices for our base products, we would envisage that property markets will continue to be 'bullish', possibly remaining at levels within say 10pc of the 2018 peaks – especially for better quality, well situated properties," Mr Meares said.