OVER the past 12 months, a record number of grazing properties have been listed and sold in the tightly held New England region of northern New South Wales.
This week's property review takes a look at what is making the area a desirable location to invest.
One property agent who has been at the centre of the trend has been Chris Meares from Sydney-based Meares & Associates.
In less than a year, Mr Meares sold two of the region's most outstanding properties – Upton Farms and the Plumthorpe Aggregation and more recently was responsible for the sale of Kentucky Blue and The Flags.
Combined, the three holdings, which span close to 18,000ha, realised $278 million including around 13,000 head of cattle.
During the marketing campaigns, Mr Meares said grazing sales in northern NSW were achieving around $20,000 per cow area.
Kentucky Blue and The Flags
The 3645ha Kentucky Blue and The Flags at Niangala, 50km south-east of Walcha, were placed under contract in December on delayed settlement for around $65 million walk-in, walk-out, including 3000 head of cattle.
According to Angus Ross, Herron Todd White Tamworth-based valuer, the value on a land and buildings basis was $58 million. The estimated carrying capacity of 2600 cows selling off weaners or 39,000DSE, reflected $22,308/cow area improved or $1487/DSE.
The buyer was Hughenden (North QLD) Wagyu breeder Adam Rea, who also secured the neighbouring Upton Farms, although Mr Meares was unable to confirm the buyer or the price paid.
Plumthorpe Aggregation
Last November, Hunter Valley veterinary surgeon and businessman John O'Brien and family paid $125 million WIWO for the historic northern New South Wales' Plumthorpe Aggregation.
Considered an extremely strong result and well above market values for the area at the time, the sale of 11,323ha of country included 6100 head of cattle and a significant list of plant and equipment.
Mr Ross' analysed value on a land and buildings basis was $108 million or $9580/ha improved and $9238/ha ex-structures. A calculated carrying capacity of 4650 cows selling off weaners or 69,750DSE reflected $23,226/cow area or $1548/DSE improved.
Located in the productive Manilla River Valley, 15km north-west of Barraba, the three adjoining holdings are well-watered by a double frontage to the Manilla River and Tareela Creek, supported by 14 equipped bores and 150 surface dams.
Upton Farms
Twelve months ago, the New England green pasture feedlot, Upton Farms sold to Queensland's Adam Rea for $88 million WIWO including 4000 head of cattle.
Located at Niangala, east of Walcha, the 2668ha backgrounding and finishing operation comprises four nearby farms growing high performance pastures.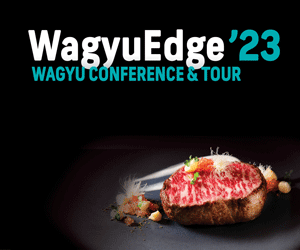 The analysed sale price on a land and buildings basis was $76 million or $28,209/ha improved and $27,653/ha ex-structures. The carrying capacity assessed by Mr Ross was 3600 cows selling off weaners or 54,000DSE, reflecting $21,111/cow area or $1407/DSE improved.
At the time, rural sales specialist Chris Meares said the result created a precedent for prices paid in the New England and for that matter rural New South Wales.
"Plumthorpe and Upton Farms have incredible reputations and are arguably two of the most outstanding holdings in New South Wales. Situated on top of the Great Dividing Range, they enjoy high rainfall and rich heavy basalt soils and are masters at establishing pastures," he said.
'Wagyu' values
Mr Meares said in terms of land values, there were presently two grades for grazing country.
"There are conventional values and Wagyu values. Demand for breeding (Plumthorpe) and backgrounding (Upton Farms and Kentucky Blue) country for Wagyu has considerably pushed up values in the New England," he said.
Mr Meares said Queensland Wagyu operators, in particular, were happy to pay a premium to secure reliable high rainfall country in northern New South Wales.
"When the calves are weaned on their northern breeding properties, the owners are trucking them to the New England and growing them out and achieving terrific weight gains, before feedlot entry. There are currently thousands of head of Wagyu in the Walcha district."
Softer trend forecast
Despite the record highs, HTW's Angus Ross anticipates grazing values across the Northern Tablelands/New England region will soften slightly in the first half of 2023.
"Predictions of more interest rate rises, potential lower price forecasts for livestock due to increased sheep and cattle herd numbers, increased production costs and projections of a return to average or normal seasonal weather conditions are behind this likely softening," he said.
Mr Ross believes the strength of the market for larger scale quality grazing properties will be tested in the coming months.
"This will be determined by the final sale prices. We will not know the outcome of the strength of the market until the results are analysed down to a rate per hectare and productivity basis."
Recent sales
At the end of 2022, there were a number of other high-end sales in the New England Tablelands including the 562ha Dalveen – a highly improved grazing block at Walcha that sold for $11.25 million, reflecting $20,024/ha improved.
In February, the 342ha Sun Valley grazing aggregation, comprising seven blocks, sold at auction for $8.5 million. Located 7km south of Armidale, it made a record $24,854/ha.
Earlier this month, prime Walcha district breeding and backgrounding country (neighbouring Emu Creek) exceeded the $20 million price guide. The 2313ha Gleneagles, 17km north-east of Walcha, is estimated to carry around 15,000DSE.
Rural property specialist LAWD has a string of grazing properties listed for sale in the New England at present, with Col Medway estimating that most high rainfall grazing country in NSW is trading between $1300 and $1500 DSE.
They include:
7690ha Warrane – a beef cattle, prime lamb and Merino wool enterprise, 18km north-west of Armidale.
1196ha Number One (that formed part of the Cooplacurripa Aggregation) – eastern fall grazing, situated between Nowendoc and Wauchope, running 6300DSE. Significant production upside.
1870ha Braemar – a highly productive grazing and farming opportunity, 30km north-west of Tamworth.
703ha Khancoban, 45km south-east of Glen Innes, grazing opportunity running 5600DSE.
1606ha Northcotte – a grazing and farming opportunity supported by irrigation of high productive flats on the Peel River, 20km from Nundle.
898ha Amaroo – an intensive grazing property on the Liverpool Plains, 48km from Quirindi.
In the meantime, expressions of interest have closed for the historic 3026ha Emu Creek, 13km from Walcha. The prime breeding and backgrounding country, which has the capacity to run 25,000DSE, is expected to achieve around the mid-$30 million range.
Despite some strong offers, LAWD is working through a number of proposals and endeavouring to pull the deal together.
The agency's Simon Cudmore attributes the larger than usual number of listings to several factors.
"Compared to previous years, the number of properties on offer is significant. High prices, record sales and considerable interest in the ag space are giving producers the incentive to bring forward their exit strategies."
"Motivations include retirement, family succession or the opportunity to do something different with their capital," he said.
Other notable grazing listings in the New England include:
1607ha Stony Batter – the historic high rainfall grazing property at Bundarra, 65km from Armidale and 67km from Inverell.
929ha The Downs, 15km east of Glen Innes, enjoys a 6km frontage to the Mann River.
1006ha Midlands, 22km north-west of Guyra and 57km from Armidale, is a cattle, wool and prime lamb operation.
1237ha The Glen, 10km south of Delungra and 40km from Inverell, is an immaculately presented mixed grazing and cropping country with backgrounding potential.
Wagyu factor
Two interesting factors that emerged in the sale of Plumthorpe, Upton and Kentucky Blue/The Flags were that most of the inquiry came from existing rural operators seeking expansion, and the three properties were sold to Wagyu breeders.
Matt McDonagh, chief executive officer of the Australian Wagyu Association, said over the last six years, the Wagyu industry has grown substantially, and the investment in New England properties for Wagyu underpinned that confidence.
"There has been a 30 percent year-on-year growth in AWA membership. Existing players are significantly growing their herds and operations, while new members are undertaking large artificial breeding programs to rapidly amplify genetics," he said.
Dr McDonagh said the New England was sought-after for breeding and backgrounding the highest quality animals through to feedlot entry and slaughter.
"Wagyu is a high input, high output game – it is all about investing in the country and the animals to get the maximum value out of the product."
"Typically, the country is used for breeding females, getting calves on the ground and raising them to market weight. If there is additional feed available, then cattle are brought in for finishing."
The New England certainly suits that trend boasting high rainfall that can sustain high pasture-based weaner production with the ability to grow animals quickly prior to feedlot entry.
Dr McDonagh said the region's selling point was the ease of management around the rapid amplification of elite genetics.
"The accurate and precise nature of managing Wagyu herds favours high carrying capacity country, which is interlinked to high rainfall. Monitoring females requires good access, and the region gives operators the ability to manage large cow numbers in a small area."
He said regardless of fluctuations in feeder prices, the long-term investment confidence in Wagyu was very high, as exemplified by these recent property purchases.
"For Wagyu, it is always a long-term view. The market does what the market does. However, the long-term viability and profitability of Wagyu is very high because of the established export markets that the sector occupies."
From a stocking rate capacity point of view, Dr McDonagh said the New England has become the most concentrated Wagyu production area in Australia.
"I drive from Armidale to Coffs Harbour several times a year and it is amazing to see the increase in the number of Wagyu that are grazing along that road. It is very visible."