The COVID-19 pandemic has had significant impact across the real estate industry, with the uncertainty surrounding the virus affecting most asset classes, rural property listings were being much less affected, property agency Colliers International said in a recent NSW market report.
The sudden onset of the pandemic had resulted in many industries having to adapt rapidly, creating unforeseen challenges for many sectors, with some industries less impacted than others.
Colliers research indicated that the agricultural sector, in particular demand for cropping and grazing property across NSW, had not been as adversely impacted to the extent of other asset classes.
"Medium to large scale cropping and grazing assets have attracted interest from corporate, offshore and local family operators, with recent sales displaying record breaking values across the eastern part of the state," the report said.
The report suggested optimism within the sector and increasing demand could be attributed to:
Significant rainfall in 2020 after extremely dry conditions in 2018/19 which had boosted sentiment across the region
Rural property markets not being prone to the same levels of volatility as some other markets. Food security has been a major talking point throughout the pandemic, and farmland is considered to be a 'safe haven' by investors
With interest rates being low, this takes pressure off those holding debt, and improves affordability for those seeking to acquire
Strong commodity prices across NSW lamb, mutton and cattle markets
The limited supply of cropping and grazing assets on the market, as landowners take advantage of good seasonal conditions.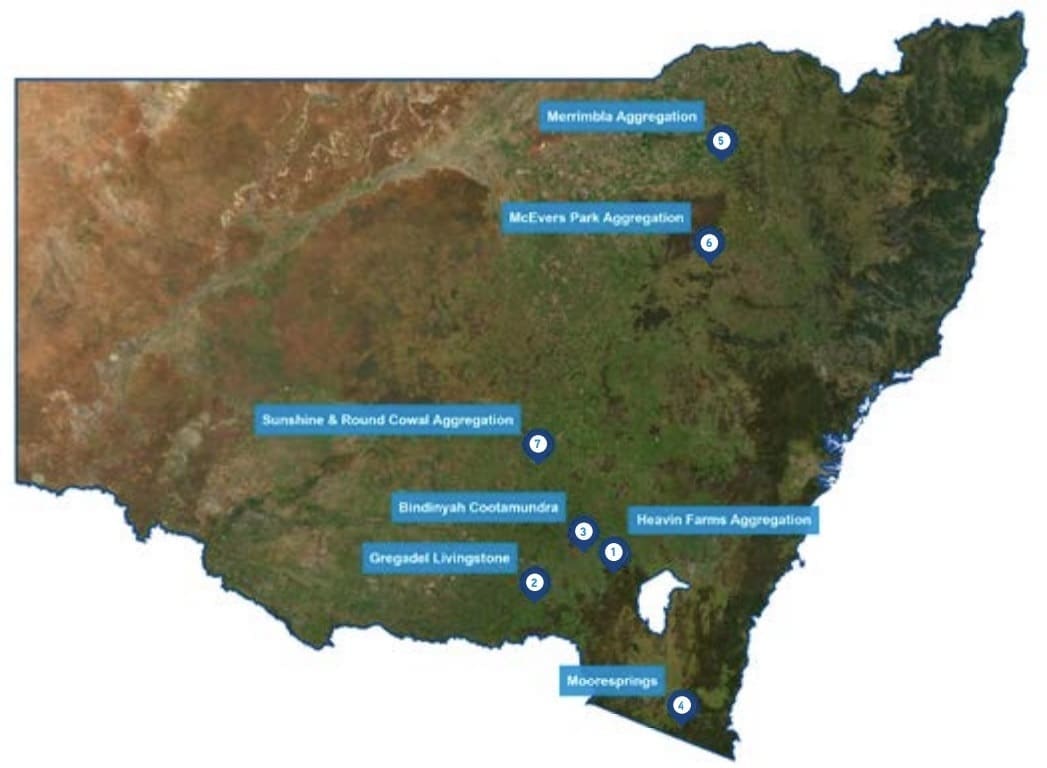 Colliers listed a series of recent property sales across NSW (numbered, with locations on the map published above) that reflected recent sentiment in the property market:
Heavin Farms aggregation, Jugiong NSW: July 2020 circa $18m $172/ha improved grazing. Land Rate: Circa $5299/ha, Aggregation of four holdings sold 20pc above vendor price expectation.
Gregadel, Gregadoo NSW: July 2020 $10.925m Arable Land Rate: $11,622/ha Sold to a neighbouring purchaser on a yield of 2.1pc.
Bindinyah aggregation, Coortamundra NSW June 20 $15.3m Cropping Land Rate: $17,785/ha Sold above price expectations of $12,500 – $15,000/ha.
Mooresprings, Bibbenluke NSW April 2020 $6.011m Grazing Land Rate: Circa $5114/ha Achieved a district land rate. Sold prior to auction.
Merrimbla aggregation, Gurley NSW April 2020 $21.5m Cropping Land Rate: $7957/ha Sold to a neighbouring purchaser expanding their local footprint.
McEvers Park aggregation, Goolhi NSW March 2020 $18.4m Grazing Land Rate: $2750/ha Cropping Land Rate: $5243/ha. Sold to an offshore purchaser with intentions to acquire more property.
Sunshine and Round Cowal aggregation, Forbes NSW January 2020 $15.435m (excluding water) Cropping Land Rate: $2500/ha Grazing Land Rate: $1250/ha. Large scale holding purchased by an institutional investor.