Highly sought-after flood plain country
Billionaire offloads NSW mixed farm
Strong enquiry despite dry conditions
Top dollar expected for Qld mixed grazing and cropping property
Auction for well-known bullock producer
Tightly-held Central Qld country up for grabs
Scope and expansion in northern NSW
THIS week's property review includes this wrap-up of significant recent listings across the country, and a separate article of recently completed sales of note.
Highly sought-after flood plain country
Expressions of interest are being sought for the highly productive Northern Territory grazing property Carmor Plains.
Located within the tightly-held coastal flood plain region of Point Stuart, 200km east of Darwin, it spans 41,500has and is ideally suited to backgrounding.
The property includes 24,000ha of fertile black soil flood plain country, which is in excellent condition due to conservative stocking by the owners in recent years.
Receiving a reliable average annual rainfall of 1500mm, the floodplain country is capable of supporting 5000-8000 head between May and December each year.
Included in the sale are about 2500 head of esturine buffalo, which have been an integral part of the property over the past decade, plus plant and equipment.
Selling agent Andy Gray from Territory Rural said floodplain properties close to Darwin were highly sought after.
"It is heavy-carrying country in the dry season and most cattle achieve very good weightgains, depending on the animal and the season."
Carmor Plains has been owned by John and Lyn Kelman and their son Matthew since 2001. They use Carmor Plains as a base for their wildlife and game reserve, Australian Wide Safaris (which is not being offered with the sale of the property).
Expressions of interest close on November 30.
The last significant floodplain country to change hands was La Belle, 180km south west of Darwin and 82km west of Bachelor, in 2013. The 99,400ha aggregation comprising Labelle Downs and Welltree was purchased by the Australian Agricultural Co for $27.1 million (bare) from RM Williams Agricultural Holdings. In 2009, the two pastoral leases were sold by cattleman Peter Camm for $72 million, including a cattle herd worth $20 million. According to AA Co, La Belle is utilised for floodplain trading as it is strategically positioned to ensure continuity of supply to the company's beef processing facility in Darwin through both wet and dry seasons.
Billionaire offloads NSW mixed farming country
MH Premium Farms, owned by billionaire hedge fund manager Sir Michael Hintze, is offloading its first-class NSW mixed farming enterprise Glaisnock.
Chief executive officer Ed Dunn said the company, which operates more than 40 livestock and cropping properties across eastern Australia, had owned Glaisnock for the past 10 years.
"While it has been a great contributor to the portfolio, the sale is being initiated by the move of Glaisnock's long-term manager who is moving closer to Wagga to take up a more senior role. As a result, the funds will be reinvested into other opportunities."
The 982ha property is located 26km from Young, close to Cootamundra, Temora and Harden, in the South West Slopes region of NSW. It is an area that has long been regarded as blue-ribbon mixed-farming land, highly acclaimed for its strong and consistent production performance.
Glaisnock is currently producing wheat and canola in rotation, while legume pastures support the sheep, cattle and fodder enterprises.
Of the total landholding, 947ha (96pc) is arable, while the remaining area consists of 20ha of grazing land and 16ha of support land.
CBRE's Col Medway, Richie Inglis and Ian Robertson have been appointed to negotiate the sale of property, which is being auctioned on November 15.
Mr Medway said Glaisnock is well suited to a range of cropping enterprises and pastural improvements.
"Situated in a highly acclaimed area where few properties are offered publicly, the Glaisnock landholding is underpinned by fertile soils, fit-for-purpose infrastructure and an efficient property layout."
"The scale and productive capability of the property will appeal to existing industry participants seeking to expand their operations or those seeking an opportunity to enter either the industry or the district," Mr Medway said.
Strong inquiry despite dry conditions
The Upper Hunter Valley property Mandalea is expected to make between $7.5m and $8m when expressions of interest close on December 6.
Situated east of Scone, Mandalea was originally part of the historic Belltrees Station.
In 1948, the 728ha were granted to Ian MacCallum as a soldier settlers block but Mandalea grew with the addition of adjoining properties Ardroy and Oakendale in 2002 and 2011 respectively.
Today the property spans 2843ha and is owned by Ian's son Ken and his wife Doon who have decided to semi-retire and move closer to Scone.
Michael Burke from MacCallum Inglis, who has been appointed to sell the property, said despite the dry conditions, inquiry is strong.
"It is coming from NSW and Queensland – from private buyers and some funds. We are looking at a balance of beef cattle and mixed grazing operators."
Mr Burke said Mandalea's diversity has been its strength.
"The property features 485ha of arable lands and boasts diverse improvements to suit both sheep and cattle production. As a result, award winning fine wool fleeces have been grown and prime market topping bullocks have been fattened on Mandalea."
The property is watered by a balance of natural and pumped water via bores and the Hunter River. It is being offered bare of stock, but can carry 700 cows and calves to fatten with a good season.
Top dollar expected for Qld mixed grazing and cropping property
More than $15m is expected for the large-scale mixed grazing and cropping enterprise, Darran Aggregation, in south-west Queensland.
The three contiguous landholdings, comprising 5054ha Darran, 1246ha Beardie Lagoon and 5795ha Brookdale, offer 27km frontage to the Balonne River, close to St George.
A feature is the irrigation areas totalling 512ha, underpinned by a 470ML water licence from Balonne River, supplemented by 3700ha of dryland cultivation.
The 7884ha of grazing country features extensive stands of native and improved pasture including buffel, creeping blue, Mitchell grass and medics.
There is scope for further expansion across all aspects of the property including the development of an 8000 SCU feedlot (subject to approval).
CBRE's Simon Cudmore said the diverse enterprise is attracting widespread domestic and international interest.
"The mixed nature of Darran is one of the major highlights of this aggregation -offering cattle and sheep production, irrigation and cropping – it is truly a mixed enterprise of significant scale," he said.
"It is attracting interest from families to corporates, including locals adding to existing operations, and institutions looking for significant scale in backgrounding or breeding," Mr Cudmore said.
After two decades of ownership, the Lindores family has decided to change direction. The Darran Aggregation is being offered for sale as a whole or in separate lots via expressions of interest closing on November 29.
Auction for well-known bullock producer
North Queensland's Maitland Station will be auctioned on December 6.
Spanning 13,835ha, the cattle breeding and fattening property is renowned for producing bullocks that regularly top the market.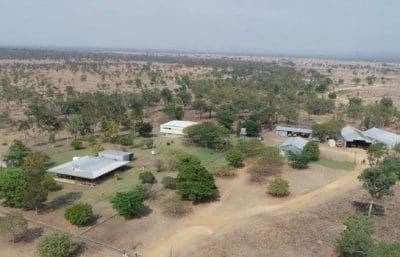 Located 270km north west of Charters Towers and 20km west of the Lynd Junction, Maitland has a carrying capacity of 3500 mixed cattle. The sale includes 1124 quality Brahman Cross breeders, including 250 calves, all machinery and plant.
The property is well watered by the Einasleigh River, which runs south to north, permanent water holes, bores and dams.
Matt Geaney from Geaney's Real Estate said Maitland Station is being sold by the family of the late Geoffrey Carrick who held the property for 54 years.
"There's been good interest in the well improved property that will suit a range of operators seeking expansion to breed cattle and grow out bullocks," he said.
 Tightly-held Central Qld country up for grabs
Strong breeding and backgrounding country in Central Queensland with reliable water will be auctioned by Hourn & Bishop Qld on November 29.
Lucknow, located 14km southeast of Theodore, features predominately red soils with areas of silver leaf ironbark on duplex soils. Fertile coolibah flood plains with tea tree clumps inhabit the gully areas. Grasses include buffel, forest blue grass, black spear grass and kangaroo.

It has a good spread of underground water with four bores and two dams.
Retiring Murray and Janelle Anderson have held the 1764ha grazing property, located in the tightly held Theodore district, for 30 years.
Selling agent Brad Hanson said the sale will be a good test of the market because there haven't been any grazing properties of that scale sold in the area for a very long time.
Scope and expansion in northern NSW
Development opportunities for the right buyer are available on Macleods Creek Station, a unique rural landholding close to Tenterfield in northern New South Wales.
Located at Drake, 25km east of Tenterfield and 65km west of Casino, the 4630ha holding can carry 500 adult equivalents, but there is scope for further expansion.
The property has diverse land and soil types comprising undulating to steep hills with open grazing areas. This provides scope for a range of alternative uses including eco-tourism, camping, 4WD, motorbike park and hunting.
Secure water resources are underpinned by an average annual rainfall of 1270mm supplemented by numerous spring fed creeks and seasonal watercourses.
CBRE's Simon Cudmore said interest is expected from existing industry players to people with a creative vision.
Macleods Creek is for sale by expression of interest closing on November 29.
Click here to access more properties listed for sale