THIS week's property review includes a wrap-up of interesting recent listings across the country, and a separate article of recently completed sales of note.
Former trophy station ripe for glory again
Roxas operation fails to sell and is relisted
Two SA operations boasting scale
Marmboo returns to the market
Productive country close to Brisbane
Further leucaena potential on Moura's Wilga Vale
Corfield block grassed-up and ready to go
Abundance of grass on fattening property Carodon
Wing Vee returns to the market
New England block returns to the market
Former trophy station ripe for glory again
A former Northern Territory 'trophy' station once owned by the Sultan of Brunei has been listed with a $12 million (bare) price tag.
The 101,850ha Scott Creek, (pictured above) 62km west of Katherine, was developed for cropping 40 years ago when large areas of the property were cleared and planted to sorghum.
Since then, a succession of owners has let the station slip, but the Melbourne-based Gschwenter family, who have owned Scott Creek since 2008, believe the operation has huge potential and with the right investor will be successful again.
Alison Ross from Elders Katherine agrees, saying it is one of the few larger parcels of land in the NT with quality soils and overlying water resources.
"Scott Creek boasts abundant ground water (Oolloo, Tindal and Jinkukin aquifers) with irrigation potential. The Katherine River flows through the property and the Flora River runs to the northern boundary, and possible dam sites have been identified along the western escarpment country," she said.
Scott Creek is suitable for breeding and backgrounding and is rated to carry 10,500AE. However, it is currently running 7000 Brahman cattle.
The country consists of black and brown soils, grassed plains and river alluvials. It sits on top of three very large aquifers, boasts river and creek frontages and has an average 1000mm rainfall.
Around 1400ha of the property is cleared and is currently planted with Jarra and various grasses. However, it is also suitable for improved pastures, export cattle depot work or hay.
There are 20,000ha designated as suitable for agriculture, with a further potentially useable 7000ha.
Gunther and Brenda Gschwenter who founded the Britz motorhome business (which they later sold in 2005) are winding down their assets. They have also listed Mary River West for $4.5m and in December 2016, sold the 187,300ha Ban Ban Springs, 180km from Darwin.
Romeo Roxas operation fails to sell and is relisted
The Northern Territory's Epenarra Station, owned by Filipino businessman Romeo Roxas, has returned to the market with a $16 million price tag.
Two months ago, Epenarra was placed under contract to Queensland Droughtmaster breeders – believed to be the McCormacks, who after 84 years of family ownership, recently sold their Wallumbilla breeding, backgrounding and fattening properties, 1837ha Perola Park and 1392ha Oakwood, in south west Queensland.
This week the deal fell over, and David Russell from Landmark Harcourts Cobar is once again offering Epenarra to the market.
The vendor, Romeo Roxas, is the owner of Australian Green Properties. In November 2015 he made headlines when he paid more than $23 million (including 18,000 head of cattle) for two NT cattle stations – the 559,500ha Murray Downs and the 265,600ha Epenarra.
The lower Barkly Tableland region Epenarra, located 550km north of Alice Springs, has 40km of Frew River frontage. It is watered by 13 bores and seasonal lagoons.
The walk-in walk-out sale includes station, plant and machinery and 7400 Droughtmaster females and around 3000 unbranded followers.
Mr Russell said the vendor has spent a considerable amount of money developing the holding.
"Epenarra boasts excellent water supply, well-appointed buildings and accommodation, quality handling yards, paddocks, laneways and 100km of new fencing. The diverse land type, river and flood-out systems also allow the astute purchaser to carry and turn over large numbers of stock in season."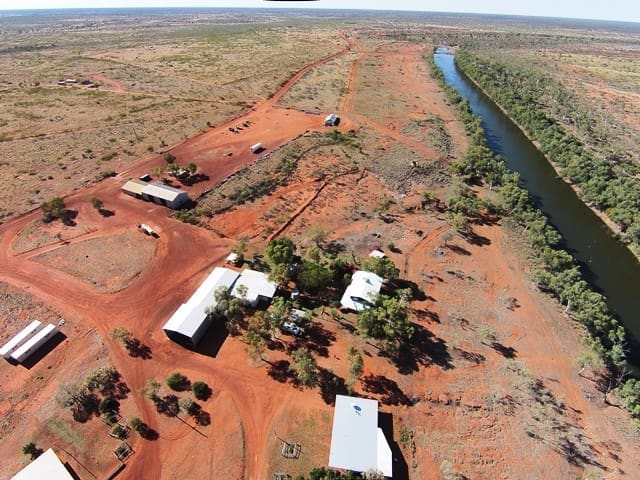 The Northern Territory's Epenarra Station, owned by Filipino businessman Romeo Roxas, has returned to the market with a $16 million price tag.
Two South Australian operations boasting scale
Munga Park in South Australia's south east has been listed for sale by CBRE via an expression of interest campaign.
The 2531ha aggregation features developed pastures and quality cropping land benefitting from scale, operational efficiency, fertile soils, strong climate conditions and a strategic location.
Munga Park last changed hands around 30 years ago, when Tim and Valerie Carter purchased the well-known stud from Bruce Burnell at Frances.
Over the 1970s and 1980s, the Burnells developed Munga Park into one of the leading Simmental studs in Australia.
The Munga Park operation is available for purchase as a single landholding or as five individual properties including 1014ha Nammah, 541ha Munga Park North, 520ha Munga Park South, 338ha Naringa and 117ha Parkers.
Munga Park's five contiguous properties are located 4km north west of Frances and 39km from Naracoorte, and are underpinned by three water licenses, as well as a reliable average annual rainfall.
CBRE Agribusiness agents Phil Schell and Angus Bills have been appointed to sell the aggregation on behalf of the Carters.
Mr Schell said Munga Park will suit a range of potential buyers, including sheep and cattle producers who are looking to breed, fatten and finish.
"The scale of the property also suits corporate buyers and high-net-worth individuals, as well as local buyers, with the option to split the property into five separate land parcels," he said.
Meanwhile there's been interest from far and wide for South Australia's 1530ha Karoonda Park (pictured below) which has been listed for $8 million.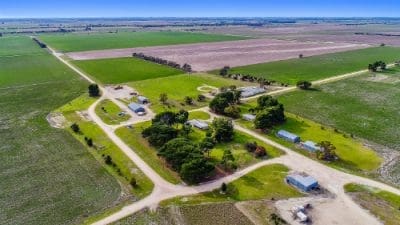 Located 10km west of Keith, in the state's upper south east, it is a versatile enterprise with good income streams from cattle and sheep grazing, as well as crops and irrigation.
Karoonda Park has been used principally as a lucerne seed production unit with hay, cereals, clovers and legume cropping together with a successful sheep breeding / finishing enterprise to compliment the enterprise.
It comprises 75ha of laser-levelled flood irrigation with unlimited underground water, 1100ha of dryland lucerne and 330ha of strong cropping ground.
The soils are sandy loam over limestone with some gently undulating sandy rises and the operation is watered by bores with a mains supply backup to concrete troughs in all paddocks.
Selling agent Geoff Watts from Landmark Harcourts said Karoonda Park is also a high capacity finishing and growing property.
"In the past, the property ran more than 3000 ewes and 250 cows. Potential buyers are international fund managers and drought affected producers looking for a southern finishing property or a good-sized stand-alone operation."
Mr Watts said Karoonda Park offers a good-sized turn-key operation.
"It produces solid returns through several income streams and is a stand-alone property with the added capacity to turn off many livestock annually."
The owners, the Campbell family, have decided to consolidate their assets after ten years of ownership.
Marmboo returns to the market
Despite an initial strong response, the tightly-held Western Queensland grazing operation Marmboo was passed in at auction and is now on the market for $8.5 million.
Peter MacPherson from Queensland Rural / Ruralco Property said the dynamics changed dramatically during the four weeks of the marketing campaign.
"Early on, grass-hungry producers from across Queensland and as far south as Griffith in NSW could see an opportunity, especially with the provision of early access. However, the urgency left once the rain fell. It is still a good block with grass," he said.
Situated near Vergemont, 92km west of Longreach, Marmboo has had two owners since World War Two, with Brendan and Deborah McAuliffe selling up to pursue other interests.
The 38,558ha destocked block is suitable for both cattle and sheep and is rated to carry 18,000 DSE or cattle equivalent. The property is also being offered with another 2023ha of stock route.
The country is mainly undulating open downs, consisting of 25,000ha of very good grassed country, more than 10,000ha of slightly lighter and not as quick to respond country, and 6000ha of slightly lesser quality country.
A strong feature of the property is its water security which the present owners have recently upgraded. There are bores, troughs and tanks, as well as 15 dams.
Further leucaena potential on Moura's Wilga Vale
Ken and Claudia Stephenson are selling their Moura district property Wilga Vale so they can move to closer to their family in northern NSW.
The 2028ha Central Queensland property boasts a 3km frontage to the Dawson River and adjacent paddocks are naturally watered from it, as well as the Back Creek. In addition, six dams and a reticulation system water the balance of the property.
Wheat, grain and forage sorghum, and oats have previously been grown, and large areas of river and creek flats are suitable for arable farming.
The Stephensons purchased Wilga Vale in 1988 from the estate of Ken's late uncle Charles Stephenson, who had selected the property in a land ballot in 1938. In the mid-1990s, they added a half share of a neighbouring property.
The aggregation has a mix of soil types, supporting a variety of pasture grasses, predominantly buffel, as well as native grasses, seca stylo and green panic in the more sheltered areas.
Established leucaena and butterfly pea enhance productivity and have potential for expansion.
The vendors are currently running a herd of Brahman cows and produce crossbred weaners using mainly Angus bulls. The cattle will be made available for purchase by the successful buyer at valuation.
Wilga Vale will be auctioned by Hourn & Bishop Qld on May 9.
Queensland breeders offload productive country close to Brisbane
Seifert Belmont Reds is offloading one of its highly productive cattle breeding properties located at Crows Nest, 180km from Brisbane.
The sale of Roslyn is part of the transition to breeding operations at Chinchilla by principals Jeanne Seifert and Ian Stark.
In February, the pair purchased Flag Springs, a versatile and well-regarded 5575ha grazing property, 115km north of Chinchilla on the Auburn River, in a bid to drive a significant expansion for Australia's largest Belmont Red seedstock herd.
Roslyn comprises 2362ha of developed forest country with double frontage to Emu Creek. It has consistently run 1400 adult equivalents or 700 cows and calves to weaning plus replacement heifers.
A Queenslander homestead has been completely renovated and the livestock infrastructure is described as first class.
Broc Winten from Winten & Co and Shane Blakeley from Ray White Rural International are handling the auction of Roslyn which will be held in Brisbane on May 31.
Mr Blakely said the large-scale enterprise would suit a stud or commercial cattle operation buyer or a high-net worth individual seeking a property in close proximity to Brisbane.
Corfield block grassed up and ready to go
Grass-hungry producers seeking immediate access are showing interest in Thordale, a versatile holding located in the renowned Corfield district, in Queensland's northwest.
Suited for breeding, fattening or backgrounding, the property spans 8272ha and is located 78km north east of Winton.
It features sweet Mitchell grazing with scattered vine tree and whitewood, and is watered by the Nesbitt, Corella and Bauhinia Creek systems, as well as bores and dams.
Thordale is currently lightly stocked and well-grassed after the recent rain depression from the north. It can carry up to 1000 breeders or 2000 weaners.
Scott Taylor from Elders Winton said there's been inquiry from producers north of Townsville seeking fattening country, southern producers chasing grass and locals seeking expansion for their breeders or weaners.
"Corfield has a good reputation and has slightly higher rainfall than Winton. The property is prickly acacia free which is testimony to the vendors, Gerald and Tina Elliott."
Thordale will be auctioned on May 01.
Another northwestern property with an abundance of high-quality grass is the 14,349ha fattening property Carodon, which has been listed by Brodie Agencies for $5m.
Located 159km south east of Cloncurry and 160km south of Julia Creek, the property is currently experiencing a terrific season.
In early February, new Mitchell grass seedlings struck following 404mm of rain and a further 70mm of follow up rain will allow this pasture to establish.
The red ironstone ridges, pebbly downs and heavy cracking clay soils make a good mix of country for both breeding and fattening.
While much of the prickly scacia has been contained, there are substantial infestations along the ridge and running down into Wild Duck creek.
Carodon is a tick free property with an additional 846ha of stock route. It is watered by three bores, three dams and 14 troughs.
The owner estimates the property can carry up to 1600 dry cattle ranging in size from weaners to heavy feeders or equivalent in an average season.
Carodon is being offered on a walk-in walk-out basis with extensive plant and equipment.
NSW enterprise with development potential
Quambone mixed farming property Quilbone Station has been listed for auction on May 3 by Ray White Rural.
Located 74km west Coonamble, the plains type level country spans 6677ha with a mixture of black, grey and red loams.
There are belah, rosewood, box and wilga with an area of pine and pastures run from summer grasses, trefoil clover, barley grass and crowfoot during winter months. Quilbone is situated between the Merri Merri and Marthaguy Creeks, which give beneficial flooding in season. It is also watered by dams and an artesian bore supplies tanks and troughs throughout.
The retiring owners, the Morrissey family, estimate an 8000 dry sheep equivalent carrying capacity 1618ha of cultivation.
With 425mm of annual rainfall, Quilbone is large enough to attract a corporate buyer, producers seeking expansion or a standalone operation, or someone who will further develop the property's farming potential.
Wing Vee returns to the market
Wing Vee, the Mudgee district grazing property once owned Australian entrepreneur and businessman, Dick Smith, is back on the market after failing to sell at auction.
The 3865ha operation is located 66km west Mudgee, on the NSW Central Tablelands.
It once formed part of the historic Triamble Station, settled by the Suttor family of Brucedale (one of Australia's oldest and finest homes) at Bathurst, more than 200 years ago.
During World War II, the property's two airstrips were used by the Air Force to train fighter pilots and it became known as Wing Vee.
Mostly basalt, the country ranges from sheltered valleys to open grazing slopes and timbered ranges. Despite the dry conditions, it carries a big body of natural pasture interspersed with clovers.
Wing Vee receives 650mm average annual rainfall and boasts 14km of Macquarie River/Burrendong Dam frontage.
Recent infrastructure upgrades include a new water system (with troughs and tanks, dams cleaned and renewed), four new sets of cattle, sheep and goat yards, a new machinery shed and 22km of new fencing.
In 2016, it was purchased by father and son, Ross and Eric Sharwood to complement their Dubbo and St George grazing properties, however the pair has now decided to consolidate.
Wing Vee is currently destocked, but it can carry 14,000DSE. Previous owners have run cattle. When Dick Smith owned it back in the 1990s, he was running a mixed enterprise comprising 700 cows and 5000 sheep.
Chris Korff and Mark Schwerin from Ray White Rural, who are handling the sale, have listed Wing Vee for $8.25 million.
New England block returns to the market
Ray White Rural is offering the 227ha productive grazing block Devoncourt, at Guyra in northern New South Wales, for $1.05 million after it failed to sell at auction.
Aimed at entry level buyers or local producers seeking expansion, the property boasts extensive frontage to the reliable Laura Creek.
There's a good percentage of arable creek flats and gently undulating terrain, considered ideal for cropping, hay making or pasture renovation to intensify livestock production.
Marketing agent Andrew Starr said the property is lightly stocked and being sold with an abundance of grass.
Click here to access more properties listed for sale