SLAUGHTER cattle prices for animals eligible for Certified Organic markets have hit an unheard-of 580c/kg in Queensland in recent weeks. That's a full 160c/kg better than the best heavy grassfed steer price available in the state this week, worth about $520 a head on a 330kg steer.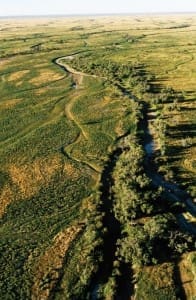 On top of that, those Organic price grids are far more 'generous' in terms of weight, fatness and other spec tolerances than any other segment of the cattle market. And as illustrated in this graph of grid prices for 2014 from a beef plant in Queensland, prices for Certified Organic cattle are remarkably stable across a yearly cycle, when compared with the conventional cattle market.
Points like this have sparked recent discussion about cattle land value, and whether attributes such as Organic Certification – or even the prospect of it – should be factored into property valuation.
The general consensus among rural valuers, bankers and property agents canvassed by Beef Central last week is that there is not yet any evidence of a price consideration occurring for cattle land in Certified Organic production.
But equally, most conceded that 'business attributes' such as Certified Organic, or others where prices premiums may be attached could at some point begin to appear in property demand and price calculations.
Part of the problem is that there has been relatively little property trading within the Certified Organic space recently, on which to base any assessment. The only larger-scale property sold in Queensland in recent times carrying Certified Organic status that contacts could recall was Sir Graham McCamley's Glenprairie Station near Marlborough, sold for $28 million in 2013. There was no suggestion at the time that that price had anything to do with the property's Organic status.
Two things worked against that sale: it was a distressed vendor sale, and many regard the property's location, on the coast in Central Queensland with high tick and buffalo fly challenge, as unsuitable for organic beef production. Glenprairie's conversion to Certified Organic was carried out as part of a vision held by previous owner, Greek shipping tycoon Gregory Hadjieleftheriadis.
Unlike Glenprairie, most recent large-scale Organic 'conversion' projects in northern Australia are taking place in low rainfall regions free of tick and buffalo fly challenge. Examples include Peter Hughes and family's Georgina Pastoral Co properties Caldervale and Keeroongooloo in central west and northwest Queensland (see Beef Central's earlier report), Consolidated Pastoral Co's Nockatunga Station in the Channels and the Hayes family's Undoolya Station near Alice Springs.
Meat and Livestock Australia is engaged in a project currently which aims to attract 100 new properties to Organic accreditation, supplying an additional 30,000 cattle per year. It is currently estimated that there are less than 500,000 cattle in Australia organically certified, while demand exists for a herd of at least one million head, and growing.
Despite the recent price surge for cattle generally, if anything, the Organic premium has continued to enlarge, in front of the conventional cattle market, over the last few years.
No premiums evident yet, but may be coming
While a three-year timeframe for conversion has been a point of resistance for some beef producers considering Organic production, some credible certifiers now have programs in place that reduces that to two years.
The head of rural valuation firm, Herron Todd White, Tim Lane says while there has been discussion around this subject in the past 12 months, in reality the market had yet to reflect Organic status in the value properties.
"But I sense that we're not far away from seeing that being more firmly established. That's partly because there's more legitimate property transaction volume opportunity for people to sell into. Grains is a good example, with premiums of up to 100pc over conventionally-produced grain. In the livestock play, it will start to apply also, for both sheep and cattle."
Mr Lane thought what would ultimately drive any premium for Organic beef properties would be the strength of off-take agreements with processors. For that to happen, buyers had to have a level of confidence that the premiums in the market would be there long term and had the ability to grow.
Herron Todd White's Rockhampton based rural land valuer Will McLay said he and his colleagues had talked about such a prospect from time-to-time, but were yet to see any evidence of it in the market.
"We have yet to see any examples of premiums paid for Certified Organic land in the Central Highlands or Central Queensland area. When you go into the far west – the Channel Country for example – those kind of activities are already happening anyway."
"So if there is any premium in the far west, it is harder to distinguish, and not very clear. And there has not been enough Certified Organic land and cattle put to the market to provide much guidance."
But what about in the future?, Beef Central asked.
"If an owner could prove that his certified organic costs were still competitive, while attracting a premium for his cattle, then possibly there may be a premium at some time," Mr McLay said.
"Certainly there are more people in my Central Queensland region that are looking at, or are undertaking conversion to Organic production."
He said one of the considerations buyers might take into account when considering Organic production was the two-to-three year conversion period before full Organic certification could be achieved, and the time saved by buying a property already in full certified production.
National Australia Bank head of agribusiness, Khan Horne, said the cattle industry needed to start moving to property valuations based on the cash that a given property could spin-out – not just based on the fact that other surrounding properties in a given district had made a certain amount when sold.
"The one standard beast area value will vary depending on the quality of improvements – historically, that's been the standard of waters, fencing, cattle and pastures. But there is no reason why a well-performed Organic Certification and a herd of certified organic cattle cannot be regarded as an 'improvement' in the same way."
"Producers who meet standards for premium programs, whether it be PCAS, EU, MSA or Certified Organic, are being rewarded for cattle prices and cash flow now, and those premiums will ultimately flow through in valuations," Mr Horne said.
"But I don't believe in forward valuations of potential cash flows – it has to be cash flow, now."
In rural property markets generally – not specifically beef – there is growing evidence of property transaction based on cash-flow, rather than on traditional past sale analysis per hectare.
One view is that will become more commonplace in specialised areas like Certified Organic beef production, where buyers value market premiums, market consistency and evenness of cash flow.
Channel Country holding will test the 'Organic value' market
Two well-known Channel Country cattle properties that are currently in conversion to Certified Organic production will focus attention on this segment of the property market.
The 39,000ha South Comongin and Nyngarie aggregation near Quilpie has a distinct advantage in that breeding cattle can be run on the one-third of the country which is mulga country, and fattened on the balance of Bulloo River flood plain country.
"To capture all of the benefits of Organic beef production, properties ideally need to be self-contained breeding and fattening operations," marketing agent Tom Warriner from Colliers International said.
The South Comongin aggregation is being offered by tender through Colliers, closing 13 March.
Vendors estimate that by running 750 breeders (current numbers) and fattening under Organic certification, net income on the aggregation can be increased by around $200,000 per annum.
"The vendors believe this will produce an annual net income in excess of $500,000 per annum, after operating and maintenance capex costs," Mr Warriner said.
Well-planned development has been undertaken on the properties in order to maximise productivity and returns. All of the flood country used for fattening has been developed with permanent tank and trough water with not more than 3km grazing radiuses.
"This is best practice to enable weight gains to be maximised. The breeding country has also been developed with permanent waters with two new solar bores and the upgrading of a third bore plus dams. The abundance of natural water is a bonus," Mr Warriner said.
With one new set of cattle yards and a second re-developed and laneways constructed, livestock handling is efficient and low-cost. Over the past 10 years about 140km of fencing has been replaced.
The properties' managing partner is well-known agribusiness identity Chris Evans, who is selling only because of his heavy time commitments as a director of Consolidated Pastoral Co and an executive director of BDO, as well as undertaking a soon-to-be-launched online livestock merchandise business, farmshopaustralia.com
Mr Warriner said early interest in the holdings had included established Certified Organic beef and sheep producers from Queensland and NSW, together with 'conventional' beef producers looking at diversification into Organics.