US billionaire Stan Kroenke has agreed to purchase the historic 236,000ha W.T. Waggoner Estate Ranch in Texas, Bloomberg reported yesterday.
Terms for the purchase of the estate were not disclosed, but it was listed with an asking price of US$725 million.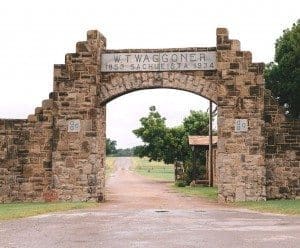 Mr Kroenke, and his wife who inherited a large chunk of the Walmart supermarket chain fortune as a descendant of Bud Walton, have a collection of 11 ranches in Montana, Wyoming, Arizona, and British Columbia. The Waggoner went on the market in 2014 after Texas District Court Judge Dan Bird ordered a sale to end more than 20 years of family feuding and litigation.
Judge Bird allowed the family owners of the Waggoner Ranch to proceed in a private transaction with Mr Kroenke, owner of the Rams American Football team and one of the wealthiest owners in professional sports.
Mr Kroenke recently built the Rams a privately financed $1.8 billion stadium in Inglewood, California. Along with the Rams, he also owns the National Basketball Association's Denver Nuggets, the National Hockey League's Colorado Avalanche, Major League Soccer's Colorado Rapids, and two-thirds of the English Premier League's Arsenal soccer club.
Mr Kroenke's fortune is worth about $6.2 billion, Bloomberg estimates.
"This is an incredible opportunity and an even greater responsibility," Mr Kroenke said in a statement released by the Waggoner family and its representatives. "We are honoured to assume ownership of Waggoner—a true Texas and American landmark."
Beef Central first wrote about Waggoner Ranch in this earlier listing article. The Waggoner Ranch is the largest in the US within one boundary fence, at 210,650ha or 2100 sq km. The sale will include additional acreage that brings the total to about 243,000ha. King Ranch, based in South Texas, has more acreage, but is spread over several parcels.
Located about 300km northwest of Dallas, the Waggoner sprawls over six counties and is bigger than Los Angeles and New York City combined. The asking price was more than four times the biggest publicly known sum fetched by a US ranch, $175 million for a Colorado spread in 2007.
With 6800 head of cattle, the Waggoner is one of the 20 largest cattle ranches in the US and is known worldwide for its quarter horses, which number 500. The ranch also has 1000 oil wells, 15,000ha of cropping land, and an abundance of deer, quail, feral hogs, waterfowl, and other wildlife.
The Waggoner has been owned by the same family almost as long as Texas has been a state. Judge Bird's 2014 order to sell the ranch ended litigation between opposing branches of the Waggoner family who couldn't agree on what to do with the property.
Holding receives half a dozen serious offers
Bernard Uechtritz of Briggs Freeman Sotheby's International Realty in Dallas and co-broker Sam Middleton of Chas. S. Middleton & Son in Lubbock, Texas, received about half a dozen serious offers, Mr Uechtritz said. "This is not a plaything for Mr Kroenke," he said. "He's really in the serious business of ranching and he considers this the crown jewel of all ranching."
The ranch was developed by a cattle and horse man named W.T. Waggoner, son of Dan Waggoner, who started buying Texas acreage around 1850. By the 20th century, oil had been discovered on the ranch, and the Waggoner reverse-triple-D brand was a Texas icon. Trainloads of spectators came to watch President Teddy Roosevelt hunt wolves on the property. Will Rogers, the famous American humourist of the 1920s and early '30s, visited frequently, sometimes playing polo.
Source: Bloomberg.