RURAL property transaction volumes tightened during the half-year to December, adding further upward pressure to prices, Elders says in its Quarterly Rural Property Update released this week.
"Transaction volume lifted in the first half of 2021, but it did little to halt the momentum of appreciating land prices. The story of appreciating prices remained unchanged in Q3-2021 and Q4-2021," Elders report says.
Elders' Rural Property Update draws on transactional data from every rural land sale in Australia, supplied by Corelogic and analysed by Elders. The company uses a range of analytical techniques to achieve 'robust and repeatable' analysis, it said.
The dataset is limited to:
Transactions above 40ha, except for Tasmania where transactions above 30ha are included.
Transactions which list rural as the primary purpose
Local government areas which fall within a metropolitan area are excluded from the analysis.
Vast pastoral areas of Australia without sufficient transaction volume are excluded.
Outliers by price per hectare are excluded. This involves visual and statistical assessment of all $/ha values for a region, and this is performed every quarter.
Nationally, the data showed median price per hectare increased by 18.4 percent for the 2021 calendar year, taking the median price to a record $7060/ha.
Transaction volume was marginally higher, growing by 3.4pc to 9098 properties.
In the fourth quarter of 2021, ended December 31, median price per hectare increased by 3.6pc compared to the previous quarter, marking the third consecutive quarter of growth, while transaction volume tightened further, decreasing by 1.8pc.
The value of rural property traded nationally in 2021 totalled $13.3 billion, increasing by $1.7 billion compared to 2020. Total value traded in Q4 equated to $3.6 billion, increasing by $567.8 million compared to the previous quarter.
For the fourth quarter, Tasmania and South Australia recorded median price per hectare growth of 37.7pc and 32pc respectively. In contrast, median price per hectare declined by 25.2pc in Western Australia, driven by a change in transaction mix towards larger parcels of land.
Median price per hectare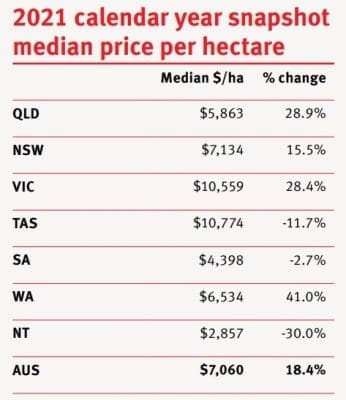 The report's snapshot of median price per hectare shows big variations between states and territories in 2021, compared with the previous year.
Western Australia showed 41pc growth on the previous year ($6534/ha), while the Northern Territory showed a 30pc decline ($2857/ha), and Tasmania, down 11.7pc ($10,774). Queensland showed a 28.9pc increase, averaging $5836/ha (see table).
Transaction volumes last year were sharply higher in South Australia and NSW, according to the data, but down sharply in Tasmania and Victoria, compared with the previous year.
Looking ahead, Elders suggests that buy-side drivers such as balance sheet growth, low interest rates and high commodity prices will continue to outweigh sell-side factors.
However, while buy-side drivers are numerous and well known, it will likely be transaction volume which dictates the duration of the current growth phase.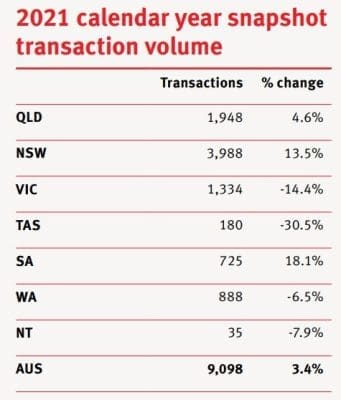 "The current motivation from sellers is profit-driven in addition to generational change; exiting long term assets at a time when prices are high is appealing," it said.
"The depth of sellers motivated by these factors doesn't appear to be significant enough to dent demand in 2022."
Elders head of agribusiness investment services Mark Barber, said accurate and timely property price trends were critical to any rural property investment decision: buying, selling or holding.
"Price trends are important when considering major capital expenditure to improve productivity on farm as property value changes affect total returns from the decision," he said.
Rural property remained highly sought after in 2021 by a wide range of buyers. Strong equity, a return to average to good seasonal conditions, low debt servicing costs and strong commodity prices, drove demand for rural land.
These factors had also contributed to strengthening decisions to retain and operate by most owners, creating a situation where demand is outstripping the supply of land coming onto the market.
Perhaps the most important long-term factor driving property prices was a belief in the continuation of strong market fundamentals for most Australian farmland outputs, Mr Barber said.
"Demand is strong for Australian grains, oilseeds, meat, dairy and fibre products, with experts, family farmers and investors believing this is likely to continue for some time. However, we have recently seen rural property values rise faster than commodity prices which points to a greater influence of non-commodity price factors such as low interest rates and access to equity from existing holdings, influencing decisions to buy land.
"This has made farming families the most competitive sector of the market for rural property," he said.
"There is ample evidence for the maturity of rural property as an asset class for a wider range of investors looking for long term, capital secure investment options that produce a competitive financial yield – something farming families have known for some time.
Click here to access the full Elders property report.