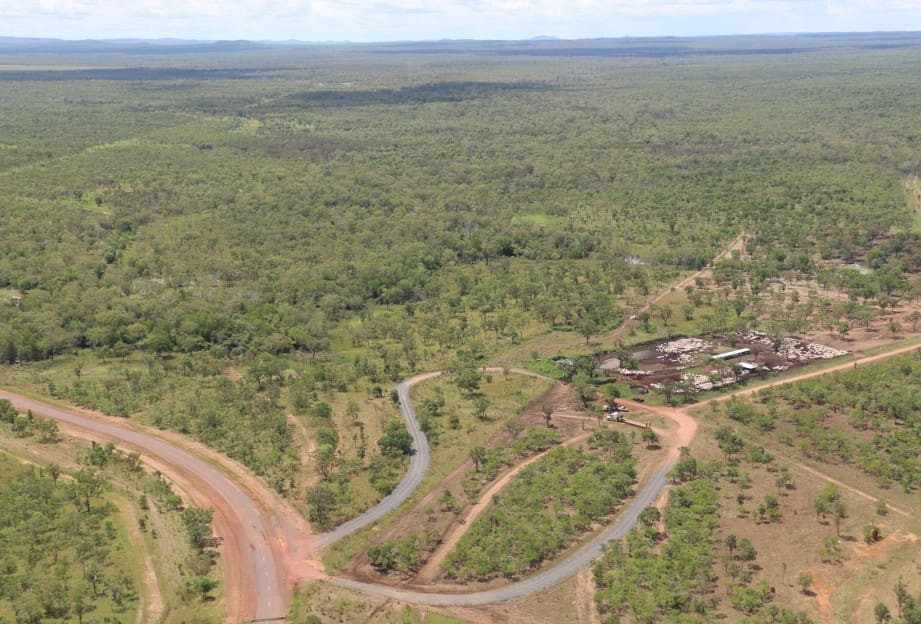 HIGH-FLYING Melbourne QC, Allan Myers will seize on the current momentum being seen in northern Australian live cattle exports to test the property market with the upcoming offering of his Douglas Station holding, part of his extensive Tipperary Group aggregation to the southwest of Darwin.
The Daly River district property is ideally positioned as a holding or staging depot for live export operations out of Darwin. It could fill a similar function to AA Co's $27 million purchase last October of Labelle Downs, to the northwest of Douglas Station, for the purpose of feeding cattle into Darwin, either for live export or processing through the company's new abattoir.
The country on Douglas is entirely different to the marine plains on Labelle, however, being mostly speargrass and northern forest country.
The property, covering almost 155,000ha, will be offered by Tipperary Group via tender, through Colliers International's Tom Warriner and Rawdon Briggs.
Mr Briggs said Douglas was now surplus to Mr Myers' requirements, and he had decided to offer the property as a result of the current strength and confidence in the northern live export trade.
"It's not considered a core asset, and Mr Myers is now concentrating his efforts on adjoining Tipperary (2098sq km) and Litchfield stations (1336sq km), currently under lease to AA Co."
Darwin was the exit point for more than 350,000 head of live export cattle last year, and year-to-April in 2014, has accounted for almost 140,000 head, in the strongest level of trade activity seen since 2008.
AA Co's purchase of Labelle would appear to rule it out as a potential candidate for Douglas, but it is well located and set-up for other large northern pastoral operations in the Victoria River District or the Barkly, or vertically integrated live export supply chains, to establish a similar depot operations. As can be seen in the attached photo, the property has direct all-weather access to the bitumen Stuart Highway, which is critically important across the top end's wet season, and peak turnoff periods.
The block, about 180km south of Darwin is currently used for breeding and growing-out, with some farming capability.
"Douglas Station's intrinsic value lies in its integration potential due to proximity to the capital city and amenities, major export port, and excellent access via main roads, making it an ideal property on which to trade, background, or even build a Registered Export Premises," Mr Warriner said.
Being this far north, the area receives a reliable 1100mm annual monsoon rainfall, and there is plenty of stock water provided by stretches of the Douglas River frontage supplemented by numerous creeks and permanent waterholes.
Mr Briggs said Colliers had placed other territory property under contract in the past 30 days, details for which cannot yet be released, and had strong contract interest in other NT assets currently being marketed.
Of historical, as well as practical interest to any potential buyer with their own aircraft, Douglas Station includes several disused World War II airstrips – one 2km long and in good working order – left over from northern military operations against the Japanese in PNG and the Pacific Islands.
Tenders will close Thursday 24 July.
AA Co pays $8m for holding depot
In coincidental, but unrelated property news this morning, the Australian Agricultural Co has contracted to purchase an aggregation of smaller NT properties not far from Douglas Station.
The Pell Airstrip and Tortilla properties, totalling 5500ha, have been used by AA Co on an agistment basis for a number of years.
AA Co will pay $8 million for the holdings, with settlement scheduled for July.
AA Co managing director Jason Strong said in a statement to the ASX that the acquisition of the freehold properties, just 90 km south of Darwin and 50km from AA Co's Northern Beef Processing Facility, represented a further important strategic development for the company, acting as a key hub for the company's activities in northern Australia.
The properties are situated on the Stuart Highway, providing year-round access and enabling the company to efficiently sort and hold cattle whether they are destined for backgrounding on the recently-acquired La Belle and Welltree stations, processing in AA Co's Northern Beef Processing Facility or the live export trade.
As it's name suggests, Pell Airstrip also includes a World War II airfield, similar to Douglas.