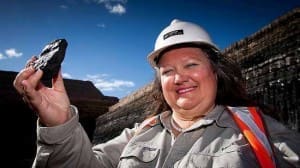 AUSTRALIA'S richest woman, Gina Rinehart is adding to her expanding northern pastoral portfolio, aiming to finalise the purchase of four Kimberley cattle stations covering more than one million hectares, the West Australian reported this morning.
Ms Rinehart and joint venture partners want to buy Moola Bulla Station near Halls Creek (394,236ha), Mt Amhurst (259,201ha), Beefwood Park (205,555ha) and Shamrock Station (178,141ha) in the Kimberley in a deal believed to be worth about $65 million.
It comes several months after Mrs Rinehart's Hancock Prospecting paid more than $70 million to grab a 50 percent share in two stations covering 450,000ha in the heart of the Kimberley.
Hancock Prospecting is already eyeing-off other properties in northern Australia for cattle production, just a week after revealing a $500 million investment in the Queensland dairy industry aimed at supplying infant formula to China.
The latest purchases are part of a joint venture with WA's Milne AgriGroup and its owner Graham Laitt, the West Australian reported.
"This is a great investment for Australia, but there are still some significant conditions which must be met before the sale goes through," Hancock spokesman Jason Morrison said.
South African interests behind the SAWA Pastoral Co are selling the stations three years after Moola Bulla manager Nico Botha threatened to shoot thousands of cattle stranded by the ban on live exports to Indonesia. Mr Botha's grim warning helped overturn the ban imposed by the then-Labor government in response to harrowing images of animal cruelty in Indonesia.
The sale hinges on the stations being compliant under WA State Government regulations on stocking density and land management.
The Hancock-Milne joint venture company, Liveringa Station Beef, controls Liveringa and Nerrima stations and the mothballed Waroona abattoir in the state's Southwest.
The Liveringa business plan is based on producing high volumes of prime beef for export, raising long-term hopes that the Waroona abattoir could be reopened. Mr Laitt has spent a decade crossing Angus and Brahman cattle and the Liveringa assets include irrigated farmland, an artificial insemination centre and a 12,000-head feedlot site.
Liveringa and Nerrima have been producing up to 17,000 cattle a year, 50pc of which are trucked to farms in southern WA as weaners after the Kimberley wet season. They are grown-out for live export or processing, but Mr Laitt has made no secret of his desire to build the business around an abattoir producing boxed beef for a range of markets.
Source: The West Australian.