FOREIGN investment in northern grazing land, and a firming in northern market prospects for live export cattle following a larger than expected final quarter Indonesian quota were among the positive signs noted by rural valuer, Herron Todd White in its latest monthly property review released today.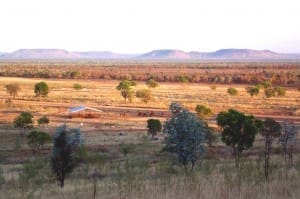 Countering that was the dry conditions that prevail across many parts of Eastern Australia and the persistently high slaughter numbers of cattle and sheep, which will do nothing for herd recovery once seasonal conditions improve.
"In all of the above the question we as valuers need to be able to answer is how this impacts on the actual market for rural property across each region and commodity," HTW's Tim Lane said.
"That is the daily challenge of a valuation professional, who has the task of assessing all the available market evidence and inspecting the recent transactions and when done:
understanding any extenuating circumstances around the sales
breaking down the sale into the components of the land, buildings and other improvements, noting there may also be stock and plant in a sale, and
considering any water and how this has been reflected in the valuation," he said.
"Out of all that come the challenge of deriving a valuation that clients can rely on for decision making."
"The factors outlined above are all valid and influence the buyers and sellers in the market. They are as at a specific point in time and very fluid," Mr Lane said
The HTW October review noted a number of recent sales and local trends in the cattle grazing land sector recently:
Northern Territory
Talk around the cattle yards this month has been the sale of Elizabeth Downs station to Chinese based Yiang Xiang Assets Pty Ltd. News of the sale was broken by Beef Central in this article. Elizabeth Downs (2055sq km) is situated 260km south west of Darwin in the Daly River district.
It was part of the Tipperary Group of stations and features 14pc floodplain (with a significant Mimosa problem) and has regularly carried over 10,000 head.
The deal settled late in August for $11.5 million (real estate only, the WIWO figure included the herd and plant and was substantially higher).
As reported earlier by beef Central, the sale of Elizabeth Downs was the first in the NT's history to a Chinese based investor.
Yiang Xiang is said they have other rural assets in NSW, Victoria and Tasmania and that they purchased Elizabeth Downs as a long-term, northern Australia food asset. The company also hopes to explore opportunity for alternative uses for the land, which is plausible, given the 30-year diversification permits now allowable due to recent changes to the NT Pastoral Land Act.
"At this stage, the price paid looks as if it will be in line with the improving optimism surrounding the strengthening demand for NT cattle from the Asian region to the north," HTW's October review said.
To put things into perspective, Elizabeth Downs will be the third sale in the last ten months to an Asian buyer following the sale of Willeroo and Riveren/Inverway to Indonesian based interests, and the the sale of the 9620ha freehold cattle depot block Edith Springs, also to Indonesian interests.
Over the same period there have been five other pastoral sales in the northern half of the NT to Australian based interests (including La Belle Downs/Welltree, Maryfield, Killarney/Birrimba, Mountain Valley and AmungeeMungee.
NSW North Coast
Jackybulbin Station, a 476ha cattle grazing property north of Maclean, formerly part of Willmott Forests, was sold for $1.4 million. This sale indicated a value broadly around $4667 per breeding cow area, based on the stated carrying capacity. Structural improvements included a house without mains power and a machinery shed.
Country NSW North East Victoria
The area is still split into two, seasonally, with the north mostly in drought conditions and the south enjoying a better than average season.
The north continues to be in dire straits for moisture with the 2014 winter crop a non-event and limited options for summer crop opportunities, not to mention the lack of stockfeed and the overall destocking of the areas involved. This continues to place pressure on cash flows.
A recent sale in the Goodooga district was a property called Minramar, located 20km south of Goodooga. The property comprises 9270ha and sold for $1.57 million to an adjoining neighbour.
Analysis shows this to be $151/ha excluding buildings. The property had some good soil types and open grazing areas and was very well watered with two capped and piped water schemes, a flowing bore and frontage to the Bokhara River.
This sale was offered as an estate auction sale and represented good buying even considering the current drought conditions.
Another recent sale in the region was Wingarra in the Bylong Valley. The property was offered for auction in Sydney by Mudgee agent Peter Druitt on 25 September and sold under the hammer for $4.175 million. The property comprises 910ha located 4km south of Bylong village. It has a groundwater entitlement of 419 megalitres and a developed pivot irrigation system covering 18ha. The balance of the country ranges from open black and grey flats to red and grey volcanic. The holding has a substantial circa 1865 sandstone homestead, a sandstone manager's residence and two other cottages. Working improvements were adequate for its current use as a beef cattle enterprise.
This sale is seen as a solid result as the buyer was an individual with an agricultural and lifestyle drive. The majority of recent sales in the Bylong Valley have been mining related as several coal projects continue to ramp-up.
Southern Queensland
For the first time in over 18 months it looks as though some graziers are in a position to capitalise on an improved cattle market after a prolonged dry period and set of circumstances which has favoured lotfeeders and processors.
While this rain has buoyed sentiment temporarily there has been little change to report in the property market. Recent sales reported include Romona, located 40km west of Moonie on the Moonie Highway. This is a 2931ha freehold mixed grazing and dryland farming property which has been on the market for an extended period. It has reportedly sold for just over $2.8 million as two separate lots, one to a local buyer and the other to a buyer from near Bollon.
A smaller 690ha mixed farming and grazing property located near Meandarra has also sold, reportedly for circa $880/ha ($355/ac).
HTW expects that more properties will be put to market in the short-term, with a growing portion of those instigated by mortgagees.
"This is an unfortunate reality facing the rural property market though allows for some good opportunistic buying for those in a position to do so," the HTW review said.
"It remains a buyer's market in southern Queensland, though the recent rain will increase the appeal of properties being put to market."
Central Queensland
A recent kick in the cattle market for fat cattle has put a degree of confidence back into the market, indicating some light at the end of the tunnel after almost two years of depressed prices. With the weather warming up there has been some growth in pastures that received rain in the last month, however generally it has only resulted in a bit of green which is not considered to have any significant impact on the continuing dry conditions.
The property market across Central Queensland has remained reasonably steady in recent months with a limited number of sales ticking over. A recent sale is the open Mitchell grass downs and gidgee scrub grazing property Woodbine (19,283ha, 10km north of Blackall) which was initially offered as a single enterprise and eventually sold in three portions with reportedly sound interest at the lower price bracket.
Another recent sale was the mixed grazing and dryland cultivation property Lynette Downs (3046ha, 30km south of Emerald) which sold at auction with firm competition.
The central western areas which have been more severely impacted by the drought have seen limited sales activity in recent months, however it has been reported that some properties that were put to the market by receivers have sold, showing there is some level of demand in a market that has been significantly affected by the drought conditions over the past two years.
There are a number of properties across Central Queensland coming up for auction or tender over the next few months including Theodore mixed grazing and irrigation properties Girraween (500ha, including 287ha of furrow irrigation, located 20km south of Theodore), Lagoona (1213ha including 400ha of irrigation, 30km east of Theodore), and Good Lands (235ha including 85ha of furrow irrigation, 8km from Theodore).
These properties will be a sound test for what has been a thinly traded market in recent years.
North Queensland
In recent months, live export prices have increased substantially. Domestic markets too are rising.
Given a reasonable wet season this year, then the management of cash flow to meet operating costs and commitments will be juggled with trying to retain heifers for restocking and herd building. This will be a challenging phase of the business cycle.
Certainly the marketing of cattle stations will benefit if offered on a walk-in walk-out basis, with cattle, HTW said.
"Already there are stakeholders looking around for stocked stations to buy. This certainly sounds easier to say, but is harder to find in reality."
"As the season wraps up for the end of year, there are some stakeholders who are in mixed minds as to how challenging the next year will be. Some say there will be a property market collapse, some say that the cattle market will fuel interest from capital investment sources (equity and debt) to stick with the industry and some say that the bottom has passed."
"These are challenging times for many, to say the least. We note that for each cattle station that sells, there is as much variation between the vendor circumstances as there is between each property."