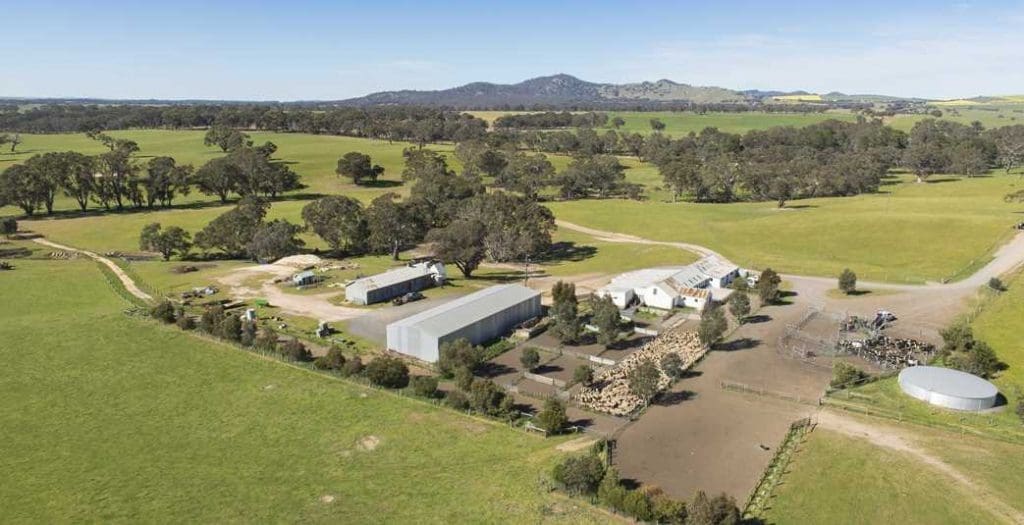 MACQUARIE Bank's Paraway Pastoral Co has extended its southern Australian footprint further south into Victoria with the purchase of showcase Western Districts grazing property, Beckworth Court.
The historic 2450ha property located north of Ballarat has been sold privately on a walk-in walk-out after an off-market listing by Inglis Rural Property. No price was disclosed, but a figure of +$15 million has been suggested.
It was only the third time since settlement that Beckworth Court, located in the Clunes district 42km north of Ballarat and 145km from Melbourne, has been offered for sale.
The holding is currently owned and operated by Kevin and Prue Riddell who have run it as a mixed sheep and cattle breeding and trading enterprise, with an estimated carrying capacity of about 30,000 DSE. Presently the property operates as an Angus cattle breeding and trading business along with a self-replacing Merino flock in addition to trade stock. About 60pc of the property is arable, allowing greater emphasis on dryland farming and potentially irrigated cropping.

Paraway will apparently utilise Beckworth Court to value-add young weaner lambs from the company's extensive Merino and crossbred sheep holdings further north in the Riverina. It will serve as a strategic large-scale growing operation supporting the company's extensive low-input Riverina sheep holdings including the recently purchased 26,300ha Rosevale Station, bought from the Litchfield family of Hazeldean.
Paraway began acquiring land in the Riverina area of NSW in 2007. Its early acquisitions included two renowned NSW sheep properties Pooginook near Coleambally and The Bulls Run near Wagga Wagga. Last year Paraway purchased the historic NSW Riverina property Ulonga, 31,000ha, for about $14m.  The company says it currently has the capacity to run 240,000 sheep, and 220,000 cattle, mostly on holdings in Queensland.
Building lamb supply chain
Paraway chief executive Jock Whittle told Beef Central that the purchase was about building Paraway's capability further down the supply chain.
The majority of the company's land in the Riverina were low-cost breeding-type assets, he said.
"Relative to other parts of Australia it is more marginal, and the reliability to finish slaughter animals is not as strong. Going down to Victoria into that rainfall and climate type is primarily about making Paraway a more consistent, reliable supplier of quality finished livestock."
While Beckworth's primary purpose would be in grass finishing crossbred and Merino lambs for slaughter, he noted that the property had also been used by present owners for cattle, and it could play a role in that space in future, given the infrastructure that existed.
While it remained heavily committed to Merinos and wool production, Paraway had gradually lifted its crossbred lamb numbers in recent years, and the purchase of Beckworth would help drive finishing capacity and more reliable supply into sheepmeat markets.
"It's something we've been trying to develop," Mr Whittle said. "Because of our current portfolio, we've been turning off mostly store stock. Often we have not been able to sell direct to the processor, but this is an opportunity to correct that."
"We want to become a more robust supply chain partner in sheepmeat, but we cannot hope to build a relationship with a processor unless we can consistently turn off in-spec slaughter animals."
Heavy capital expenditure
The Riddells have undertaken extensive capital expenditure aimed at lifting productivity on the property including water systems, laneways, fencing and overall operating improvements, making it a first class agricultural business.
Beckworth Court is mostly open, gently undulating and highly improved country offering a versatile enterprise mix and excellent water resources. Agriculturally the property boasts an excellent balance of soft open arable valley country and highly fertile, arable farming paddocks with a combination of basalt and granite soils.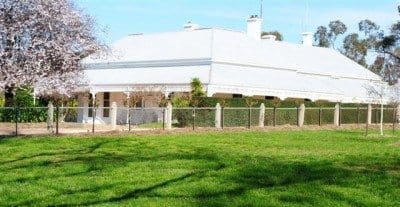 One of the historic landmarks in the district, the fully-renovated four bedroom federation homestead is located at the centre of the operation. It sits among expansive gardens and features wide verandahs, formal and informal living rooms and a modern open-plan kitchen. In addition to the main homestead, the property also features a substantial second homestead, which has also been completed renovated.
Water features include a fully reticulated trough system supplied from four bores along with numerous surface dams and double frontages to One Mile and McCallum Creeks.
Another feature of the property is fencing – heavily subdivided into 90 paddocks with predominantly new hinge-line fencing. The fencing combined with the high number of watering points allows for increased pasture utilisation, effectively lifting productivity.
The property is equipped with two woolsheds with sheep yards attached, a set of large steel cattle yards, several haysheds and a modern steel workshop/machinery shed.
Property prices aligning with cattle prices
Agent Sam Triggs said demand for large-scale viable rural assets in Victoria currently was 'extraordinary', with numerous inspections conducted of Beckworth Court from both local and international investors.
"Buyers are faced with limited opportunities on this scale," he said. "Increased demand combined with limited supply of properties is effectively putting upward pressure on land values, and in particular good quality Victorian assets," he said.
Mr Triggs suggested beef prices and land prices in the region were now starting to align.
"There is generally a lag-effect seen between the lift in the commodity price and the base asset producing that commodity, but we're now seeing strong market enquiry for beef producing assets in safer climatic regions and temperate climates."
Co-agent Jamie Inglis said cost of developing country in the region could easily run into $200-$500 per acre depending on the land, fencing, water and fertiliser history – and also the opportunity cost of time required to complete those works bringing the property up to optimum production levels.
He suggested this was one reason why Paraway may have been drawn to the Beckworth Court property. "They recognised the huge investment that's already occurred," he said.
"As further corporate and off-farm investment is directed towards agriculture and rural land, landowners with well-developed farms will achieve premiums if they choose to sell. Certainly the final sale price of Beckworth Court reflected the substantial investment in land, pastures, fertiliser, fencing, shearing sheds and livestock handling facilities."
View an aerial video of the Beckworth Court property taken via drone here.