A FORMER Northern Territory beef producer who is returning to the industry is understood to be the new owner of Moroak Station, located East of Katherine on the Roper Highway.
Moroak is one of three substantial NT cattle holdings to change hands in the past fortnight – the others being Douglas Station, near Adelaide River and Stapleton, southwest of Katherine (see this morning's separate report).
The recent injection of confidence in the NT cattle market, following the resumption of live export trade to Indonesia, this quarter's expanded live export quotas, the emergence of Vietnam as an export customer, and the prospective establishment of a trade into China have all contributed to recent buyer confidence, top end property contacts say.
While settlement is yet to take place, contracts have been exchanged for Moroak for a figure understood to have been around $17 million. The deal included just over 18,000 cattle. The buyer is understood to be a former NT cattle producer who sees the climate as right to re-invest in the market.
The property encompasses two titles – Moroak and Goondooloo – totalling about 2330sq km.
Douglas Station makes about $8 million
In other Territory property news, settlement was finalised last week for prominent Melbourne barrister Allan Myers' Douglas Station, near Adelaide River.
Buyer, Darwin veterinarian Tony Hayne, who is closely connected with the live export industry, is understood to have paid about $8 million, bare of stock. Colliers International's Thomas Warriner and Rawdon Briggs marketed the property but while confirming the sale, declined to comment on the price or buyer.
The sale of 1550sq km Douglas Station represents the latest instalment in the sell-down of assets held by Allan Myers, a prominent QC.
Last year, Chinese interests Yiang Xiang Assets Pty Ltd purchased his 2055sq km Elizabeth Downs Station for a price believed to be more than $11.5 million. About 9000 head of cattle were included in the sale – the first to a Chinese entity in the NT.
Through recent sales, Mr Myers' portfolio of northern pastoral assets is now about one-third of its earlier size. Following the sales of Elizabeth Downs, Fish River and as of this week, Douglas Station, he is now left with Tipperary and Litchfield stations, southwest of Darwin.  At one point his holdings in the region totalled close to 10,000sq km.
Mr Myers has been trying to sell his major asset, 2100sq km Tipperary, for some years, having gone close to achieving a sale to the Australian Agricultural Co around 2011, before shareholders dramatically mounted an opposition to the deal and voted the purchase down.
AA Co subsequently entered into a lease of Tipperary, but Beef Central understands AA Co is about to abandon that agreement. It's understood that Labelle Downs, not far from Tipperary, bought by AA Co in 2013, is now filling much of the northern depot role previously occupied by Tipperary.
Cloncurry buyer secures Stapleton 'for grass'
With drought again sweeping large parts of Queensland's northwest, gulf country and central west, the first signs of drought-hit cattlemen 'buying country for grass' are beginning to appear.
Cloncurry cattleman Dan Lynch has confirmed his family's purchase last week of 60,000ha Stapleton Station, southwest of Katherine.
In a rare move, no agent was involved – the deal was struck directly between vendors, Henry and Maria Townsend, and the Lynch family, who have been running cattle on agistment on Stapleton for the past two years, due to prolonged drought at home.
It's understood the sale price of $3.4 million did not include about 600 Townshend cattle, bought separately. Again the reported adult equivalent beast area value at around $960 is considered well up on recent transactions for NT properties of this type.
Stapleton was originally a portion of Scott Creek/Willeroo before it was subdivided into smaller blocks.
"I basically had our herd already here, due to conditions at home," Mr Lynch told Beef Central.
"It was for sale, and I felt if I didn't buy it, somebody else might, and I would then have had to shift our cattle again, and possibly lose some control of the process."
He said he knew of other droughted producers from Queensland's northwest who were 'looking' at buying country for grass, but had not heard of any deals yet being struck.
"We did a lot of due diligence on Stapleton, and concluded it was a very well-developed property by Katherine region standards," Mr Lynch said. "The infrastructure is second to none – what they put into it, the Townsends did well."
He said a further 5000 head of cattle from badly drought-affected Lawn Hill Pastoral Co, in the Gulf, would also be run on Stapleton until conditions improved at home.
Stapleton was previously being used mostly as an agistment hub/staging post for larger NT properties further south. Good wet-season access not too far from Darwin port was an attraction.
"The confidence in the northern cattle industry is being reflected in the recent sales activity," Herron Todd White's Darwin-based valuer, Frank Peacocke said.
"We've had more property sales recorded in the last 12 months than at any stage over the last three or four years."
Mr Peacocke suggested beast area values had in recent cases now returned to where they were around 2005 or 2006.
"But it's no free for all," a northern property contact told Beef Central this morning.
"Buyers remain extremely fussy. There's nobody out there prepared to pay a blue-sky price for the sake of securing a northern cattle station, in the current market."
"Well-presented properties with reasonable numbers of livestock, good production history and well-located are in highest inspection demand. All-weather bitumen frontage appears to be attracting a premium," he said.
The contact cited last year's Bunda Station sale in the VRD as a good example of properties that were attracting greatest attention.
"Bunda was presented absolutely immaculately. While it's a long way from a bitumen road, it was a very attractive property, with tremendous livestock and paddock return records, and very attractive."
Big aggregation in choice Roma district
In Queensland grazing property news this week, attention is focussing on a large 32,000ha aggregation near Roma which is tipped to attract widespread interest, being within arguably Australia's most well regarded grass-fed beef producing region.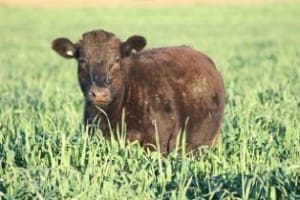 Situated between the regional centres of Roma and Taroom, Meeleebee Downs and Lighthouse are well-established properties with proven, long-run production history. Both have been progressively developed to a well-formulated plan, offering high productivity, excellent stock water and high quality structural improvements.
CBRE Agribusiness regional director Danny Thomas and Manager Chris Holgar have been appointed to sell the properties via a two-stage expression of interest campaign.
"These properties present a number of opportunities for sophisticated investors looking to invest capital in the agricultural market. Scope exists for the implementation of a more intensive backgrounding and fattening grazing model which utilises Meeleebee Downs and Lighthouse as a 'fodder factory', either on a standalone basis or as part of an integrated supply chain," Mr Thomas said.
In addition to expanding the livestock operation, Mr Thomas said there was also scope to further develop the land for a variety of uses. The further development of current and potential cultivation land including large-scale irrigation infrastructure is one future possibility, as well as the potential establishment of a feedlot.
The aggregation benefits from highly secure stock water infrastructure comprising numerous bores, dams and turkey nests reticulated to an extensive network of concrete stock troughs, which ensure outstanding pasture utilisation.
Strategically located livestock handling facilities coupled with a network of well-maintained access roads ensuring ease of stock movement both, within, and to and from Meeleebee Downs and Lighthouse.