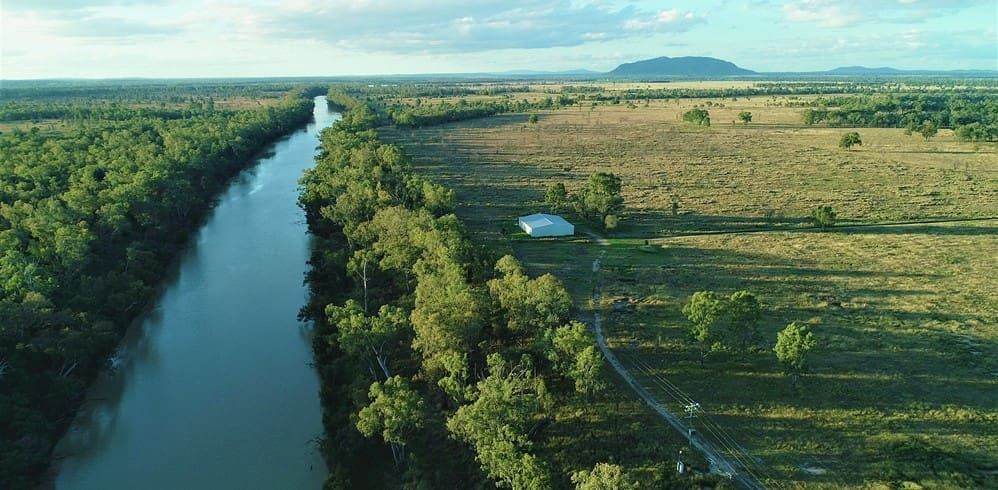 FIVE separate Queensland-based family and corporate buyers have paid a combined $100 million for the large-scale THF beef cattle and irrigated fodder portfolio in Central Queensland.
The highly prized properties, spanning 21,900ha in the Fitzroy Basin west of Rockhampton, provide scale and diversity within a strategic location in close proximity to Australia's beef capital.
The aggregation comprises:
1917ha The Pocket, Gogango, including 5364MgL water allocation
3859ha Mostowie, Baralaba, including 688MgL water allocation
3168ha Bindaree, Moura, including 1135MgL water allocation
3744ha Karamea, Moura
9212ha Lucie Station, Bluff (near Blackwater)
While the identity of four of the five buyers remains confidential, this morning the large-scale investor Rural Funds Management announced on the Australian Stock Exchange that it had secured The Pocket for $13.8 million.
RFM owns the neighbouring 7600ha breeding and backgrounding cattle property Comanche where it recently began planting macadamia trees.
A government project due for completion in 2023 is raising the crest height of the nearby Rookwood Weir by 700mm, which will increase water security for irrigated Gogango properties, including The Pocket, on the Fitzroy River.
THF Portfolio
The THF Portfolio has been owned by THF Finance Pty Ltd, an offshore European family office, which invested extensively into water infrastructure and development during its ten-year ownership of the properties.
On three of the five properties, centre pivots are used to irrigate leucaena and hay under-sown with improved pastures.
In addition, an extensive pasture improvement program has been conducted across the five properties, including blade ploughing, spraying for regrowth and aerial seeding with buffel.
While the owners decided to divest the THF portfolio as part of an internal strategy, they also chose to take advantage of the current strong market fundamentals.
The five properties, boasting more than 35km of Dawson and Fitzroy River frontages, have been operating as a beef cattle enterprise, running around 7500 adult equivalents, along with irrigated fodder production.
At the time of sale, all properties were presenting well after receiving between 50mm and 75mm of rain.
Sydney-based Oxley Capital Partners, charged with the divestment program, offered the diverse portfolio as a whole or individually by way of a two stage expressions of interest program which closed on September 17.
Managing director Ben Craw said each property is now under contract to five separate entities – mostly family-owned local operators with interests in Central Queensland.
"The overwhelming majority of interest came from domestic bidders looking for scale and grass. There was appetite for the portfolio collectively, as a combination, and also from offshore bidders," he said.
Infrastructure and plant and equipment were included as part of the sale program, with cattle available by negotiation.
RFM purchases Baamba Plains in separate deal
Today, Rural Funds Management also announced it had paid $32 million for the 4130ha cropping property Baamba Plains near Springsure, including 20,733ml of water entitlements which are currently under-utilised.
RFM said it plans to use the surplus water entitlements to improve the productivity of both The Pocket and Baamba Plains. This will include expanding the irrigated cropping areas and increasing cattle carrying capacity through pasture improvement.
Rural Funds Management Limited (RFM) is one of the oldest agricultural fund managers in Australia.
Established in 1997, it manages about $1.5 billion worth of agricultural assets in three investment funds, for which RFM is the responsible entity. Assets are located across New South Wales, Queensland, South Australia, Western Australia and Victoria.
RFM's largest fund under management, the Rural Funds Group (RFF), is an ASX-listed real estate investment trust. RFF owns a $1.2 billion portfolio of diversified agricultural assets including almond and macadamia orchards, vineyards, water entitlements, cattle and cropping assets, all of which are leased to quality tenants.
The fund controls 21 cattle property assets covering 680,000ha of breeding and backgrounding country, as well as ownership (and leaseback) of the five JBS feedlots, with one-time feeding capacity of 150,000 head. The property assets had an estimated value at June 30 of $398 million. Key assets include the Camm Agriculture Group aggregation.
The company employs over 100 staff in fund and asset management activities.