LARGE Central Queensland breeding property Galloway Plains sold under the hammer for $15 million at auction in Rockhampton this morning.
The listing has provided a good test of the demand for larger-scale Central Queensland breeder country, which has been a thinly-traded market segment recently – due to lack of supply rather than lack of demand.
Located 40km west of Calliope and 125km south of Rockhampton, Galloway Plains is one of the largest properties in the district at  13,076ha (32,311ac).
Part of the reason for its large size is its early settlement.
Offered on behalf of Galloway Plains Pastoral Co, which has owned and operated the historic property for 164 years, the buyers were fourth generation descendants of the original owners and Galloway Plains shareholders, Jim and Chris Neill-Ballantine and family. The new owners will continue to operate Galloway Plains as a family beef operation.
Marketing agent Richard Brosnan, Ray White Rural Rockhampton, described the result as a "really strong sale", with four registered bidders, and five formal pre-sale inspections. The auction itself draw a strong crowd of onlookers.
Mr Brosnan said it was difficult to make comparative judgements against values back at the market peak in 2007, because so little country of this type had changed hands, but he agreed it was probably 'at least fully firm' on 2007 market values for CQ breeder country.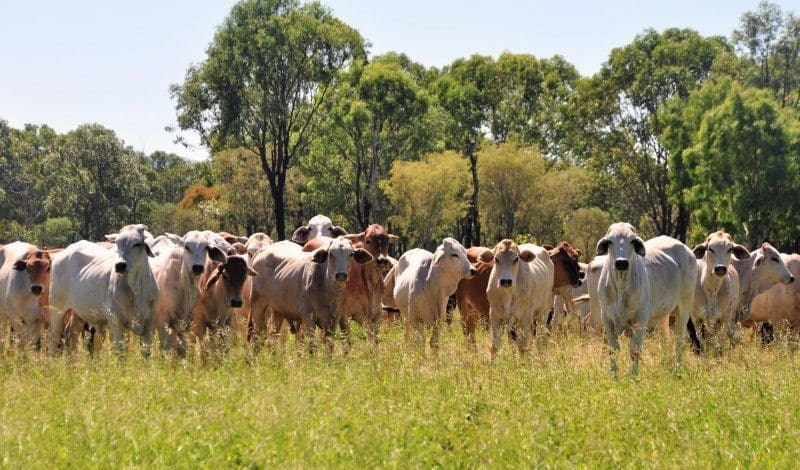 The sale included 4300 branded cattle, including 3300 adult cattle plus branded calves. The herd has a quality Brahman base, with some Charolais infusion. Calves previous were moved onto a second company holding at Baralaba for backgrounding, but that property was sold six weeks ago.
In rough calculations, the price represented a bare value of around $11 million, giving an area value of around $338/ac or $745/ha.
The country was in great order, after earlier March/April rain following Cyclone Debbie.
Galloway Plains is mostly breeding country, divided into 22 freehold and one leasehold title. The land comprises near level box and broadleaf ironbark flats, broken by creek lines and low ridges timbered with broadleaf / narrow leaf ironbark, bloodwood and Moreton Bay ash. Soils range from sandy loams on the creek flats to lighter gravelly ridges.
Pastures are mostly improved Rhodes grass and stylos, supporting bluegrass and native spear grass.
The property is internally subdivided into about 15 main paddocks plus, 5 holding paddocks.
Galloway Plains is well watered with access to metered water from the Awoonga Dam Pipeline Scheme which is reticulated onto the property along with a total of 40 dams and access to permanent and semi-permanent waterholes in Scrubby, Oakey and Station Creeks.
Improvements include five residences, butcher's shop, truck shed, workshop and two sets of cattle yards.
Click link below to view a short video