HEWITT Cattle Australia has bought a large Certified Organic beef enterprise centred around Narwietooma Station north of Alice Springs, creating one of the world's largest organic beef aggregations.
The Narwietooma aggregation also includes neighbouring properties of Glen Helen, Derwent and Napperby, and totals around 11,200sq km.
'We're pleased to be adding the Narwietooma Aggregation to HCA's existing Alice Springs property portfolio which currently includes Ambalindum and Numery Stations, located further east," HCA chief operating officer Ben Hewitt said in a statement.
'We have continuing confidence in the strategic value of building production capability in Central Australia.
"Considered one of the largest contiguous Certified Organic land parcels in the world, this is a vast and unique holding located in a region ideally suited to organic beef production. Central Australian cattle require minimal inputs and are provided with large areas of natural pasture to graze, which means that the Organic segment perfectly suits the production methods of the region," he said.
The addition of further certified organic capacity also reflected HCA's confidence in its future growth, Mr Hewitt said.
'Our business is rapidly moving toward a fully integrated supply chain model. We have a great network of producer partners that are essential to our business, but to achieve our growth ambitions, we need to increase our own Organic production capacity in partnership with those producers.
"The acquisition of the Narwietooma aggregation, along with several other exciting initiatives currently underway across the supply chain, will support greater continuity for our global customers, and in turn support future growth and opportunity for our supplier network," Mr Hewitt said.
HCA's Narwietooma aggregation has a conservative estimated carrying capacity of 35,000 head. The combination of size and diversity of land types allowed the full range of production activity, enabled by the high standard of improvements across all properties within the group.
"The previous owners have been excellent stewards; HCA is very fortunate to be acquiring properties in such good condition. We really appreciate their efforts, and it gives us every chance of continued success into the future," Mr Hewitt said.
In 2017, Hewitt Cattle Australia took a strategic investment in Certified Organic supply chain, Arcadian Organic, based in Toowoomba, regarded as the nation's largest Certified Organic beef producer.
North QLD grazing property to become state's newest national park
Meanwhile a North Queensland grazing property has been purchased by conservation interests to become the state's newest national park.
The 35,300ha grazing property known as The Lakes, north of Hughenden, was described in a Queensland Government release as a 'multi-million-dollar purchase, which would increase Queensland's protected area estate.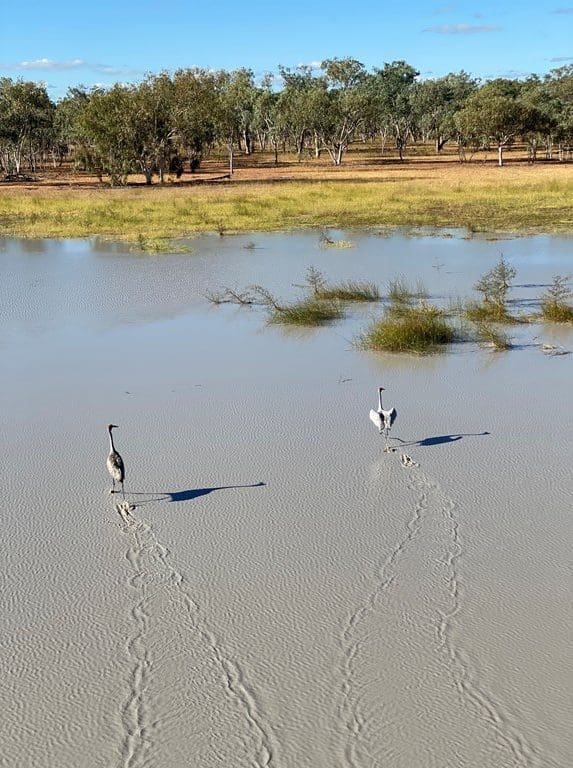 Environment minister Meaghan Scanlon said it was the largest acquisition yet undertaken under Queensland's Protected Area Strategy 2020-2030, a major plan to support the growth and management of national parks and other protected areas.
"This purchase will ensure the future preservation of valuable, undisturbed ecosystems and habitat that will link up to an existing network of protected areas in the region," the Minister said.
Ms Scanlon said the purchase price was commercial-in-confidence but thanks to the work of The Nature Conservancy Australia, the Queensland Government received financial support to secure the land.
The Department of Environment was first approached by The Nature Conservancy proposing a joint protected area acquisition with The Wyss Foundation (a private US charitable foundation) in late 2019, Minister Scanlon said. The Wyss Foundation committed up to $US1.829 million towards the purchase.
The Lakes straddles the Great Dividing Range and is within the Einasleigh Uplands and Gulf Plains Bioregions.
"These regions have plains, woodlands, escarpments, creeks, and unique high-altitude lakes that support a wide range of important flora and fauna," Minister Scanlon said.
The acquisition would also protect the headwaters of the South Gregory River which feeds into the Great Barrier Reef catchment.
As part of the process to dedicate the land as protected area, Queensland Parks and Wildlife Service will engage with Gudjala First Nations peoples' and look to provide opportunities for involvement in land conservation and indigenous cultural heritage management, the government statement said.
"As the property transitions into a national park, we will also explore ways to make it accessible for visitors who will definitely want to experience the incredible lakes, birdlife and walks for themselves," she said.
The Palaszczuk Government is investing $28 million over four years for public protected area expansion with more than 14 million hectares of the state now protected in some way.
"Careful negotiations are currently underway on other high-quality properties as I am determined to increase our protected areas to deliver a world-class protected area system for our state," the Minister said.