WHILE the eastern half of Queensland generally received good rain from Cyclone Debbie in March, areas west from about Roma largely missed out, and are facing a dry outlook for winter.
The lack of rain in far western Queensland is now becoming a real concern for many graziers, Herron Todd White's Stephen Cameron and Doug Knight suggest in this month's HTW property report issued earlier today.
"With the season not necessarily showing too many positives, it is considered that the property market for western Queensland has not recovered to the same extent as that of country further east," the pair said.
"We are seeing the same holdings now marketed for extended periods."
Some larger holdings such as Noorama Station, a 105,000ha showcase property 110km southeast of Cunnamulla in the heart of the famed 'Salad Bowl' region, has recently been put to the market under an offers-to-purchase campaign by Elders.
Noorooma is renowned for its sheep and wool production along with cattle breeding, backgrounding and finishing.
With a carrying capacity of 80,000+ DSE, Noorama features an excellent balance of soil types, comprising open Mitchell grass plains and beneficial safe flood-out Coolibah country, interspersed with a mix of sweet gidgee and brigalow country.
"Quality, well developed properties such as Noorooma will provide a good gauge of the corporate appetite for larger scale grazing country which to date has been mostly scrub type country," Mr Cameron said.
"Any evidence that we are seeing stronger values are generally for better quality country or very well developed holdings in the region," he said.
"Marginal type country is still finding it difficult to achieve interest to get over the line and achieve a sale."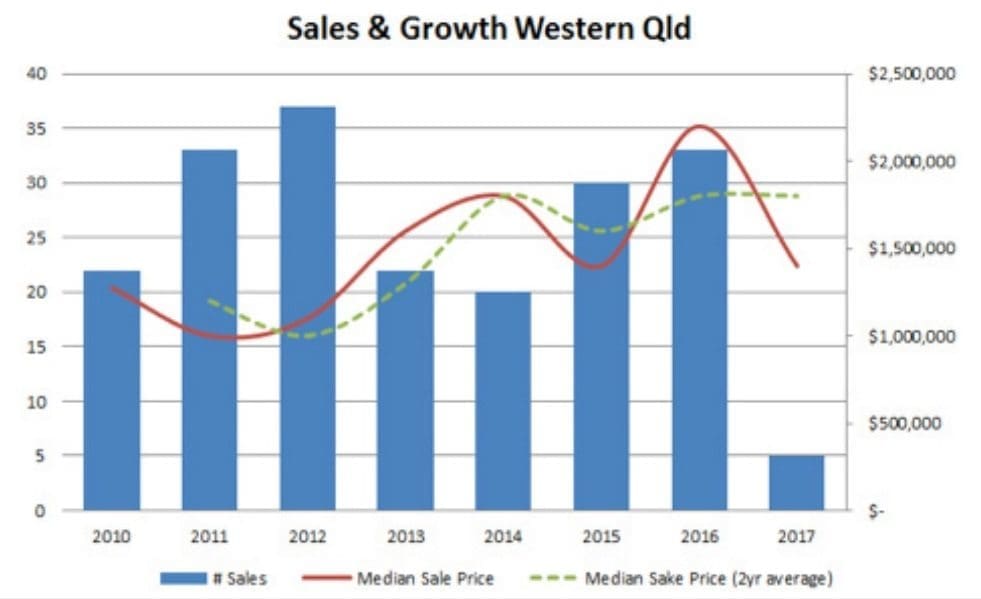 HTW's graph published above indicates the market for country above 3000ha in size west of Roma to the NT border, which is presently showing steady sales volume and only a slight increase in the median value trend, the company said.
"With this in context, the comparison to country further to the east has broadly reflected an increase in the median value of between 10pc and 30pc over the past 12 to 18 months," HTW said.