PREMIUM grazing property values in the prime beef production area of northern NSW have plateaued in the past 12 months, following five or six years of consistent rises.
In a report issued this week by Colliers International, director Shaun Hendy said the main drivers for value growth in the region included demand for premium beef such as Wagyu and longfed Angus, increased global demand for meat protein, strong re-stocker demand, and strategic acquisitions for value chain management.
"Currently seasonal conditions are extremely challenging across most of the eastern states with the majority of NSW and QLD experiencing extreme drought. Despite this, the market has remained relatively strong for cattle suitable for processing or entry into feedlots, not repeating the extreme drop in values for cattle that occurred during the extended dry period affecting eastern states in 2015," Mr Hendy said.
Prices for cattle entering the feedlots had softened due to high grain and roughage costs, while prices for drought-affected cattle were being influenced, as the store market relied on these cattle returning to the paddock to continuing growing out.
"The issue is the reliability of feed to get cattle to that next stage. Challenges for producers, when more normal seasonal conditions return, will be obtaining stock to rebuild herds and generate cash flow," Mr Hendy said.
"We anticipate that some of the grazing land may change from cattle to sheep production, because of re-stocking costs after drought."
The premium beef market segment comprising Wagyu and Angus had softened after an oversupply of Wagyu-derived cattle late 2017 and early 2018 (see Beef Central's earlier report).
"Quality variation within Wagyu feeder cattle is a major issue, along with a lack of existing relationships between producers' established supply and value chains, making it difficult to optimise the value of these cattle," Mr Hendy said.
"Despite this, the market for properties in northern NSW that are geared towards premium cattle production are still in demand, with buyer activity principally consisting of existing operators expanding their capability. These buyers, importantly, are part of established value-chains, some with long-term relationships that assist in meeting suppliers' market demand for processed beef or live export."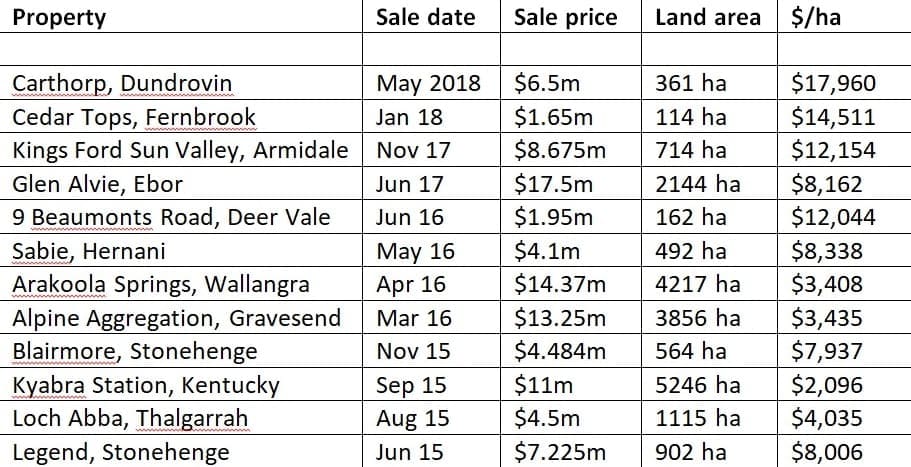 Productivity determines value
Current prices for premium beef producing properties in the northern NSW region were very high on a $/ha basis, however the $/adult equivalent metric maintains very strong relativity with other beef cattle regions, Mr Hendy said.
"This indicates that productivity is a strong determinant of value. It is recommended that for vendors or property owners seeking to optimise value, that they maintain detailed records of stocking rates, on a regular basis, by livestock class and number, to demonstrate capability."
Mr Hendy said Colliers considered that the market for high quality and high performance grazing land in reliable rainfall regions would remain strong for the foreseeable future.
"However we do expect that values may plateau and not experience the same level of growth experienced in the last six years," he said.