A WELL-DEVELOPED smaller commercial feedlot on Queensland's Southern Downs region has been listed for sale – unlocking an attractive investment opportunity in one of the state's most sought-after agricultural regions.
Glen Gowrie feedlot was developed from scratch in 2009 by North Queensland beef producers Robyn and Benn Brown, as a finishing and drought mitigation tool for cattle bred on their Hughenden district breeding property, Bogunda.
The feedlot has finished up to 2500 head of Bogunda cattle per year for the Brown family, mostly under 100-day programs, but also including adding weight to cull cows. Over the past eight years the feedlot has also provided custom-feeding services intermittently for other cattle producers, with clients stretching from Julia Creek and Winton to Cunnamulla, Roma, Hughenden and Rockhampton.
Glen Gowrie is located between the regional centres of Toowoomba and Warwick.
In addition to the modern feedlot infrastructure with a licensed capacity for 2280 Standard Cattle Units, the holding includes 349ha of good red and black farming country used for dryland and irrigated cropping. The country has previously grown oats, barley, lucerne, corn and wheat, mostly for silage for the feedlot.
The property includes ample on-farm water storage, with a 470ML water allocation for feedlot and irrigation purposes pumped from bore and river sources. The holding has a 4km frontage to the Condamine River.
The feedlot and yards are connected to a gravity-fed water tank. The yards facility adjoins the feedlot via a laneway system and contains a pneumatic lane draft, covered vet crush and scales, and numerous holding pens with connected water.
Additional improvements include a four-bedroom managers' house, workshop, weigh-bridge, grain silos and grain storage, and various other structures.
The property offers future growth opportunity, including further development of dryland areas with centre-pivot irrigation, as well as expansion of the feedlot and acquisition of neighbouring properties to increase the footprint.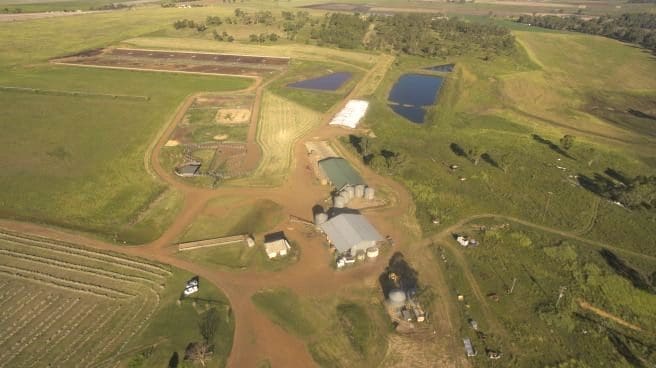 CBRE's Simon Cudmore and Thomas Warriner are handling the sale via an Expressions of Interest campaign on behalf of Robyn and Benn Brown.
Mr Warriner said that the location close to major meat processing facilities and the Darling Downs grain belt made Glen Gowrie an excellent opportunity to secure a modern feedlot in a renowned agricultural location.
Mr Cudmore said the property's position in the sought after Southern Downs region would be a key selling factor.
"The surrounding area is well-known for agricultural pursuits, including irrigated and dryland cropping, lotfeeding, and beef and sheep production," he said.
"Glen Gowrie offers both flexibility to use the feedlot aspect in the traditional way, or use it as drought mitigation for a large breeding enterprise and value-add stock," Mr Cudmore said.
"Add in the cropping flexibility – whereby producing your own grain, hay or silage at the owner's discretion – this property is a highly productive enterprise that has strong investment appeal."
Last September, Beef Central reported a surge in feedlot property assets hitting the market, as the cattle market hit its 2016 high-point. The trend, which started in 2015, followed a lengthy period when very few feedlot assets changed hands across eastern Australia.
Expressions of Interest on Glen Gowrie close on May 25.