CONFIRMING months of speculation, Australian Food & Agriculture's NSW property aggregation including the iconic Boonooke Merino operation near Deniliquin has been put on the market, at an asking price said to be around $330 million.
The portfolio (see map below) includes a prize collection of 18 NSW grazing and farming properties covering 226,000ha around Deniliquin, Hay and Coonamble, plus 100,000 elite Merino sheep, 4000 Hereford cattle, extensive dryland and irrigated cropping, large water entitlements and other assets.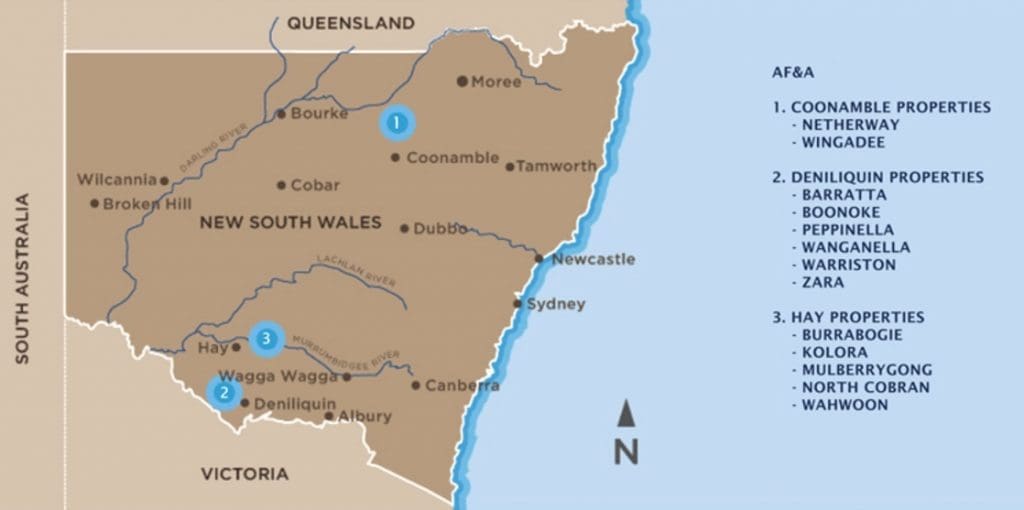 AFA's offering of its Wanganella, Peppin­ella and Boonoke stations continues the history of a Riverina pastoral empire dating back to the 1880s under the FSF Falkiner group.
The Australian confirmed this morning that the aggregation has been 'quietly' put on the market by its five owners, lead by Sydney stockbroker Colin Bell.
The holdings are being sold because the five part-owners — Mr Bell and his two brothers Andrew and Lewis from the Bell Financial group, plus Bell managing director Alastair Provan and US hedge fund manager Ray Dalio — are all aged 70 or older.
"We're selling all of the company or a share of it, but the properties will not be split up and sold separately," Colin Bell told the Australian.
"We are being selective about who we approach — they have to be high-value individuals or companies both here or overseas with an interest in Australian agriculture — and what we are selling here is a profitable business, not just individual farms."
The holding company, Australian Food and Agriculture, released its financial results recently, reporting sales of $55m in 2015-16 and a pre-tax profit of $25m. Due to economies of scale, the combined business had made a profit in 13 of the past 16 years.
In addition to its woolgrowing operations, the AFA group produces cattle and fat lambs, stud rams, cotton, rice, cereal and pulse crops.
Key properties in the portfolio include six properties at Conargo — Barratta, Boonoke, Peppinella, Wanganella, Warriston and Zara, covering 123,000ha; five at Hay — Burrabogie, Kolora, Mulberrygong, North Cobran and Wahwoon, totalling 57,023ha; and the 44,181ha Wingadee and Netherway properties at Coonamble.
The asset also includes 11,000ha of high-value irrigation country used for rice and cotton, 60,000 megalitres of water entitlements from the Murrumbidgee and Murray Rivers, 22,000ha of dryland cropping country, 4000 Hereford breeding cows and a historic homestead on Boonoke.
The deal will include a covenant that stops the historic Wanganella and Boonoke stations being sold separately or their sheep studs being dispersed, the Australian reported.
The Bell family purchased the Conargo district properties from FS Falkiner in 2000 for a reported $40 million.
"We are in no rush to sell; we will only be selling it as a combined business," Mr Bell said.
Rumours of a possible sale for the Boonooke aggregation started to surface late last year.