S. Kidman & Co has already received significant buyer interest from within Australia and overseas, the company said this afternoon as it moves forward in the sale process with the release of an Information Memorandum to potential buyers.
The Memorandum 'briefing pack' issued today  details key information about the company, one of Australia's largest cattle producers, including its 11 cattle stations and feedlot spanning more than 100,000sq km across regional South Australia, Western Australia, the NT and Queensland.
The memorandum release follows the announcement in April by family shareholders that the business would be offered to the market as a going concern, free of debt.
Accountants Ernst & Young will manage the tender process. Adelaide Managing Partner, Don Manifold, said the parcel of 'blue-ribbon properties' offered a rare opportunity to obtain a large-scale agricultural business in excellent financial condition, with a balanced and diverse property portfolio.
The release of the Information Memorandum was an important step in the sales process, he said.
It details all aspects of the S. Kidman & Co operations, including financial performance, a livestock and property overview, details of management systems and the senior management team, together with a synopsis of key market trends.
The business offered an opportunity to capitalise on the significant growth trends impacting both the Australian and global beef cattle industry, Mr Manifold said.
"The properties have been strategically acquired and developed over the last 116 years to create a unique portfolio, delivering long-term shareholder returns.
"The integrated property portfolio provides flexibility in managing cattle movements between locations to maximise the use of forage resources, mitigate the impact of poor seasons and provide access to a range of end markets," he said.
The company's property portfolio includes Anna Creek Station (SA) which, at 23,000sq km, is the largest single-lease cattle property in the world. Other holdings are Durham Downs, Durrie, Glengyle, Morney Plains, Naryilco and Rockybank (QLD), Innamincka, Macumba and Tungali feedlot (SA), Helen Springs (NT) and Ruby Plains (WA).
In total, S. Kidman & Co consists of 12 enterprises, including ten cattle stations, a bull breeding stud and a feedlot, generating approximately 15,000t of beef annually.
At the end of March the company carried 151,000 head of branded cattle which was lower than the long term average carrying level due to the Queensland drought. Including unbranded cattle totalling an estimated 35,500 head, the prospectus arrives at an estimated total herd of 187,000 head, which it valued (at March 31) at $117 million.
Property is valued at the same point in time at $197.3 million, as part of net assets valued at $298 million.
"Given the positive market dynamics, particularly growth in the Asian middle class, the well-managed herd, genetic innovation and the experienced management team already in place, this is an opportunity for an astute investor to strategically position themselves as one of the world's foremost beef producers," Mr Manifold said.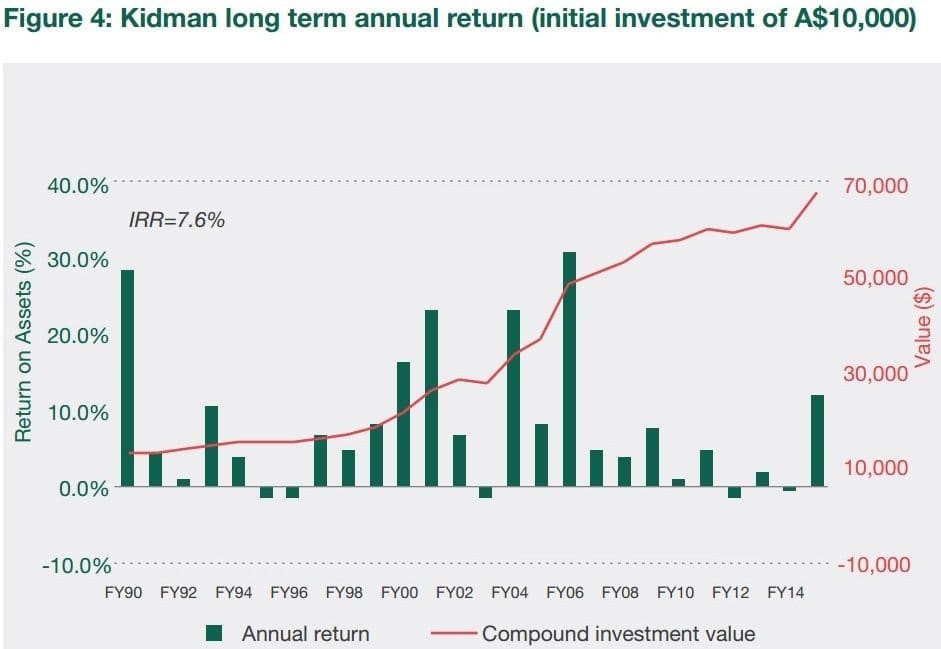 Market dynamics
Under a memorandum section titled 'Positive Market Dynamics' it suggests Kidman is ideally placed to benefit from a number of positive market trends that are driving an increase in demand whilst global supplies remain constrained.
"Recent market conditions have resulted in a step change in cattle prices achieved over the six months to May 2015 (43pc uplift in the EYCI since end of Nov 14), a trend that is forecast to continue," the document says.
Among the key factors listed as driving favourable industry winds:
Economic development of Asian nations – The rising affluence and growth of the middle class in developing nations, including China, will drive a greater consumption of higher priced protein, such as beef, from which Australia is ideally located to benefit.
Free Trade Agreements – Recently signed FTAs with large boxed beef importers including China, Japan and Korea are reducing the cost of Australian beef within importing nations, as import tariffs are phased out over the next 15 years.
Australian premium beef – Australia continues to be seen as a reliable supplier of high quality premium beef as a result of its disease free status and sustainable and innovative production techniques.
Global supply constraints – As a result of low cattle herd numbers across the major producing countries, such as the US and Australia (being two of the top five largest exporters), supply constraints are expected in the medium term. Following drought conditions and subsequent high turnoff rates, the Australian herd level is estimated to be at a 30 year low whilst the US herd is at record lows. This supply and demand imbalance has already resulted in significant price uplift.
Economies of scale
The report also stresses the advantage of economies of scale in the cattle industry, makes the point that the Australian cattle market is "highly-fragmented, with only a handful of participants of a similar scale to Kidman. Kidman's large scale pastoral landholding and centralised head office function allows fixed overhead production costs to be spread across greater volumes, thereby reducing unit costs and maximising operating efficiencies."
In a section titled 'Benefits of the Kidman property portfolio', the document suggests that while each of the Kidman properties are highly regarded on a standalone basis and have premium reputations in their respective regions, collectively, the portfolio represents a prized group of strategically selected and fully integrated assets, offering the following key benefits:
Widespread geographic footprint to allow flexibility in cattle flows – enabling the Company to manage adverse seasonal impacts and provide access to pasture and flood opportunities across the portfolio.
Strategic locations – provide access to a range of fattening options and markets which enable the Company to maximise the sale prices achieved.
Low unit production costs and economies of scale.
Tungali Feedlot property – enables intensive short term finishing of cattle to deliver weight gains prior to distribution to end markets.
In-house bull breeding unit at Rockybank – allows full control over the genetic quality of Kidman's bull breeding to promote superior herd productivity.
Potential buyers have until mid-July to submit non-binding indicative offers, with a short list of parties to be taken through to undertake detailed due diligence.
The full Information Memorandum is a confidential document accessible by prospective buyers once they sign a confidentiality agreement.