AUSTRALIA's biggest landholders Viv Oldfield and Donny Costello have paid more than $70 million for one of the largest Certified Organic cattle stations in Central Australia.
The 733,700ha Mt Doreen Station, established in 1932 by William and Doreen Braitling, is located on the Tanami Road (linking the Kimberley region to Central Australia), around 380km north-west of Alice Springs.
In February this year, Jesse Manuel and Rawdon Briggs from Colliers Agribusiness were appointed to handle the walk-in, walk-out expressions of interest sale.
At the time, Mt Doreen was anticipated to make more than $46 million on a bare basis, excluding livestock, plant and equipment with pastoral land values in the region achieving well in excess of $2000 per adult equivalent.
Boasting quality and economies of scale, Mr Manuel told Beef Central at the time that Mt Doreen sat in a market of its own and would attract a premium price.
While he was unable to disclose the buyer or the price paid, rumours about the purchase have been circulating for several months.
According to the Northern Territory Land Titles Office, Mt Doreen sold for $34.7 million, which represented land and fixed improvements only.
At around an estimated $2000 a head, the 18,000 cattle added a further $36 million to the price tag, pushing it above $70m.
Over recent years, the Braitling family has made a significant investment into the property's livestock watering points, with the transition to solar bores and steel header tanks now 80pc complete.
The country on Mt Doreen Station is generally open and flat to gently undulating, consisting of red earth mulga plains, alluvial plains and creek systems, sand plains, scattered alluvial basins and claypans.
It is interspersed with areas of spectacularly formed ranges that provide run-off water feeding into creek systems and broader flood-outs.
The property consistently carries up to 23,000 adult equivalents, but with highly responsive herbage and diversified land and creek systems, the breeder block is capable of running well over 30,000 head of cattle after heavy rain events.
Included in the sale were more than 18,000 head of mixed age, branded cattle (a Poll Hereford herd with Droughtmaster, Santa Gertrudis and Angus influence), however the number of cleanskins is also believed to be significant.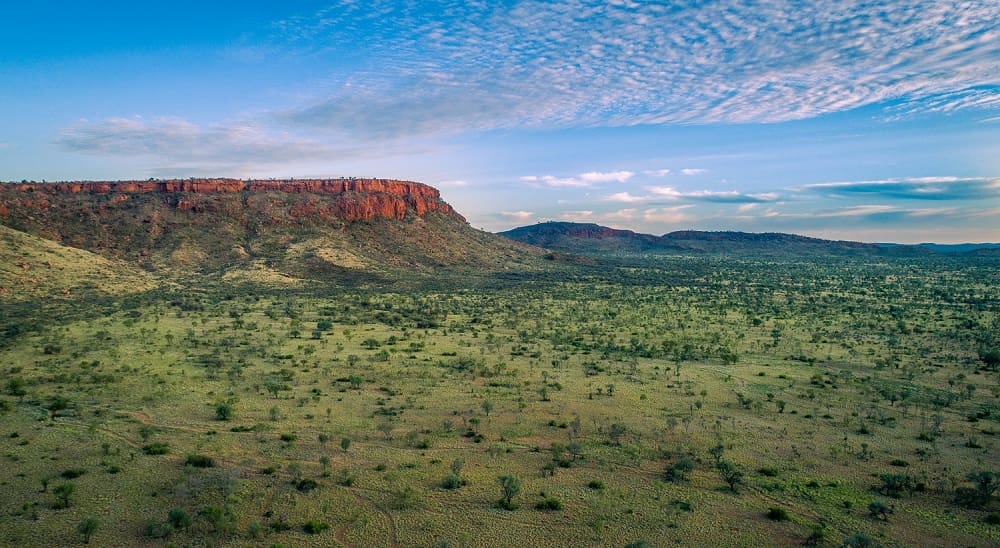 Crown Point Pastoral
Late last year, the prominent Alice Springs cattleman Viv Oldfield and Donny Costello from Crown Point Pastoral Co overtook Gina Rinehart to become Australia's biggest landholders, by area. Pastoral companies like Hancock, AA Co and CPC run more cattle, but do it on more productive country, hence the scale of Crown Point's landholdings.
The joint venture owns 14 properties spanning close to 9.5 million hectares in Western Australia, the Northern Territory and South Australia.
Late last year, the pair paid around $70m (including 25,000 head of cattle) for Hancock Agriculture's 480,000ha Ruby Plains Station and 316,000ha outstation, Sturt Creek situated in the Kimberley region of Western Australia.
They also paid an undisclosed sum for Kidman's 3500ha Phoenix Park live export depot and holding facility near Katherine, 1.1 million ha Macumba and 1.355m ha Innamincka Stations, in South Australia's north-east.
Two years ago, he added the 324,400ha Maryvale Station, 100km south of Alice Springs, to his extensive landholdings in Central Australia. The $15m sale included 10,000 head of cattle.
Maryvale is located adjacent to Mr Oldfield's 164,100ha Deep Well Station, 60km south-east of Alice Springs.
They also jointly own the 296,000ha Lilla Creek Station on the SA/NT border, the 1.05m ha Andado Station (situated on the western edge of the Simpson Desert), the 593,600ha Horseshoe Bend Station (160km from Alice Springs) and 660,000ha New Crown Station (460km south of Alice Springs).
In 2018, Mr Oldfield and Mr Costello secured the 16,500sq km Clifton Hills Station, Australia's second largest cattle property, located in South Australia's north-east corner. At the time, it was suggested the pair paid around $45m to $50m including 21,500 head of cattle.
The pair also own the 662,500ha Pandie Pandie Station (which neighbours Clifton Hills) in South Australia.