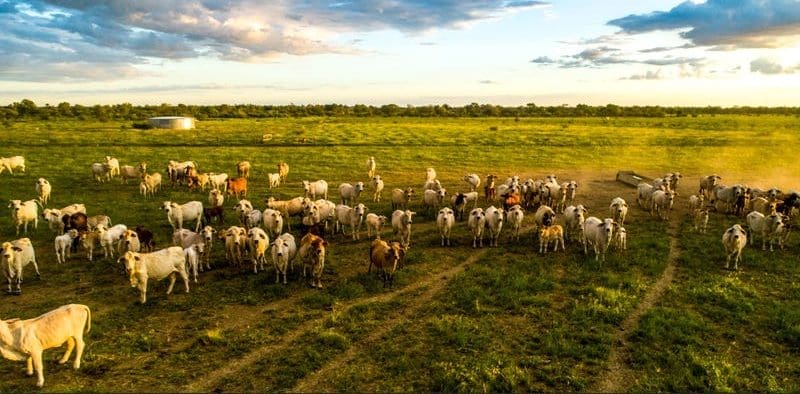 The Northern Territory's 10,034sq km Walhallow Aggregation has returned to the market after a Sydney-based fund manager failed to settle the contract of sale.
The 3580sq km Walhallow Station and 6454sq km Creswell Downs are situated on the northern end of the Barkly Tableland, east of Daly Waters, 994km from Darwin Port and 1508km from Townsville.
Last month, the Australian Financial Review reported that Brett Blundy had sold the Walhallow Aggregation for a single property record $250 million.
Click here to view AFR article "Brett Blundy sells Walhallow cattle station for record $250m"
However, Rawdon Briggs from Colliers Agribusiness, which was charged with marketing the asset, told Beef Central the AFR story was incorrect.
Beef Central examined the rumours of a sale at the time and decided they did not have enough substance to report on. It was widely suggested at the time that carbon was an important driver of the investor's interest.
Unprecedented development & opportunity
Walhallow and Cresswell were offered to the market in February by Australian billionaire Brett Blundy's private investment firm, BBRC.
Mr Blundy purchased Creswell from Macquarie's Paraway Pastoral Co in 2015 for a then Australian record (for a single cattle station) of about $100m, including 48,000 head of cattle.
It is understood Mr Blundy's decision to sell earlier this year was prompted by the strong investment demand for beef cattle assets.
At the time, Rawdon Briggs and Jesse Manuel from Colliers Agribusiness were appointed to sell the aggregation via a two-stage international expressions of interest campaign closing in April.
Mr Briggs reported strong interest, with several offers on the table above $200m, mostly from institutional high net worth types looking to buy scale in the Territory.
The figure reflected appreciating land values, the completion of water and fencing works and the high number of cattle. Live export and Queensland slaughter cattle prices reached record highs during February.
Yesterday, Mr Briggs told Beef Central the Walhallow Aggregation is now being re-offered to the market.
"All underbidders are now active in the data room and we welcome any wider market interest seeking a scalable well-developed beef operation," he said.
After the Sydney-based fund manager failed to settle under the contract terms, vendor Brett Blundy expressed his disappointment.
"It's always unfortunate when a transaction falls over, but the buyer could not perform, so we move on. This is a very attractive asset which continues to generate strong buyer interest."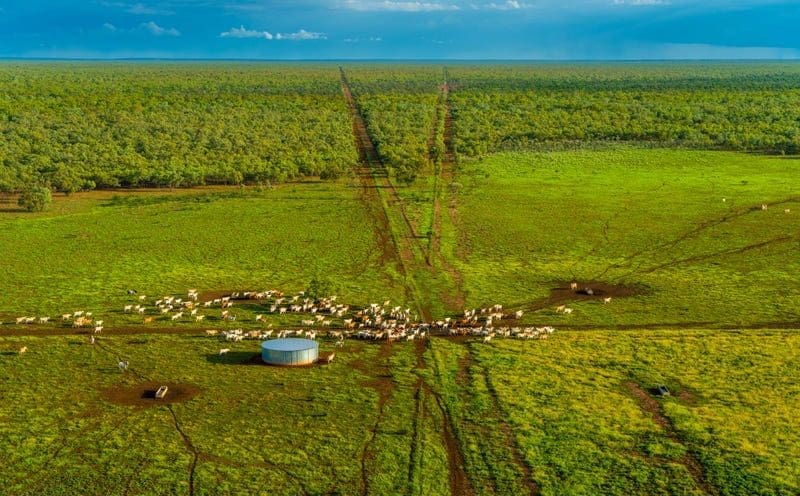 Intensive developments
The institutional-scale beef enterprise, operating an exceptionally low-cost beef production model, boasts unprecedented development and opportunity.
Over the past seven years, the highly improved Walhallow Aggregation has been subjected to intensive development, focused on the provision of additional watering points and subdivisional fencing aimed to expand carrying capacity by spreading grazing pressure more evenly across the country.
Shortly after returning to the market, fencing contractors arrived on Creswell Downs to complete a significant amount of fencing which was suspended in 2019. The cost of the completed works was estimated at $35.5 million.
When Mr Briggs flew over the properties earlier this year, he reported the infrastructure was significant.
"I flew for hours over Walhallow and Creswell and every few minutes I could see a trough. The water developments have enabled the country to perform and hold cattle numbers through the worst drought the Territory has ever seen," he said.
The expansive flood-out areas also have potential for cotton and grain production, making the investment suitable for a number of alternative future operations.
Walhallow's future carbon abatement project opportunities are likely to attract carbon market participants.
Around half the property (500,000ha) sits above a 600mm rainfall belt where timber grows, providing potential for savanna burning.
Savanna burning is an approved emissions reduction methodology (not a carbon storage project like tree planting) already in practice in several places across high rainfall areas of the Northern Australia.
Sales process
Walhallow and Creswell Downs are being offered for sale on a walk-in-walk-out basis including 61,000 head of cattle.
Colliers Agribusiness agents Rawdon Briggs, Jesse Manuel, Leah Freney and James Beer will work to close the landmark offering before the start of the 2022 wet season.
The aggregation is being sold via an international expressions of interest process closing in October.
When Brett Blundy finally offloads Walhallow and Creswell, his remaining NT pastoral asset will be the 7100sq km Beetaloo, to the south of Amungee Mungee, near Dunmara.