ONE of Northern Australia's most iconic extensive beef cattle property aggregations is being offered to the market with expectations to make around $100 million.
The Wave Hill and Cattle Creek Stations span 1.25 million hectares and run 58,000 Brahman and Brahman cross cattle in a normal season.
Located in the Northern Territory's Victoria River District south west of Katherine, the adjoining properties have a proven history of producing beef cattle on an epic scale for close to 140 years.
History
The station was established in 1883 by renowned explorer and bushman Nat Buchanan and named Wave Hill by station manager Sam Croker after the sharp undulations of the plateau.
In 1914, Wave Hill was sold to the English company Union Cold Storage Company, part of the Vestey Group, a British pastoral conglomerate owned by Lord Vestey. The property was a cornerstone of the Vestey pastoral operations in Australia for the next 75 years, before the Vestey properties were dispersed in 1992.
Wave Hill is probably best known for the Wave Hill Walk-Off, a strike by indigenous workers for better pay and conditions. This later became an important influence on Aboriginal land rights in Australia.
Today, Wave Hill is a large scale cattle operation that breeds and grows out cattle both for the boat trade and processing customers within Australia. It is situated on high open downs with basalt plains and covered in Mitchell grass. The water infrastructure is extensive with 76 bores providing access for cattle grazing across the properties.
Western Grazing

The property was bought 28 years ago by the late Brian Oxenford's Western Grazing, now operated by his daughter, Pam Deamer. Western Grazing is one of Australia's largest beef producing companies, operating a large network of northern breeding and growing properties and one of the country's biggest privately owned Brahman cattle herds.
The company was founded in 1992 by Mr Oxenford when he moved into large-scale beef production after securing a large portfolio of Vestey properties including Wave Hill and Cattle Creek, the 176,000ha Camooweal breeding block, Morstone and the 261,000ha Mt Isa finishing property, Oban.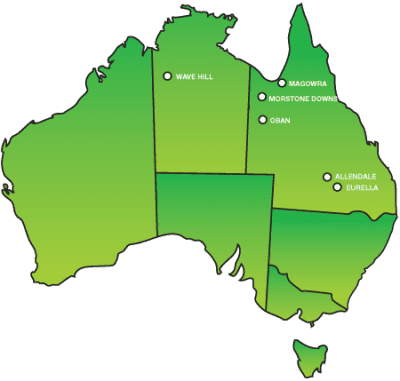 Western Grazing's other Queensland properties today include 294,000ha Magowra Station, near Normanton in the Gulf, 21,000ha Allendale Station at Augathella and 22,000ha Eurella Station near Muckadilla.
In May 2016, it sold two blue-ribbon western Queensland cattle breeding and growing properties, Rocklands and Tanbar, bought earlier from Stanbroke Pastoral Co (totalling more than 1.7m hectares) to Macquarie Group's Paraway Pastoral Co for between $130m and $140m.
Sales process
In a statement, the directors of Western Grazing said the Northern Territory asset is being offloaded as part of a strategic review of its cattle operations.
Ben Cameron and Brendan Goulding of Brisbane-based Bentleys Transaction Services have been appointed to conduct the sale through an expressions of interest process closing on October 9.
Due to its size, Mr Cameron said an investment overview document has been sent to around 40 prospective domestic and international parties who have made previous inquiries about other large-scale assets.
"A transaction of this size is highly likely to attract overseas capital, but we are not excluding anyone. It will be difficult for the foreigners to buy in a COVID environment due to the travel restrictions, so we are focussing on those who are in Australia and active. Given the inquiry to date, it is likely to sell to a domestic purchaser."
Mr Cameron said interested parties needed to come forward by October 9 when Bentleys will call for non-binding indicative offers and select a short list.
Those people will be asked to register their interest and sign a confidentiality agreement before being issued with the information memorandum providing complete details of the sale properties, he said
A significant number of international inquiries will see Bentley's conduct a 30-day advertising campaign to comply with Foreign Investment Review Board regulations.
Mr Cameron is hoping contracts for Wave Hill will be signed by early December.
"The sale will be dictated by the COVID-19 laws and potential border openings or closures. Potential buyers are unlikely to make an offer for an asset of this size and value if they haven't inspected it," he said.
Wave Hill and Cattle Creek Stations offer further growth potential on the undeveloped land with additional infrastructure (such as water, yards and fencing) likely to significantly increase the cattle carrying capacity.
The aggregation is being offered on a walk-in walk-out basis including 40,000 branded Brahman cattle, plant and equipment.