THE NSW Government plans to take a $3.3 million stake in Wagyu beef supply chain, Stone Axe Pastoral, which last year made a significant property purchase near Ebor in the state's far north.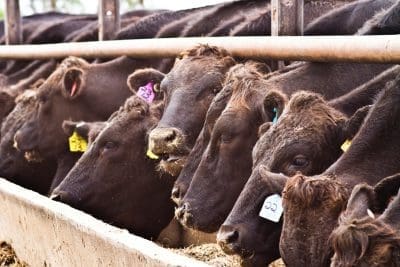 NSW deputy premier and minister for small business and regional NSW John Barilaro issued a statement today saying the investment would be the first under the government's new GO NSW Equity Fund.
The Government launched the $150 million fund late last year, along with fund partners First State Super and ROC Partners, a Sydney-based funds manager with connections to the Hong Kong market.
Mr Barilaro said the fund was an Australian-first, allowing the NSW state government to directly invest in businesses with high-growth potential, by taking an equity stake.
Stone Axe Pastoral Co was founded by Cicero Group founders Mathew Walker (son of Wagyu industry pioneer Chris Walker, who sold his Westholme herd to AA Co in 2013) and James Robinson in 2014. The business has a vision to develop a large Fullblood Wagyu breeding herd, and a 20,000-head capacity feedlot and integrated processing facility in Western Australia to supply premium Wagyu beef into domestic and export international markets.
Although the business has its foundations in WA, Stone Axe last year made a significant investment in developing breeding operations in eastern Australia, outlaying around $17.5 million to purchase 2145ha Glen Alvie in premium cattle country near Ebor. That figure represented a value of about $8100/hectare ($330/acre). Click here to read Beef Central's earlier property article on that transaction.
Stone Axe said it would use Glen Alvie primarily to run 2000 Fullblood Wagyu breeders. The property will also run bulls bred for the business and a limited number of steers, as part of plans to produce 5000 Fullblood embryos each year. The company has a stated vision to become the world's largest vertically-integrated Fullblood Wagyu enterprise
Genetics, rather than live animals, would continue to be transported to Stone Axe's Cheviot Hills property near Kojonup, about 260km south east of Perth. Cheviot Hills is the location of a proposed 20,000 head feedlot and integrated abattoir. Mr Walker also has a property called Colenso near Hardin in NSW.
"The Liberals and Nationals Government is doing business differently in NSW, putting our money where our mouth is, to ensure we continue to create more jobs in this state than any other state in Australia," the state government statement said.
"Importantly, this investment will allow Stone Axe Pastoral to create 76 full-time jobs over the next five years, strengthening the company's position as a significant global player in the Wagyu industry.
The equity deal announced today is a co-investment of $3.3 million from the NSW Government, together with $6.7 million from First State Super, that would give Stone Axe Pastoral "the capital it needs to ultimately breed the largest Fullblood Wagyu cattle herd outside of Japan," the statement said.
First State Super Chief Investment Officer Damian Graham said the company looked forward to supporting a rural NSW agricultural business as its first investment through the GO NSW Equity Fund.
"Our top priority is to deliver sustainable returns to our members over the long term, and we believe this investment in Stone Axe is a strong and sound one, and a great start to the GO NSW partnership with the NSW Government," Mr Graham said.
"For First-State Super, this fund is all about delivering positive social benefits, while also maximising the growth potential of small to medium-sized businesses to deliver good returns to our members.
Stone Axe Pastoral CEO Scott Richardson said the partnership would help the company expand in and around Ebor in northern regional NSW.
"The investment means we will be able to continue to build on our existing Fullblood Wagyu breeding program in some of the best cattle country in Australia, as well as look at other strategic opportunities to invest further into the supply chain as part of our overall paddock to plate strategy," he said.
ROC Partners managing director Michael Lukin, said his company believed there were many attractive investment opportunities in regional NSW that could likewise be supported by the fund.
"This is a ground-breaking deal, that will establish Ebor as a major player in the country's Wagyu export industry," local state member for the seat of Northern Tablelands Adam Marshall said.